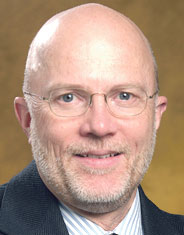 I've been practicing law for 34 years — 33 of those years before the district courts of Yellowstone County. I prosecuted felony criminal cases as a deputy Yellowstone County attorney from 1977 to 1981, when I opened my private law practice. In private practice I've worked in criminal law, family law, personal injury, product liability (asbestos defense), insurance subrogation, bank bad faith, wrongful termination and other commercial law matters. As a U.S. bankruptcy trustee, I handled approximately 700 bankruptcy cases.
District courts do a high volume of family law and criminal cases. I've done a lot of legal work in both areas.
The first divorce case I handled was my own, in 1981. It was civil but very painful for both me and my first wife, whom I still respect. The experience made me a better lawyer, understanding what my family law clients go through. I remarried in 1984, and last year my wife, Joyce Davis, and I celebrated our 25th wedding anniversary. We have raised three children. Parenting our children has made me a better lawyer when helping parents make decisions about their own children.
My parents raised me here. When my parents' home was burglarized, I saw how angry and frightened they were. When my parents, aunts and uncle were going through the end stages of their lives, I helped them. At one point I had five family members simultaneously in St. John's Lutheran Ministries nursing home. I paid their bills, talked with their doctors and held their hands when they were dying. It's made me a better lawyer, understanding the fears and vulnerabilities of my elderly clients.
Six years ago, I battled and beat leukemia. It's made me a better lawyer — understanding clients battling serious illnesses.
For the past 14 years I've done family law exclusively. I worked with our Legislature to pass our parenting plan laws. I've regularly taught lawyers at seminars. I've been honored both by the Montana State Bar Association and our local Yellowstone Area Bar Association for my professionalism.
Many people appear before our District Courts without lawyers. I've worked to make it easier for them to use our legal system. I actively support the Self-Help Law Center. I've taught seminars for the poor. I'm in my second term on the Supreme Court's Commission on Self-Represented Litigants.
Our legal system is going digital. We're in the process of deciding how to put millions of pages of legal documents on the Internet, some public, some not. I've devoted many volunteer hours working with our Supreme Court, district courts and other lawyers to protect children and adults from identity theft.
I recently chaired the Supreme Court's Privacy and Access Working Group. I support open government. But courts must be careful not to make it easier for Internet thieves to rip us off.
My experience as a husband, a father, a son, a volunteer and a lawyer has prepared me well for this position.  I would appreciate your vote.
Corbin Howard graduated from Billings West High School in 1967, obtained his bachelor's degree in philosophy in 1972 and law degree in 1976 from the University of Montana. His website is www.corbinhowardforjudge.com.
Catch the latest in Opinion
Get opinion pieces, letters and editorials sent directly to your inbox weekly!