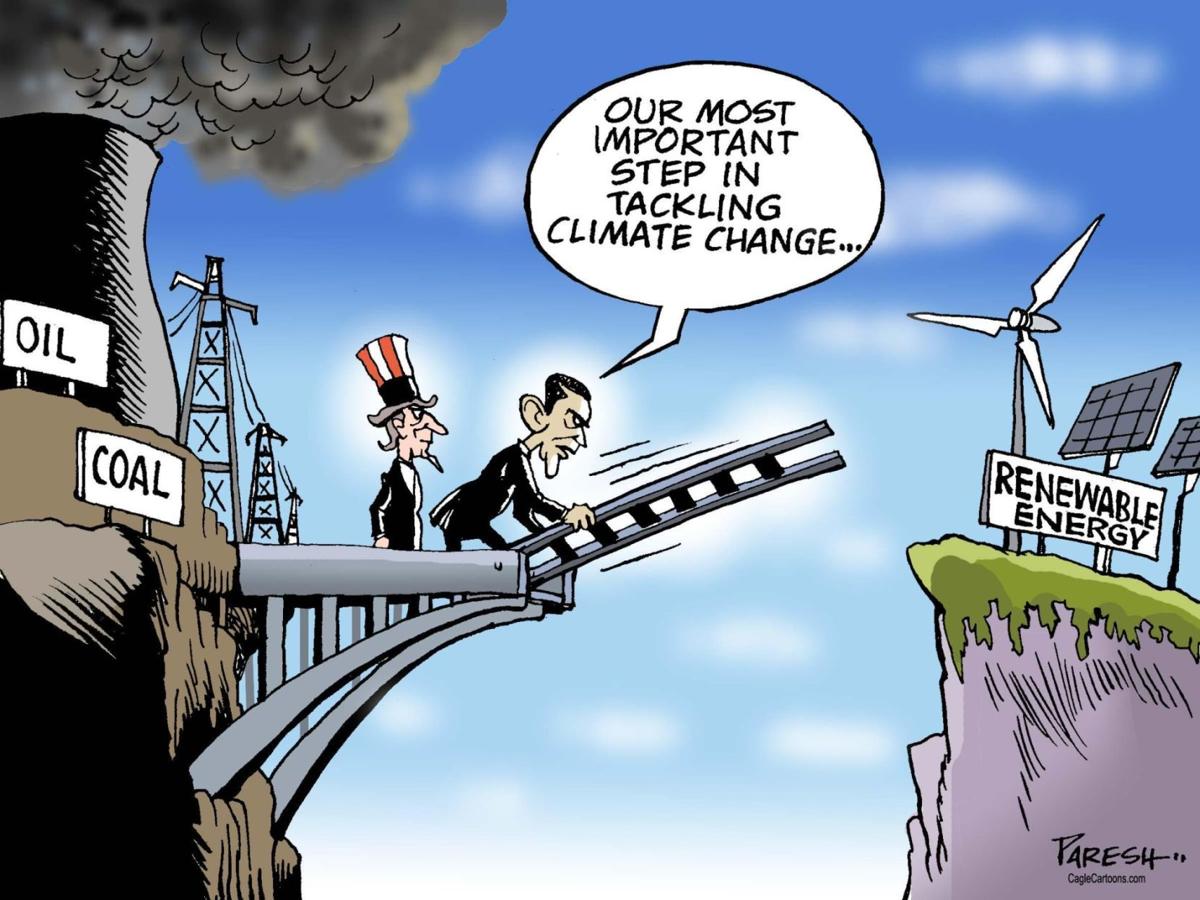 Montanans have heard a lot of rhetoric over the past few weeks about the Clean Power Plan and what it means for our state. Instead of rhetoric, we should look at the facts.
The plan is a responsible step that will sustain our state's biggest industries — agriculture and outdoor recreation — while growing new jobs in renewable energy. It calls for a national reduction in carbon pollution of 32 percent over the next 15 years. We believe this is a powerful opportunity for Montana to make our air cleaner, to protect the health of our kids, to ensure a strong future for our outdoor heritage and recreation economy, to provide more certainty to farmers and ranchers and to make our homes and businesses more energy efficient.
The Clean Power Plan provides flexibility for Montana to cut carbon pollution in a way that works best for Montana. Done the Montana way, with Montana innovation, we can also create new good-paying Montana jobs. Tens of thousands of them. It also incentivizes states to take early action.
Last year, Gov. Steve Bullock outlined five ways Montana can cut carbon pollution through innovative solutions — from storing carbon underground to improving efficiency at coal-fired power plants to developing more renewable energy projects. We look forward to the governor's thoughtful leadership to make these plans a reality.
The Treasure State is blessed with natural resources. Coal, oil, gas and copper have long been key parts of our economy. But with a changing economy and a changing climate, our wind, sunshine, biomass and geothermal resources are becoming increasingly valuable commodities.
Since 2005, when Montana lawmakers began requiring that some of our energy come from renewable resources, our state has added 100 new jobs per year in renewable energy. The Renewable Energy Standard has also created a staggering 1,400 man-years of work since 2005. Today, wind production alone adds $17 million dollars to Montana's gross state product.
With Bullock's leadership, the Clean Power Plan can create thousands of new jobs across the state — and save Montanans money on their electric bills.
Climate change is taking a toll on Montana's outdoor heritage and recreation economy. Record heat in June caused stream temperatures to spike, stressing and killing trout. Fish, Wildlife and Parks responded with hoot owl restrictions on July 1, the earliest date ever. Elk, deer and pronghorn are changing their migration patterns. Prairie wetlands that support world-class waterfowl hunting and birdwatching are drying up. Glaciers are disappearing. The wildfire season is growing longer and more unpredictable. Ski slopes report slushy conditions in December and close earlier.
Montana's outdoor recreation economy generates nearly $6 billion every year, according to the Outdoor Industry Association. Some 64,000 jobs — far more than those created by energy production — are threatened by the very tangible effects of climate change.
Hunters, anglers and other outdoorspeople are taking climate change seriously. Addressing it, with a made-in-Montana plan, is an important backstop for our state's outdoor heritage and the many thousands of jobs that rely on tourism and outdoor recreation.
Climate change is hurting Montana agriculture too. Drier, warmer conditions hurt yield and protein content. Farmers are dealing with unpredictable weather patterns, ferocious storms, pests and a drought with no end in sight.
That's why so many farmers and ranchers across Montana are calling for action to address climate change. Done correctly, Bullock's implementation of the Clean Power Plan will protect Montana agriculture for generations to come.
We are eager to work with the governor as he pushes ahead to design an implementation plan that works for Montana, our jobs, our industries and the generations of Montanans yet to come.
Diana Maneta represents the Montana Renewable Energy Association and Dave Chadwick leads the Montana Wildlife Federation.
Climate change is taking a toll on Montana's outdoor heritage and recreation economy.