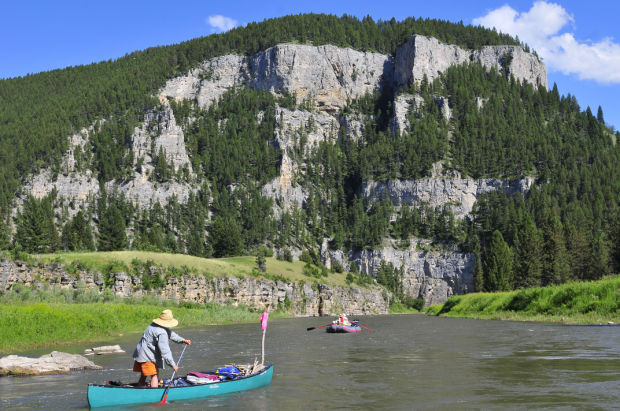 January has become a very special time of year for those of us who appreciate Montana's incredible outdoor opportunities. About this time every year, folks from every walk of life, whether they are anglers or boaters, naturalists or river rats, tourists or hardened Montanans, all come together for the time-honored tradition of applying for a chance to float our famed Smith River.
More than 6,000 people apply every year for a chance to float the Smith, speaking to its bucket-list status for many Montanans and Americans. Only about 1,000 lucky individuals receive a permit to launch. I first canoed the Smith more than 40 years ago and have returned many times since.
The permitted section of the Smith River, one of Montana's premier river recreation destinations, winds 59 miles through a remote canyon in the Big Belt Mountains, replete with incredible vistas, abundant wildlife, and some of the best blue-ribbon trout fishing in the United States. Montana Fish, Wildlife and Parks classifies the Smith River's fishery as high-value, owing to its bountiful population of rainbow, brown, west slope cutthroat, and brook trout. The canyon walls of the Smith also boast some of the best examples of Native American pictographs in Montana.
The Smith offers far more than aesthetic gratification, natural wonder, and an unparalleled outdoor experience. It's a major economic driver for Montana. People who float the Smith purchase gas, food, lodging, and other amenities in the communities that surround the Smith River, providing revenue for Montana's small businesses and tourism industry. The Smith also boasts several commercial outfitting businesses, which contribute to the local economy and provide good jobs for guides and their support staff. The jobs and economic benefits that the Smith provides will last for generations, provided that we responsibly manage the resource.
Unfortunately, the Smith River is under serious threat from a proposal to build a massive copper mine at its headwaters. Canada-based Tintina Resources, a penny-stock start-up that has no experience with large-scale industrial mining, is investigating the feasibility of a large copper mine on the Smith River's most valuable tributary, Sheep Creek. Tintina recently partnered with Australian-based Sandfire Resources. The largest and most prestigious university in Australia, Australian National University, recently divested its financial portfolio from Sandfire for its poor social and environmental practices. Is this really a company we want doing business in Montana?
The Smith River mine has a high likelihood of generating acid mine drainage due to the local geology of the area, a process that has already been the death sentence for many of Montana's streams and rivers. Sheep Creek is essential for the Smith River fishery, as over 50 percent of the tributary spawning in the Smith River basin occurs in Sheep Creek.
Hopefully, the Smith River Mine will not take its place in Montana's turbulent history of temporary mining activities that leave a legacy of pollution.
Tintina is arguing that they will implement "21st century technology" to prevent groundwater contamination. Mining companies say this every time for every mine, and they fail in keeping their promise virtually every time. Why should we even take the chance of placing such a valuable resource, and the established economy that depends on it, under threat of perpetual pollution?
While I'm not opposed to mining, and recognize the necessity of metals for our modern society, I am absolutely opposed to permitting a temporary mining project that sacrifices the livelihoods, way of life, clean water and natural wonders of the Smith River. I ask the Montana Department of Environmental Quality, and Gov. Steve Bullock, to be exceedingly cautious on any decisions that would allow this project to move forward.
Bob Ream is a former professor of wildlife biology at the University of Montana, who served 14 years in the Montana House and chaired the Montana FWP Commission for four years.
Catch the latest in Opinion
Get opinion pieces, letters and editorials sent directly to your inbox weekly!