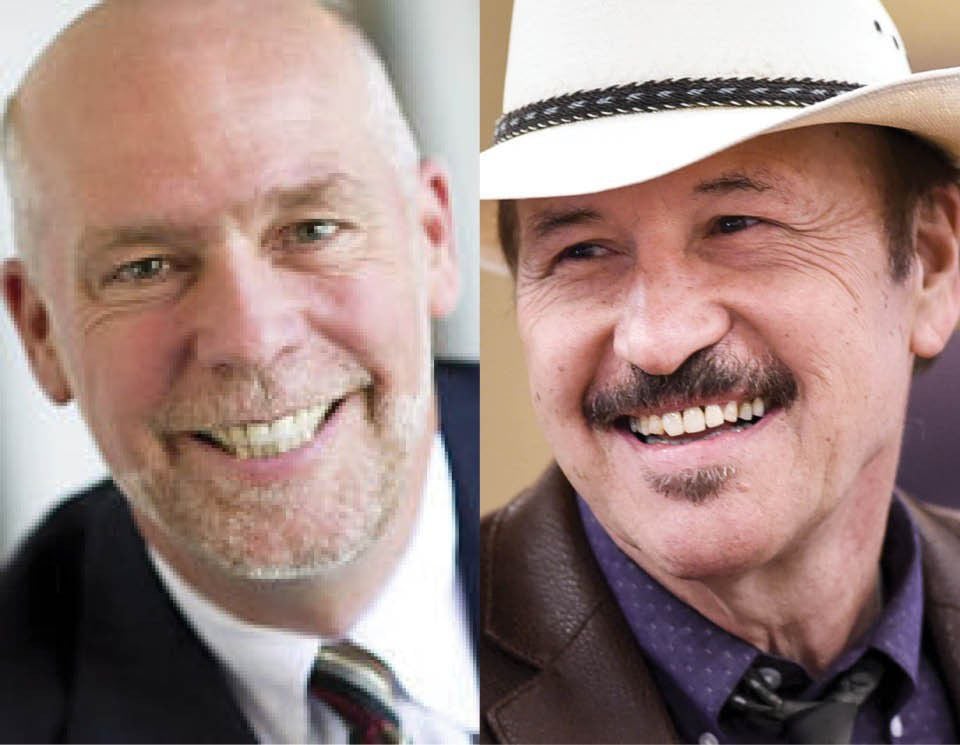 Democratic House candidate Rob Quist is accusing opponent Greg Gianforte of having secret "Russian ties," based on Russian stocks in the Republican House candidate's stock portfolio.
Gianforte reported the index funds to the U.S. House in March shortly after becoming the Republican candidate to replace Interior Secretary Ryan Zinke as Montana's only representative. His Democratic opponent in the Thursday, May 25 election is Rob Quist. Mark Wicks is the Libertarian candidate. The financial disclosure statements are required of U.S. House candidates.
The Quist campaign, in an emailed statement, said the index funds are shady Russian investments Gianforte should have exited because of Russian aggression.
"Montana voters deserved to know why Greg Gianforte held onto his shady Russian investments after repeated Russian aggression against the United States and why he kept his Russian ties secret during his failed run for governor."
Reporting the investments wasn't a requirement to run for governor.
The Gianforte campaign said the high-tech entrepreneur who employed hundreds of people at RightNow Technologies in Bozeman filed detailed investment information with the U.S. House to be as transparent as possible. The report listed his net worth in a range of $65 million to $315 million.
"Montanans know that Greg can't be bought. Greg has already promised Montanans that, if elected, he will place his assets into a blind trust to guarantee there is never any conflict of interest," said Brock Lowrance, campaign manager. "Greg will take those actions to provide a guarantee that his investments will not influence his decision making. Montanans are the ones who influence his decision making."
An index fund is a bucket of investments in a number of companies. Because an investor's share is spread over several companies, losses in any particular company doesn't sink the entire fund.
The funds are managed by someone other than the investor, which is important in understanding the relationship between someone like Gianforte and businesses in the fund, said Ed Ulledalen, of Raymond James financial services.
Gianforte's investments include $92,400 in IShared MSCF Russia ETF Fund and $150,000 in VanEck Vectors Russia ETF. Included are Russian energy companies like Gazprom and Rosneft, which have been under U.S.-backed international sanctions since 2014 and the Russian invasion of Ukrainian Crimea.
Ulledalen told The Gazette it's a stretch to suggest index fund investors have ties the companies included in the index. Investors don't have a say in index decisions made at the discretion of a professional manager and probably aren't aware of what companies are involved.
"It's pointless to bring it up," Ulledalen said. "If it's a discretionary managed account, he would not able to make changes. He's not going to be calling up a guy like me, 'hey, Ed, what do you think of the energy markets?' "
Index funds focused on Russian companies aren't uncommon in portfolios of investors big and small. Ulledalen said the retirement accounts for thousands of Montana public employees as well as state university faculty would probably have investments in Russian companies.
Democrats first began emailing the Gazette regarding the Russian stocks issue in early April. It wasn't until Friday afternoon that The Guardian, a British daily newspaper, first reported the story, which the Quist campaign circulated about an hour later.
The Guardian headline read "Republican candidate for Congress has ties to U.S.-sanctioned Russian companies." In the article Richard Nephew, a Brookings Institute foreign policy program senior fellow specializing in sanctions, said of Gianforte's investments: "There's definitely a question here, but my initial reaction is that this is not something to freak out about."
Nephew, who worked in the State Department during the Barack Obama presidency, went on to say that index funds "are excluded from a sanctions perspective because the ownership stake per person is incredibly small." Nephew called "betting on Russia's economy" problematic for a U.S. representative.
Be the first to know
Get local news delivered to your inbox!