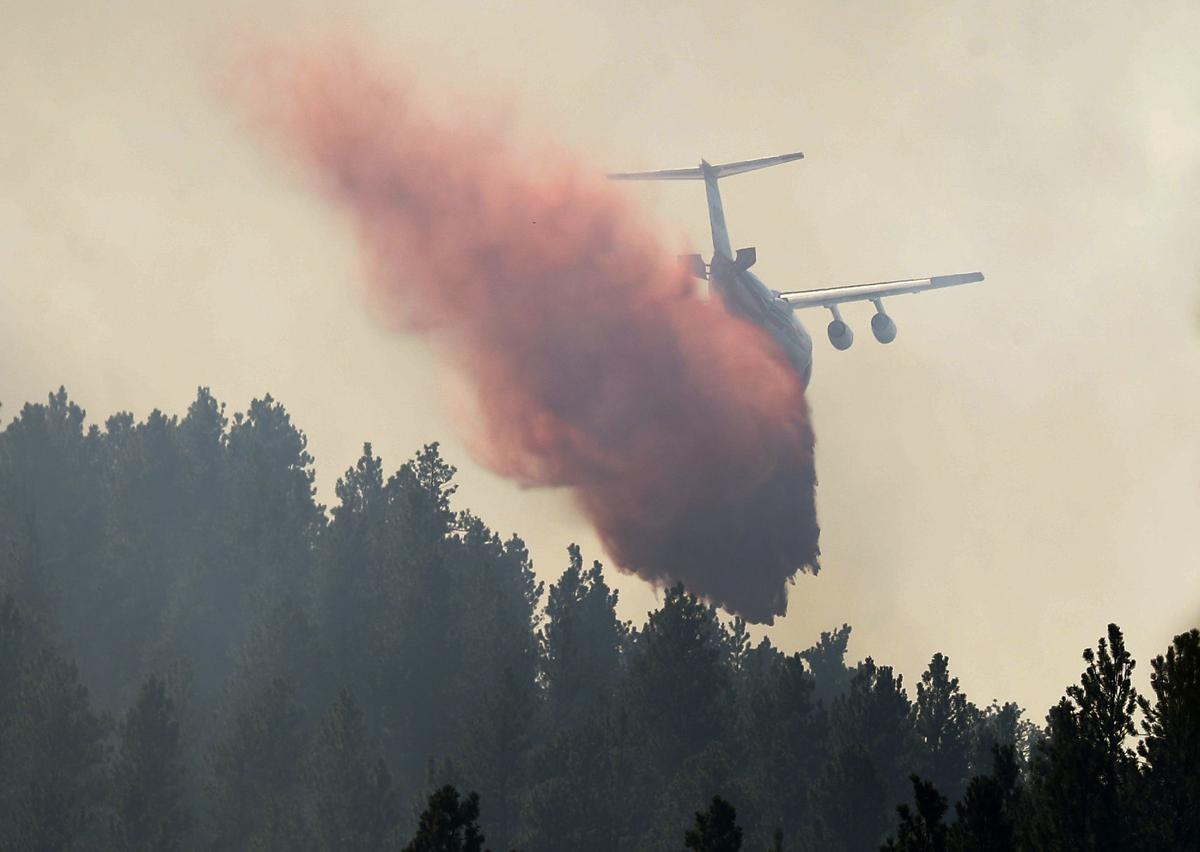 Heading into September, major wildfires in Montana had destroyed 13 structures.
That changed early in the month when high winds whipped a series of fires that burned 153 structures, including a combined 116 structures destroyed by the Bridger Foothills fire in Gallatin County and the Bobcat fire in Musselshell County.
At the same time, the Huff fire was pushed through Garfield County by winds that at one point gusted 50 mph, leading to the temporary evacuation of the town of Jordan.
The fire burned 24 structures and among the livestock losses were 200 sheep.
The 166 structures lost over the course of the 2020 wildfire season, many of them homes, is the most in Montana since 2012 when fires greater than 100 acres took 464 structures.
In 2012, Musselshell County Dahl fire by itself accounted for 223 destroyed structures.
The Northern Rockies Coordination Center, which is part of the National Interagency Fire Center, put the estimated cost of fighting the 75 large wildfires Montana saw in 2020 at $55 million. Those fires burned a combined 335,242 acres of land.
In talking about the 2020 wildfire season Mike DeGrosky quickly points to the disconnect between public perception and the reality of wildfire firefighting last year.
DeGrosky is the Fire Protection Bureau Chief with the Montana Department of Natural Resources and Conservation and has been involved in fighting fires in Montana for over two decades.
"I've been really surprised by the number of people who have said to me 'Oh, you guys had a nice slow fire season this year.' And I'm like 'No, not really,'" DeGrosky said.
The wildfire season was "pretty busy," he said. He attributed some of the public misconception to the state not seeing some of the more long lasting, smoky wildfires that are known to burn in the western part of the state. The shorter duration fires burning in the eastern part of the state may not have caught people's attention the same way.
"I would consider that a typical to moderate fire season," DeGrosky said.
The fire chief believes things could have been much worse.
"It was enormously dry in three corners of the state. The southeast corner, the southwest corner and the northwest corner," DeGrosky said. "And I'm talking not like 2017 dry, but 2012 dry."
DeGrosky emphasized a relative lack of lightning as a likely reason the season wasn't worse.
"Our peak lightning period is relatively early in the season from July through August, and in July and August we had relatively low levels of lightning," he said. "If we had had normal levels of lightning or a high level of lightning like we did in 2017 we would have had a much more serious fire season."
A dangerous direction
For Dave McWethy, the evidence is clear that the state, and the nation, is headed in a dangerous direction when it comes to wildfires. McWethy holds a PhD in ecology and environmental studies from Montana State University, and works in the college's department of earth sciences and conducts research for MSU's paleoecology laboratory.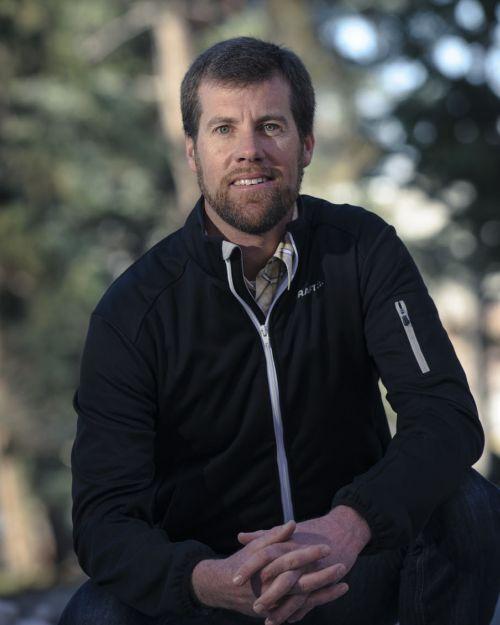 His work focuses on reconstructing past environmental change and fire history. A key component of that work is examining lake and wetland sediments to measure things like the amount of charcoal and pollen present in order to understand fire activity stretching back thousands of years. 
How much fire activity changes, the scale of fires and the amount of biomass burned are all key questions his research seeks to answer. 
Models based on that research can be used to try and project future fire activity in Montana. 
"The main message that we're getting out of our paleo records, is a very simple message and that is when it warms in temperate forests you get more wildfires. You get greater area burned and more wildfire activity," McWethy said.
Nationally, McWethy said the 2020 wildfire season, which saw record-setting wildfires across much of the western United States, is a herald of what's to come. "All of the models predict that that's going to be more of an average year, which is pretty sobering," he said. 
Montana was the exception in 2020 because it didn't have a record-shattering wildfire season, but McWethy believes that major catastrophic fires will be seen in the state going forward with increasing regularity.
Warming due to climate change is both lengthening the fire season and increasing the susceptibility of fuels to ignite, something McWethy termed "climate-enabled fuel drying." 
"Every time you roll the dice, with ignitions, lightning, or accidental human-caused or intentional human-caused, the probability that you're going to get a large wildfire is so much higher than it would be normally," he said.
DeGrosky said that in Montana the fire season extends about 45 days longer than it did 30 years ago. 
"We're having significant fires outside the period where we're used to having significant fires. We are experiencing fire behavior that we used think about people might experience once or twice, one or two fire seasons in their career. Now we see that kind of severe fire season, or fire behavior, all the time and in multiple fuel groups," he said.
Mitigating risk
With snow on the ground and temperatures below freezing in much of the state, Mark Finney believes that now is the time to be discussing how to mitigate the risks wildfires pose to residents throughout the state. 
"We should be talking about this stuff in winter. When the smoke's in the air and the firefight is on, then it's too late to do anything about it," Finney said.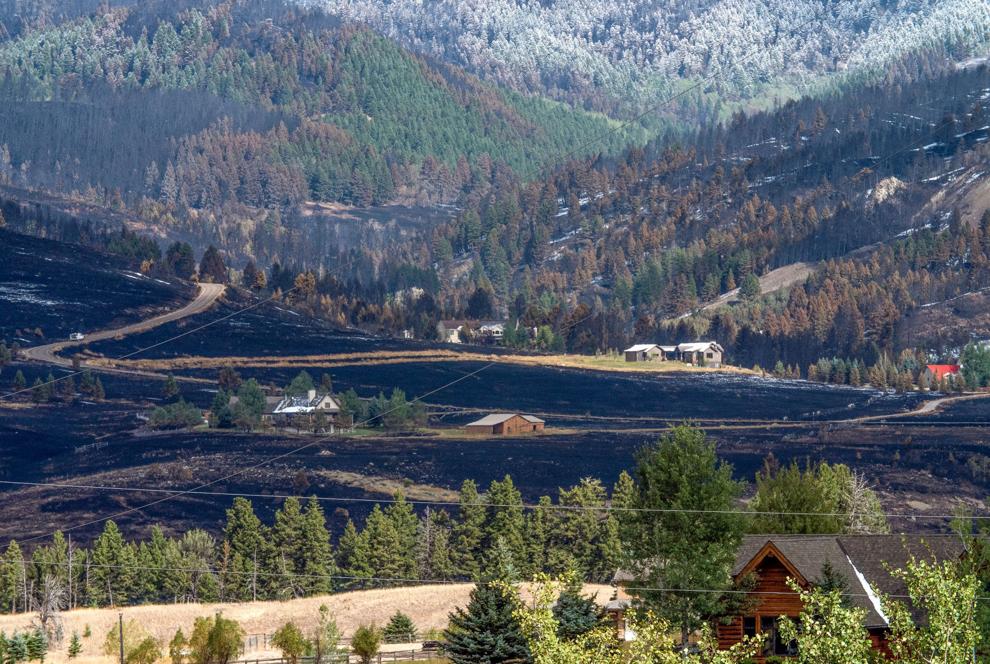 Finney received his PhD in wildfire science from the University of California, Berkeley, in 1991 and has been researching fire behavior for the U.S. Forest Service's Fire Science Laboratory in Missoula since 1993. He rattles off major fire years with familiarity, pausing even to delve into the history of "The Big Burn" in 1910 which destroyed the Montana town of Taft as the fire burned 3 million acres and killed more than 80 people.
"I don't think last year was anything remarkable at all," Finney said, adding that the Bridger Foothills fire was relatively small on the scale of historical fires in Montana. "But it obviously doesn't take a big fire to cause a lot of problems for people."
A rapidly spreading fire with embers aloft and spotting ahead of the fire front in dry conditions amid a populated area can escalate quickly. The Bridger Foothills fire, which finished at 8,239 acres, grew almost 7,000 acres on a single windy Saturday.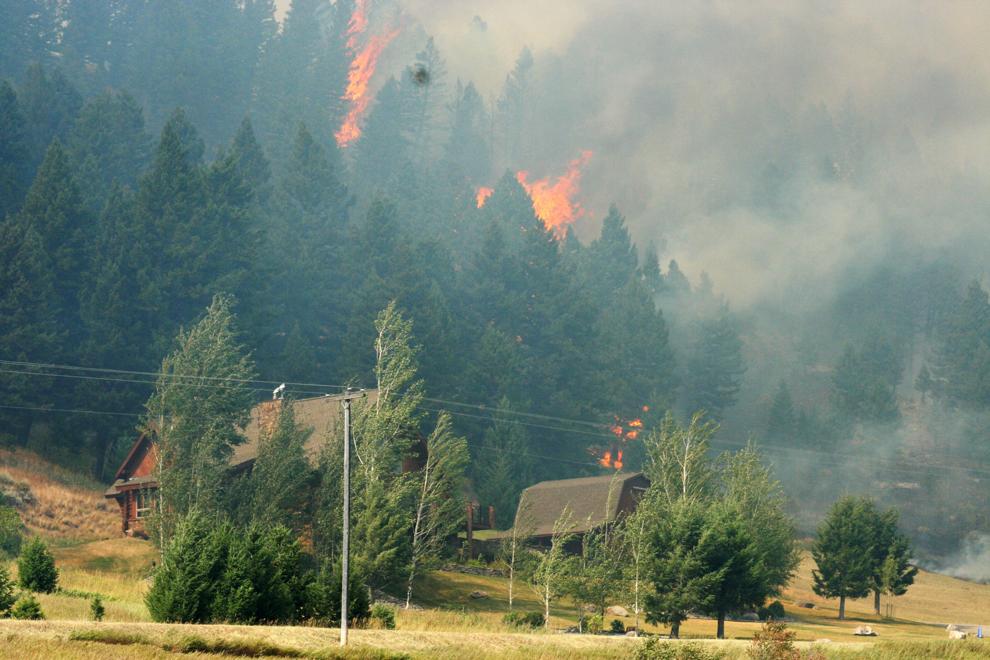 "From a protection standpoint, you have many, many structures exposed all at once to ignition sources," Finney said. "That means you don't really have the kind of fire protection that people would hope for, or would expect."
For Bull Mountain Volunteer Fire Chief Jeff Gates, being unable to save someone's home is a part of the job that doesn't sit well with him or the firefighters, many of them volunteers, that he works with. Gates has fought fires in Montana for more than 20 years and was with the first crews that arrived to fight the Bobcat fire when it began burning about 7 miles southeast of Roundup.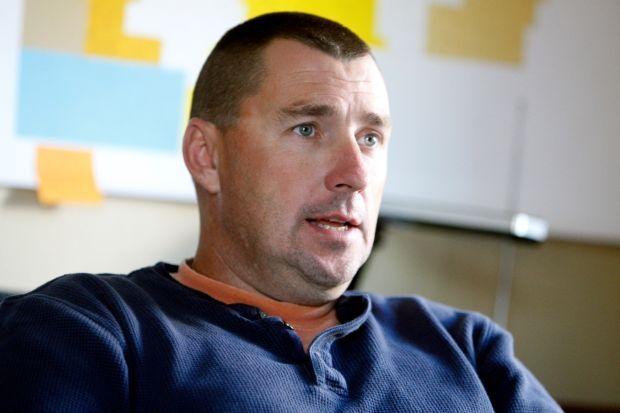 He doesn't discount the pain or the anger homeowners may feel.
"Firefighters do their best to save everything we can," he said. "It's kind of a hopeless feeling when we're losing things."
He added that "It affects all of us, all the firefighters hate it. You don't get into this business to lose. You try to win."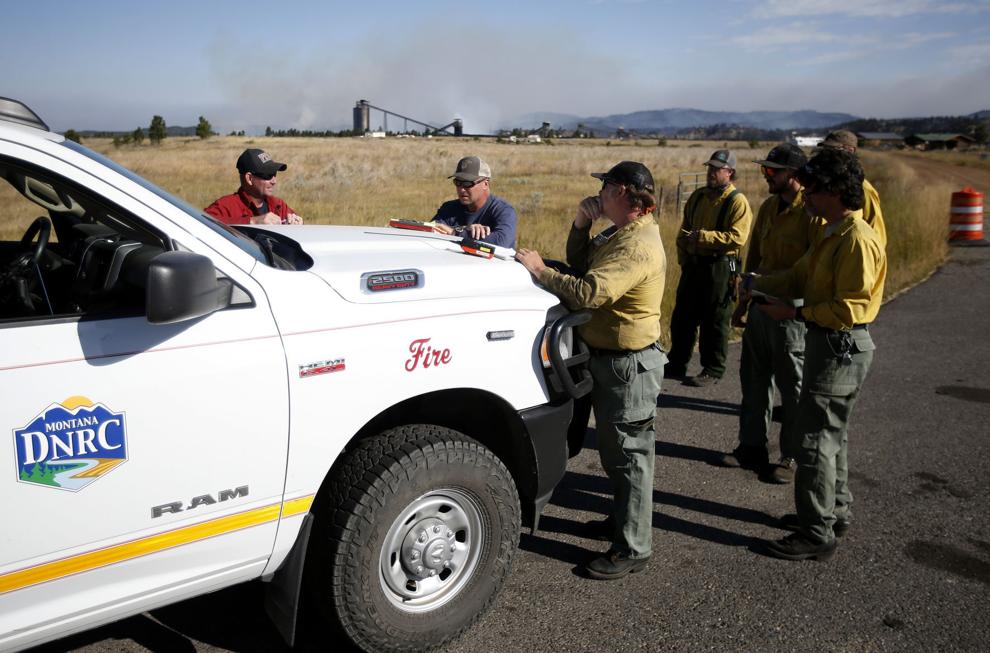 Winds, fuel and terrain all contributed to the Bobcat fire's erratic behavior, according to Gates.
"The biggest memory is how fast it moved the first night, and the fact that it continued to move in basically all directions," he said. "It was a rough fire."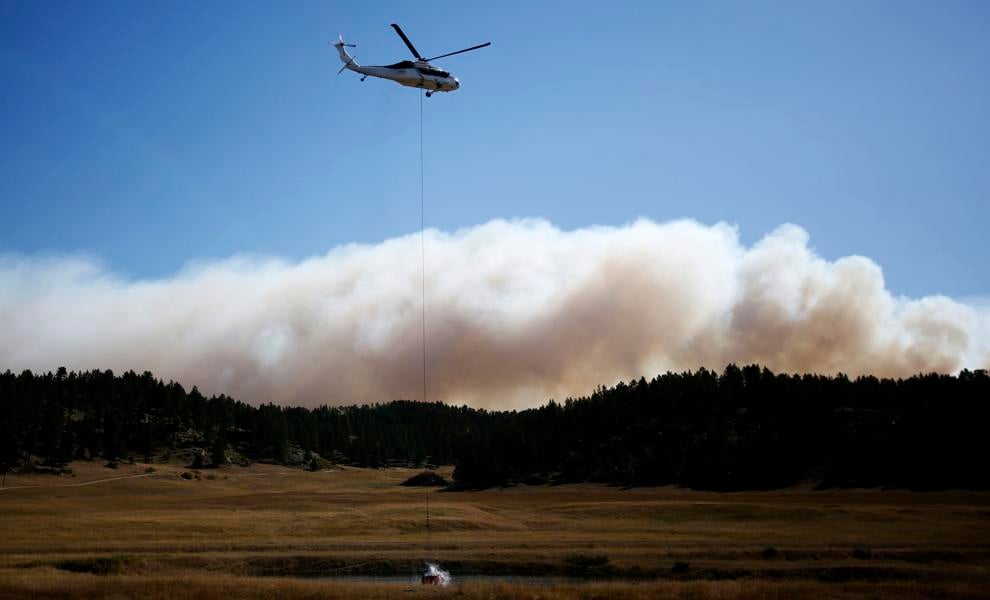 The fire chief said he wouldn't lump all the structure losses into any one category in terms of the specific ways in which they ignited. In some instances the fire was able to access structures more easily. In other instances fuels around structures ignited.
"We had an all-call for every fire department in the county on that one," Gates said. "It got so big, so quick and was moving so fast, it was hard to get ahead of."
The fire eventually grew to over 30,000 acres.
Kimi Barrett believes the acreage wildfires consume isn't the right metric to focus on. Barrett holds a PhD in forestry from the University of Montana and works as wildfire researcher and analyst for the Bozeman-based nonprofit Headwaters Economics.
In a November 2020 article published on the Headwaters Economics website outlining the increased destructiveness of wildfires, Barrett wrote "Reporting the number of structures and lives lost to wildfire contextualizes the profound impacts felt by communities."
In the same article Barrett calculates that in 2020 wildfires burned 17,700 structures, and that from 2005 to 2020 89,210 structures were destroyed by wildfires. She then narrows the focus even more, breaking down how wildfires in 2017, 2018 and 2020 account for 62% of structure losses over the last 15 years.
In terms of primary residences lost, the Bridger Foothills fire destroyed 28 homes. The Bobcat fire destroyed 14 primary residences.
Both fires occurred in the wildland urban interface, areas defined by the U.S. Fire Administration as "the zone of transition between unoccupied land and human development. 
An October 2020 article from Barrett published by Headwaters states that more than a third of the homes in Montana are at moderate to high risk from wildfires. In raw numbers that comes out to 120,000 homes which is nearly double the number of homes that were in the same risk categories in 1990, according to Barrett.
Barrett said the list is long when it comes to major misconceptions people have when it comes to understanding wildfires. Toward the top of her list is the belief that homes are most often destroyed by massive, rapidly moving fire fronts.
"What causes structure loss, 90% of homes burned down, is ember transport," she said. "What actually causes a whole home to burn down are all these tiny little matchsticks flying through the sky, again, well in advance of a wildfire front."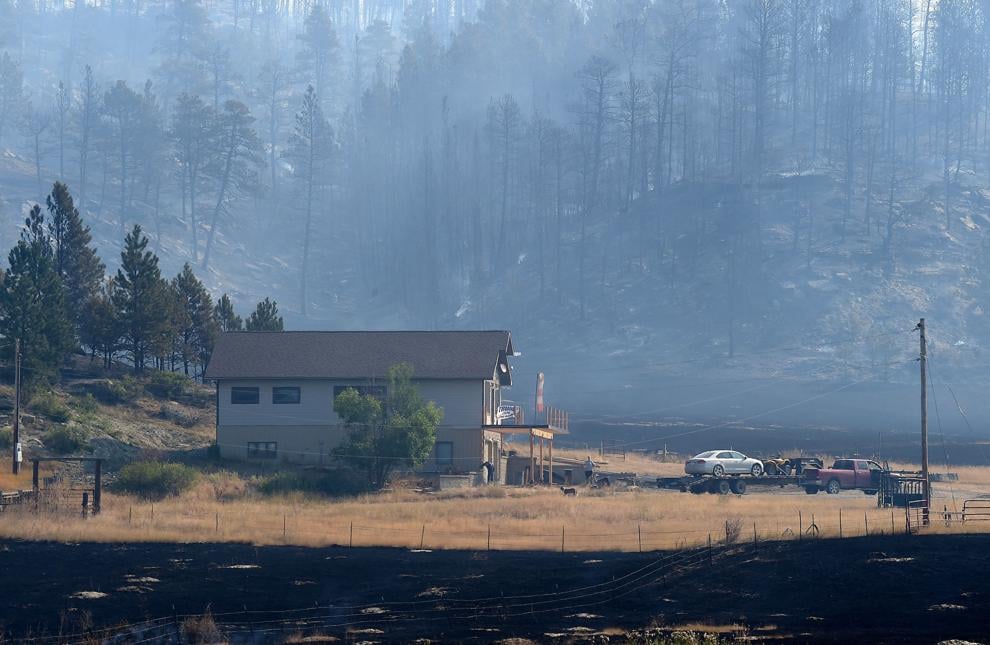 Homeowners can help
Reducing combustible surfaces around the home from exposure to those embers should be the major objective for homeowners, according to Barrett. Removing dead vegetation from the roof, clearing gutters and removing combustible vegetation from close proximity to a home are all steps that can contribute to reducing that risk. "That takes the larger, ominous threat out of the equation. You're dealing with embers now," she said.
Location isn't insignificant, but Barrett believes that mitigation measures, including home design and material selection are far more effective than many people realize. 
"A lot of it's how your home is built. What kind of materials are in it. Is it built entirely of wood with a wood deck and a wood roof and placed inside a dead forest? It shouldn't come as a shock if that home burns down," Barrett said. "The other thing is once a home starts to burn down, you know, think about what a home is. It's largely a bunch of petroleum-based products wrapped in wood. So, that home is incredibly susceptible to ignition."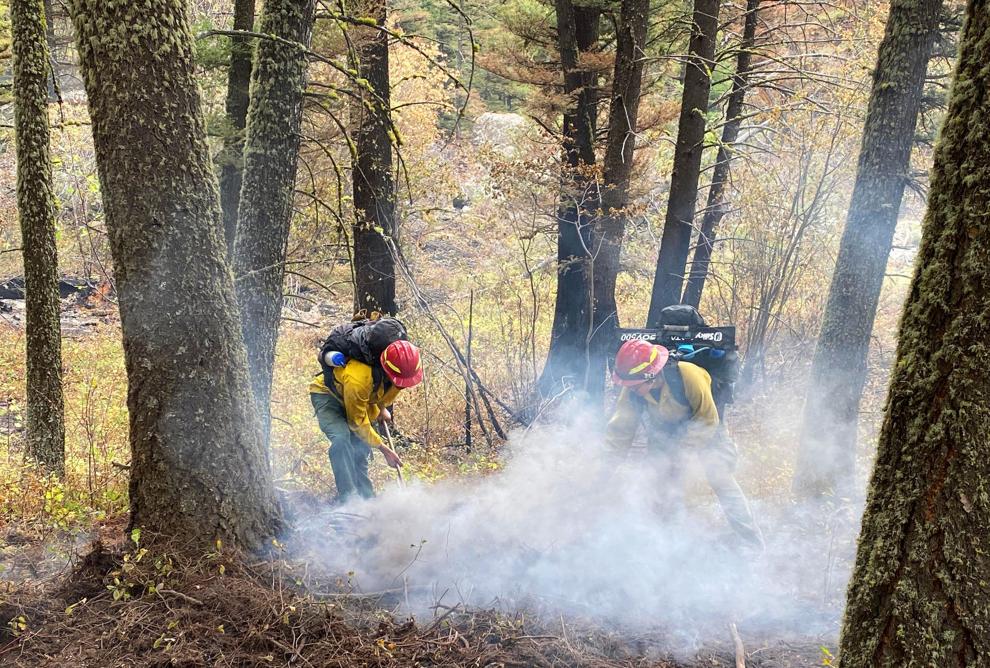 Responding to wildfires also poses a risk to those involved. The Bridger Foothills fire nearly cost three DNRC helitack team members their lives. Cut off from their escape route by a spot fire on the active second day of the wildfire they deployed emergency shelters. A DNRC report on the incident noted that their aluminum shelters grew so hot they glowed red on the inside. All three men survived but suffered excessive smoke inhalation and minor burns. 
"Natural hazards, when you look at everything from flooding to hurricanes, wildfires are the only one that we expect firefighters to come and save us," Barrett said. "You know, we intentionally put people in harm's way to save a home. And we don't do that with any other natural hazard. And so as these wildfires start to grow in intensity and severity, we're going to have to start questioning if that's the right approach."
As Finney pointed out, fire suppression as an all-encompassing strategy poses additional risks down the road. On the timeline in which Finney discusses the history of fire in Montana, stretching back 10,000 years to the last Ice Age, the strategy of attacking fires and putting them out is relatively new and not what the landscape is adapted to.
Finney also noted that the original, indigenous people who lived in Montana were able to live with wildfires.
"There's no respite from this," he said. "Even without climate change there's no respite from it. Fuels are growing and lands need to be managed. By only removing fire or only attempting to suppress fire, essentially what we're doing is managing for the worst fires possible. Essentially that's the outcome that we get."
Fuel management is an important tool in reducing the destructive and extreme potential of fires, according to Finney. He argued that the idea of using logging to eradicate fire risk is a misguided and ultimately ineffective strategy. "It's very easy to advocate logging and mechanical activities as a solution then it stops short. It's only part. Then if you don't do the follow-up treatment, which is prescribed burning, then you fail."
Timber removal as part of a fuel management strategy also would not involve the harvesting of much in terms "merchantable trees," and so referring to it as logging is a misnomer, according to McWhethy, the paleoecologist. Instead the focus would be more on small diameter shrubs and trees.
Wildfires depend on a variety of fuels, not just logs. Duff, litter, ladder fuels, small trees, brush species and rotten material on the ground can all help fuel fires. "It's not practical to remove that mechanically," Finney said. 
Prescribed fires also aren't a one-time deal. Like other mitigation strategies they need to be repeated, something Finney likened to mowing a lawn.  
"Fire is a part of these landscapes. It's inevitable. It will happen. Our choice is not whether to have it or not."
---
Photos: Ranch recovers from Bobcat fire near Roundup
Photos: Frosty Creek Angus Ranch recovers from Bobcat fire near Roundup
Frosty Creek Angus Ranch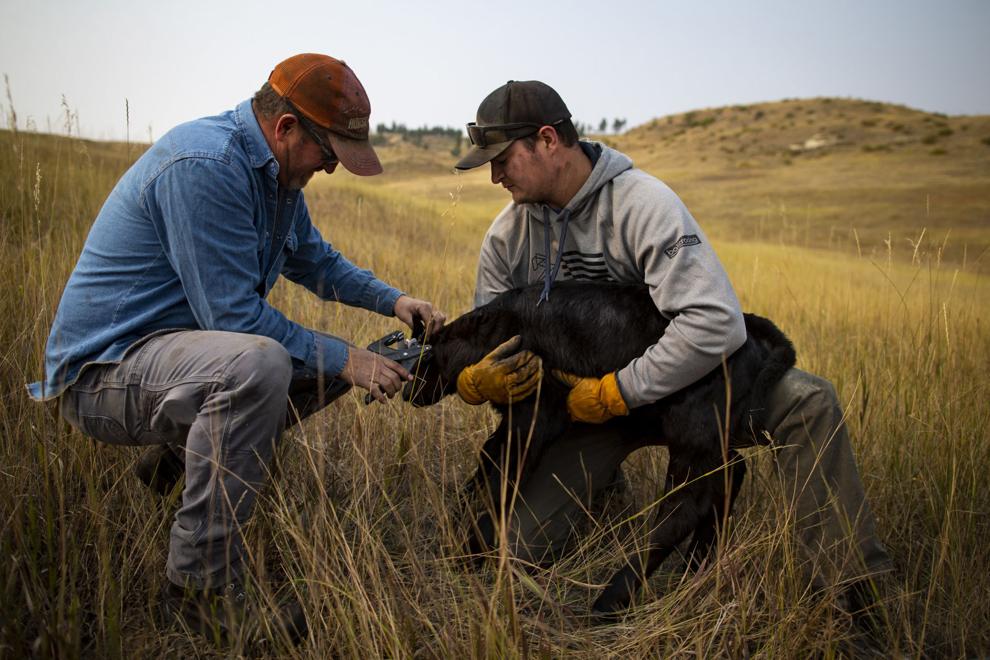 Frosty Creek Angus Ranch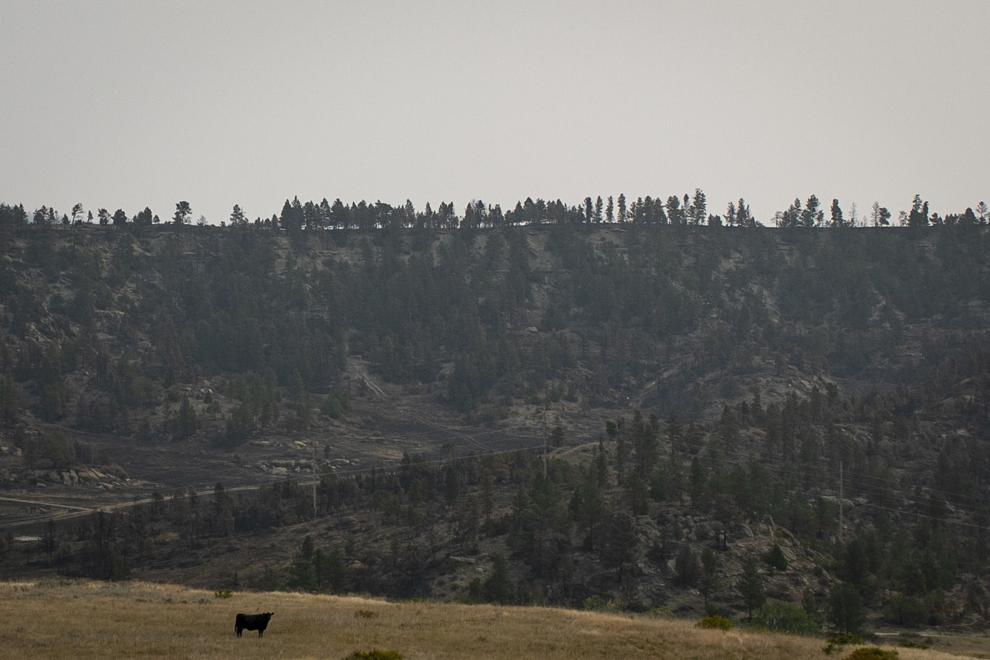 Frosty Creek Angus Ranch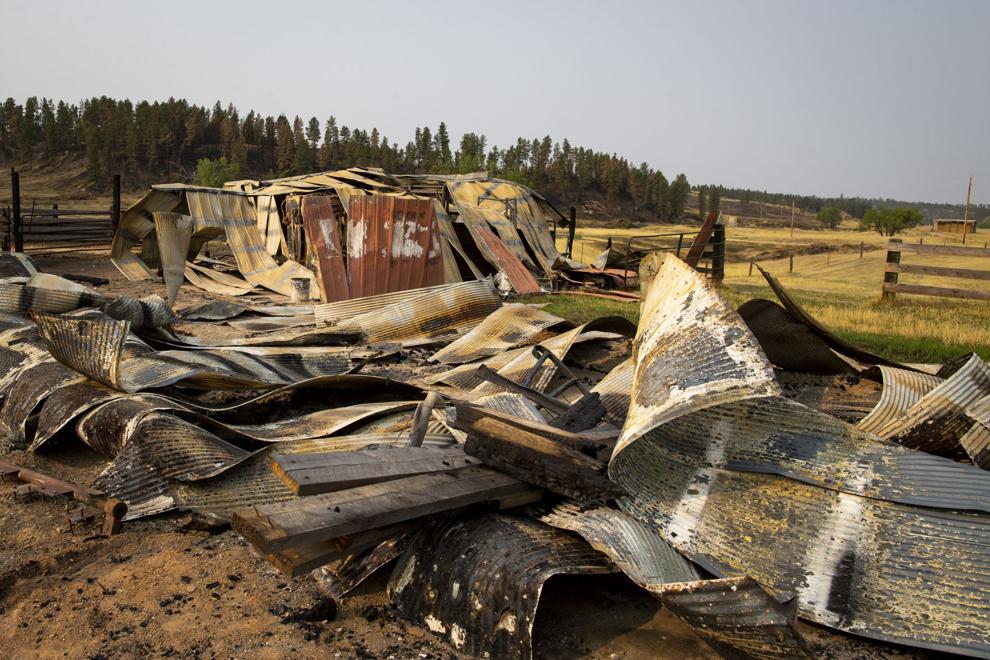 Frosty Creek Angus Ranch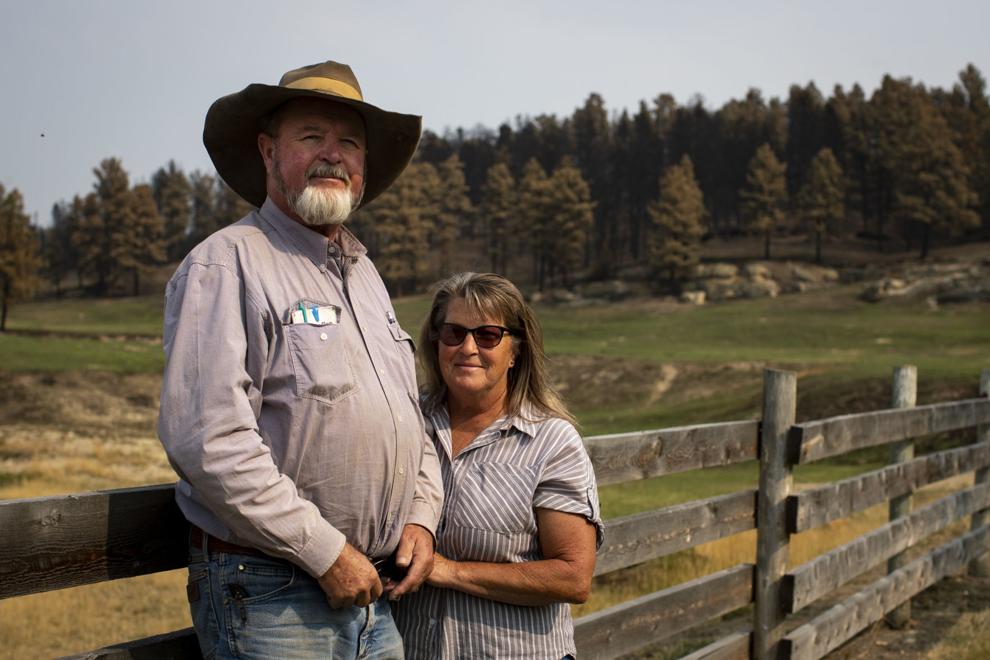 Frosty Creek Angus Ranch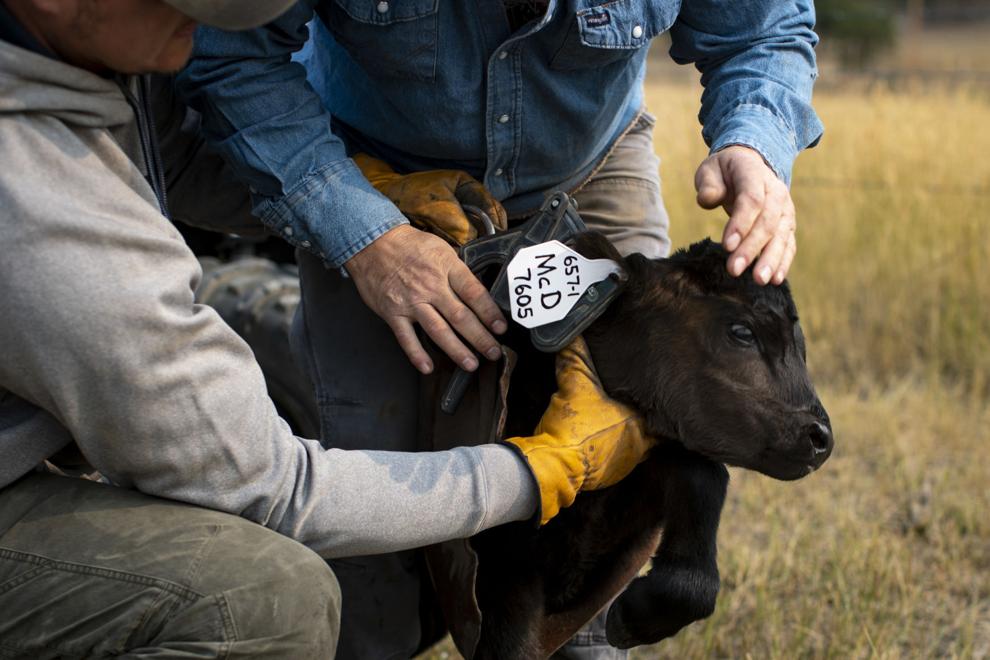 Frosty Creek Angus Ranch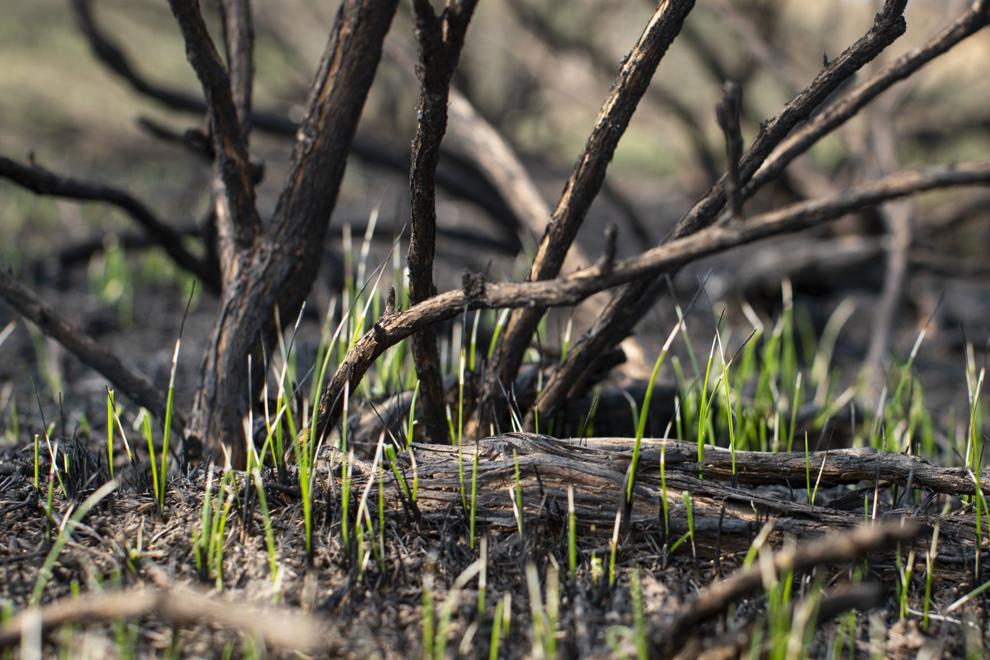 Frosty Creek Angus Ranch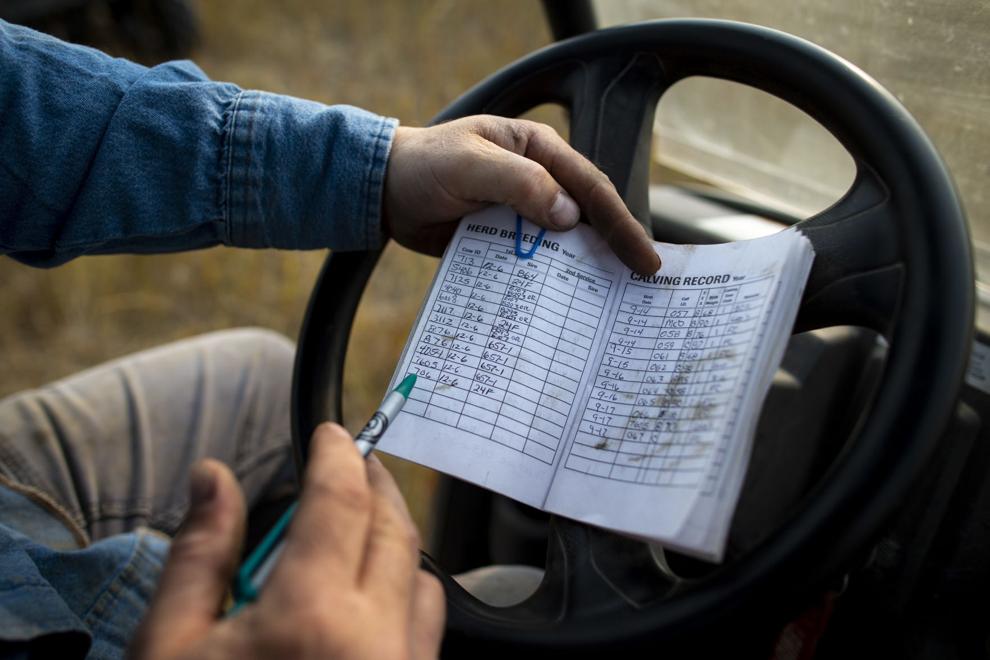 Frosty Creek Angus Ranch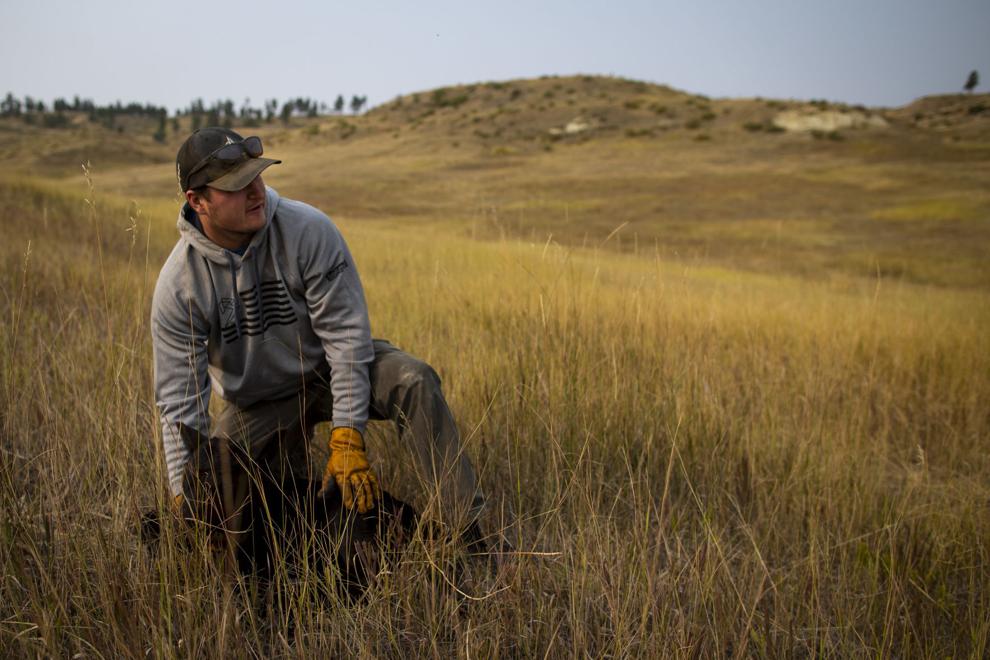 Frosty Creek Angus Ranch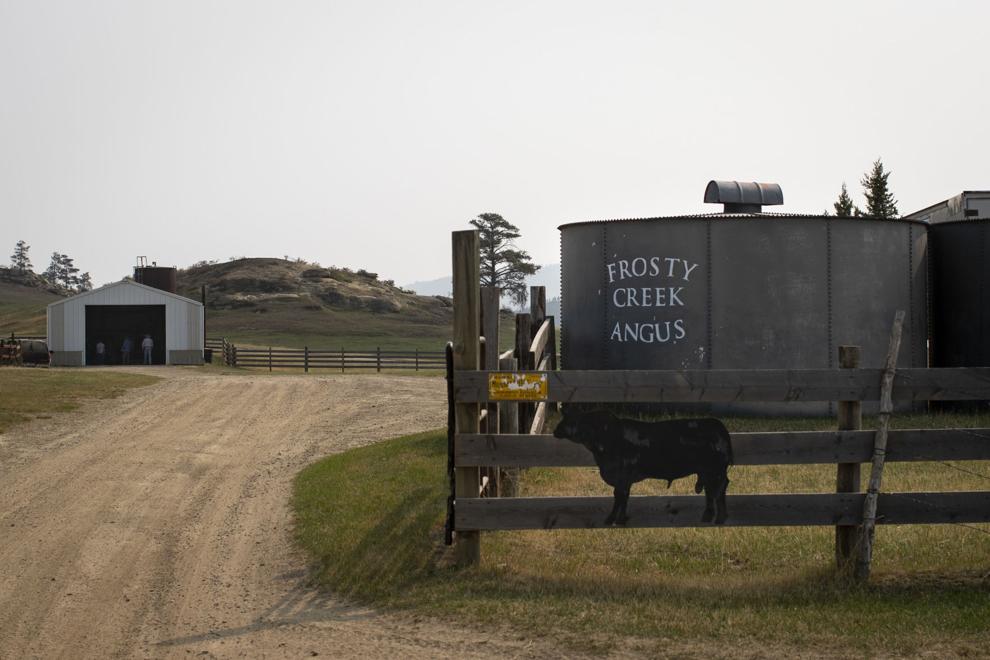 Frosty Creek Angus Ranch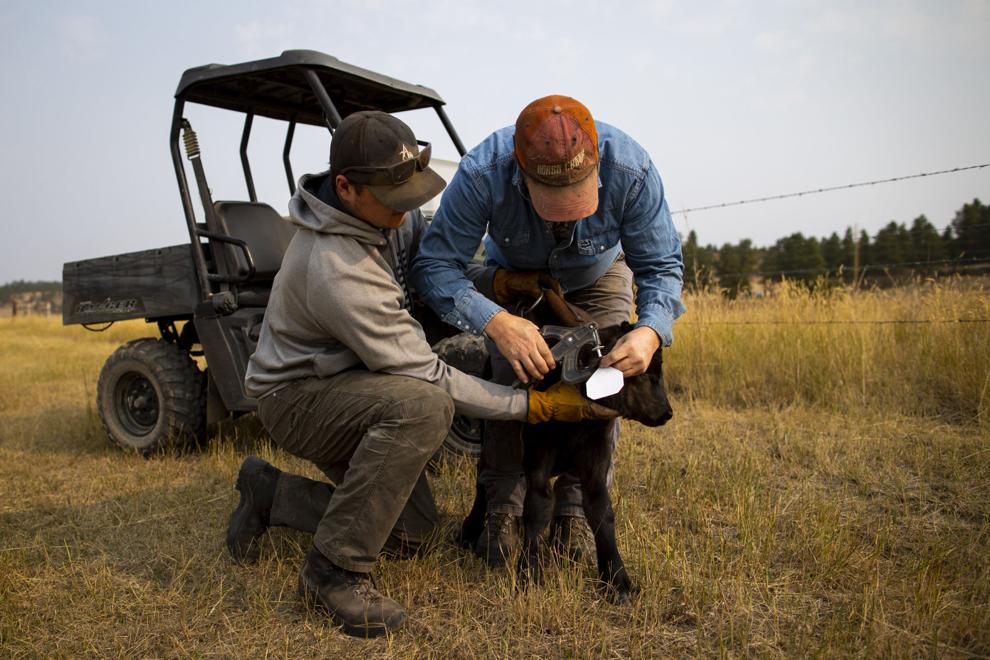 Frosty Creek Angus Ranch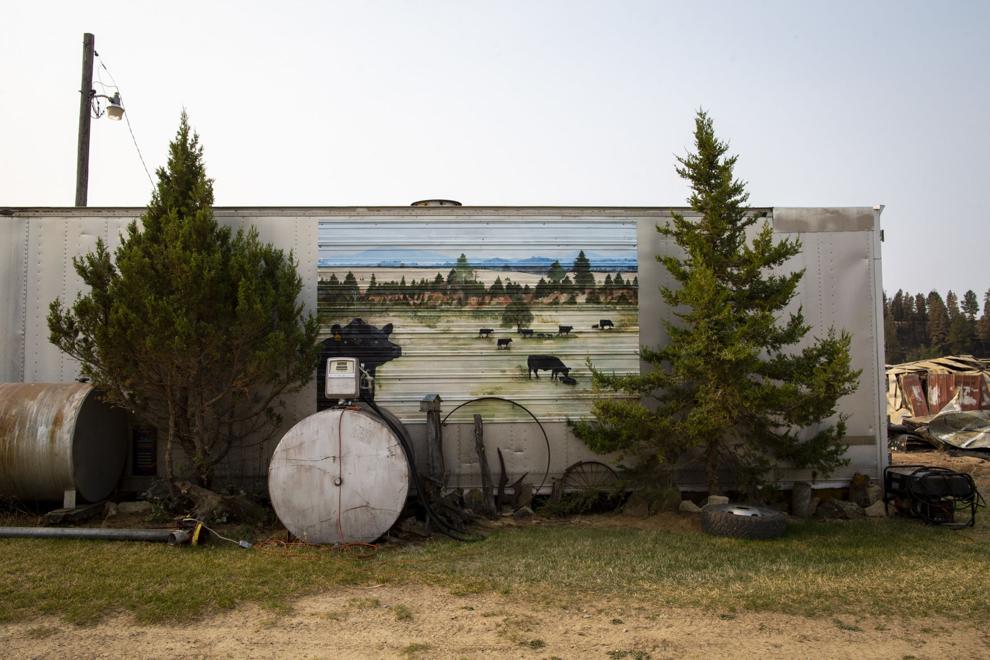 Frosty Creek Angus Ranch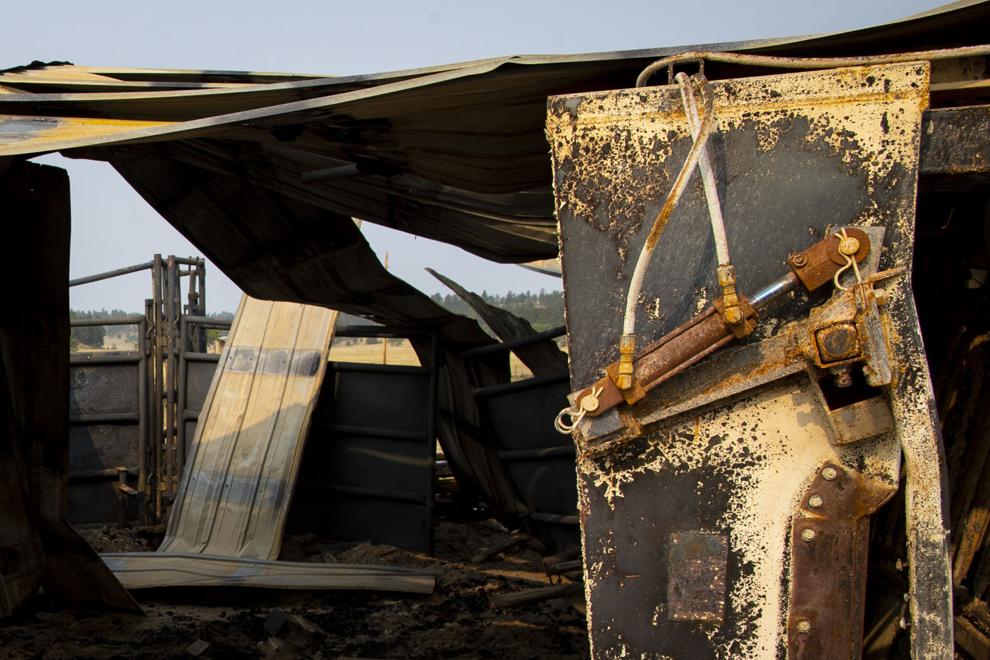 Frosty Creek Angus Ranch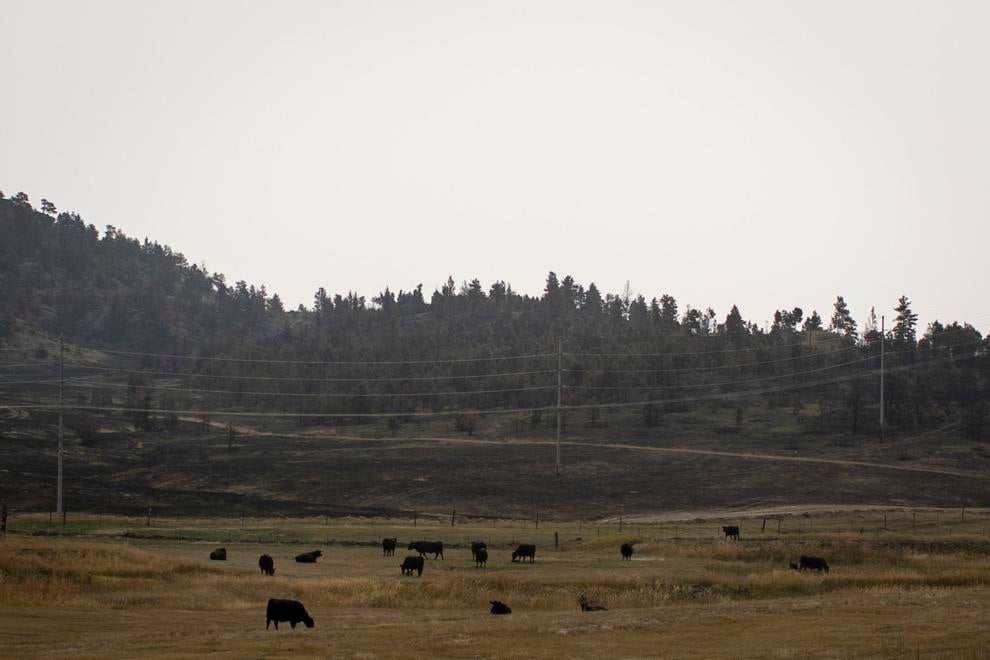 Frosty Creek Angus Ranch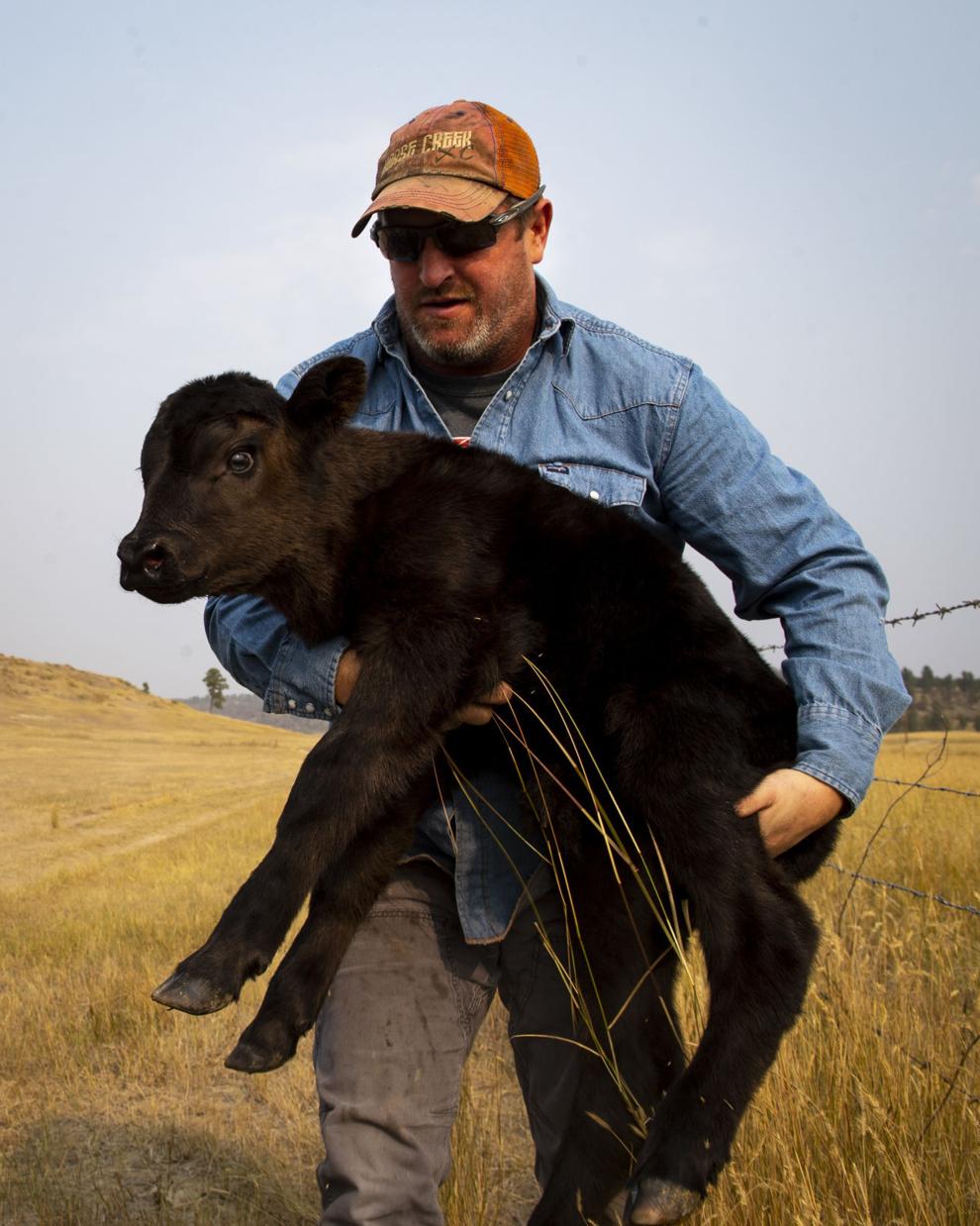 Frosty Creek Angus Ranch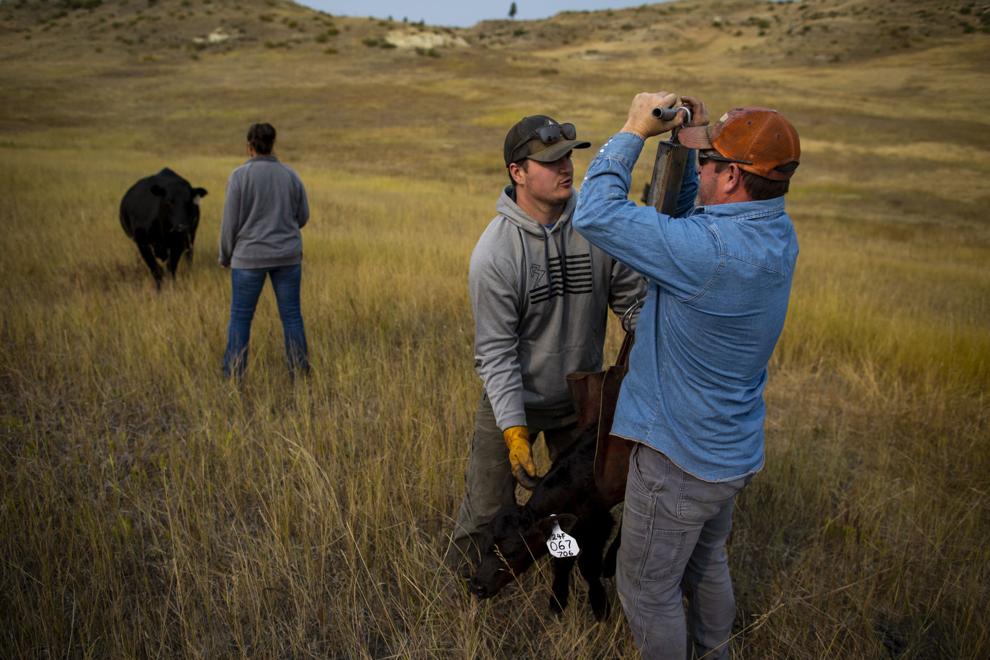 In the view of Jack Cohen, a retired U.S. Forest Service Research fire scientist who focused on studying how wildfires ignite residences, the most cost effective strategy is to reduce the susceptibility of homes to wildfire. Cohen's research also points to embers traveling sometimes half a mile ahead of a fire, as a major risk for home ignitions related to wildfires. That amounts to in many cases residences burning in an area physically separate from wildfires. 
Ensuring there is no continuous canopy of trees capable of supporting high intensity fire between 30 and 100 feet from a home is one key step to take. That doesn't mean completely removing trees from a property.   
"And we don't want anything ignitable, and I emphasize ignitable, that can ignite and burn within five feet of the house. But that doesn't mean you can't have roses or other non-dead material vegetation around the home."  
"You don't have to live in a Walmart parking lot in order to keep your house from igniting," he said.
All that work can help give firefighters more of an edge in dealing with structure protection.
Missoula County Commissioner Dave Strohmaier, who used to work in fire management for the Bureau of Land Management and the U.S. Forest Service also advocates for property owners taking steps to reduce wildfire ignition risk and to think of it in terms of a home ignition problem and not a wildfire control problem. 
"Today, ironically, with our Great Western individualism we rely, demand, somebody else deal with a fire and it's not working," Strohmaier said. "So when I address a fire chief's meeting and they ask me 'Well, what would you tell homeowners?' And I would say 'The first thing I tell homeowners is we can't be effective without you.'"