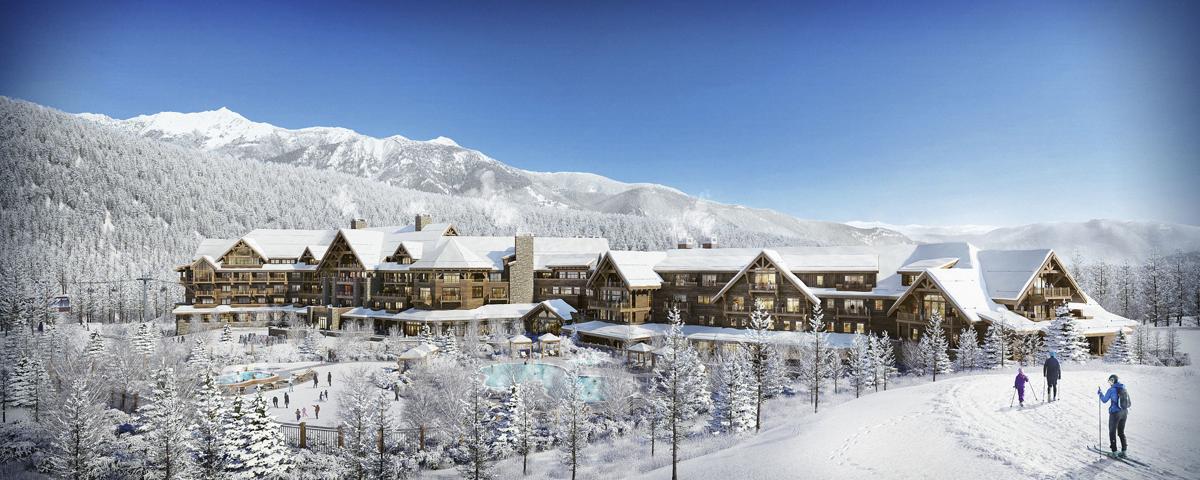 Ultra luxury is coming to one of the three private clubs in Big Sky.
The term is used to describe an exceptionally rare and lavish experience, which Montage Big Sky's management said will be found in its $416 million resort that is under construction in the Spanish Peaks Mountain Club. The projected opening date is some time in 2021.
That luxury may be found in Montage Big Sky's expansive 16,000-square foot spa or in the access granted to a private 18-hole golf course. Or it could be found in the Montage's residences, which will range in size from 2,200 to 8,100 square feet.
Bigger
The 150 guest rooms and 39 residences are being built near the base of one of the largest ski resorts in North America and only an hour drive from Yellowstone National Park, two other unique experiences.
When completed, the structure will encompass 520,000 square feet. That's just a skosh larger than the 500,000 square foot lodge being built at the nearby Yellowstone Club, one of Big Sky's other communities known to include billionaire and millionaire members like Microsoft's Bill Gates and New England Patriots' quarterback Tom Brady.
The Montage will add to an already existing 1,500 lodging units available nightly in the area, according to Candace Carr Strauss, CEO of the Big Sky Chamber.
Worker housing?
While the investment in new high-end lodging and residences is big news, the community of Big Sky has struggled to provide enough affordable housing for the workers who clean the hotel rooms and provide services to guests in the facilities.
That effort has been exacerbated somewhat by the growing rental by owner economy, like Airbnb, which has also reduced the availability of apartments or homes for workers. To help, some of the private companies are providing about 1,000 seasonal worker beds according to the Big Sky Chamber's 2019 economic profile.
For its employees, the owners of Spanish Peaks Mountain Club purchased the River Rock Lodge in Big Sky's Town Center and converted it into housing for Montage construction workers, according to a company spokesperson. When the construction work is done, the lodge will be used for Montage employees.
Spanish Peaks also has 60 beds available for associates in furnished condos and townhomes in the Big Sky Town Center, the spokesperson said. 
But the growing community could need another 600 to 900 workers by 2023.
"Workforce housing is one of the most critical needs within the Big Sky community," according to the Chamber's report. Of the housing units currently available in Big Sky, 70 percent are secondary residences.
A daily bus service is offered between Bozeman and Big Sky to shuttle workers, although Bozeman housing costs are 34% above the national average and rental availability there is limited.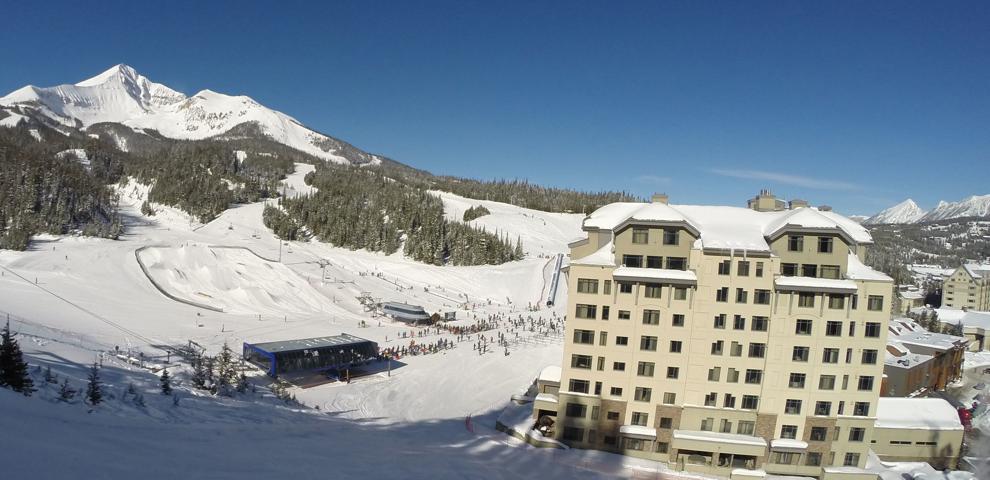 Affordable
Fifty-two affordable residences are under construction in Big Sky's Meadowview Condominium Development with units starting at $140,000 for a studio, 30 percent below market rate, according to a Bozeman Daily Chronicle story. Those are the first of what the community has determined is a need for 500 affordable housing units. The land for the 52 condos cost $1.75 million which came from resort tax revenues.
Strauss said the Big Sky School District is working with Habitat for Humanity in a first-of-its-kind partnership to build teacher housing on its campus. She noted some private businesses — from Buck's T-4 to Grizzly Outfitters — are also purchasing or providing housing for their employees.
As developers move through Big Sky's planning and zoning process, the executive director of the Big Sky Community Housing Trust is attempting to ensure new affordable housing projects are built, Strauss said.
Despite the high cost of building, Big Sky has continued to grow — 21% over the last five years — to a community that now numbers 3,000. While also investing in employee housing the ski area, owned by Michigan-based Boyne Resorts, has made annual investments in upgrading its chairlifts and base facilities.
One name that connects all of the upper mountain development is CrossHarbor Capital Partners, a Boston-based real estate investment firm. It was CrossHarbor that purchased the Spanish Peaks and Moonlight Basin ski areas that adjoined Big Sky Resort's terrain, which Boyne now manages in partnership with CrossHarbor as one large ski area.
CrossHarbor is also the company that stepped in to acquire the Yellowstone Club after developer Tim Blixseth went bankrupt in 2009. Four years later the company also bought Spanish Peaks after it went bankrupt as well as Moonlight Basin. So it's no surprise that CrossHarbor is also behind the arrival of Montage Big Sky.
Groundbreaking
Sam Byrne, co-founder of CrossHarbor, told those gathered at the Montage groundbreaking last year that his company intends to also invest in housing and mental health to help the community thrive into the future, according to a video posted online.
State politicians, some donning cowboy boots and blue jeans, hailed the project at the groundbreaking ceremony, touting the investment as another sign of the strength of Montana's tourist economy.
It's a deal that CrossHarbor Capitol Partners managing director Matt Kidd said was more than five years in the making, according to the video. Boston-based Suffolk Construction is the general contractor.
Montage Big Sky announced it will employ more than 11,700 with a payroll that will pump $18.7 million into the economy in the first 10 years as it undergoes construction. The structure is projected to add more than $29 million to state and local tax coffers.
Who is Montage?
Montage Hotels & Resorts was founded by Alan Fuerstman in 2002 "for the next generation of luxury consumers" by partnering with The Athens Group in the creation of Montage Laguna Beach in California, according to an Inc.com story. The company now touts management of eight destinations, some of which are still under construction like Big Sky.
Similar to the Big Sky development is Montage Deer Park, which opened in Park City, Utah, in 2010. Rooms there start at about $350 a night in the off-season. A 1,800 square-foot residence with two bedrooms and three baths was listed for $3 million.
"Our promise is that we will be here with welcome arms, and we will be a central part of life in Big Sky," Fuerstman said during the ground breaking ceremony. "We think that the incredible sense of place that this design of the hotel has, people are going to come together to do amazing things that will help make this one of the world's truly great destinations."