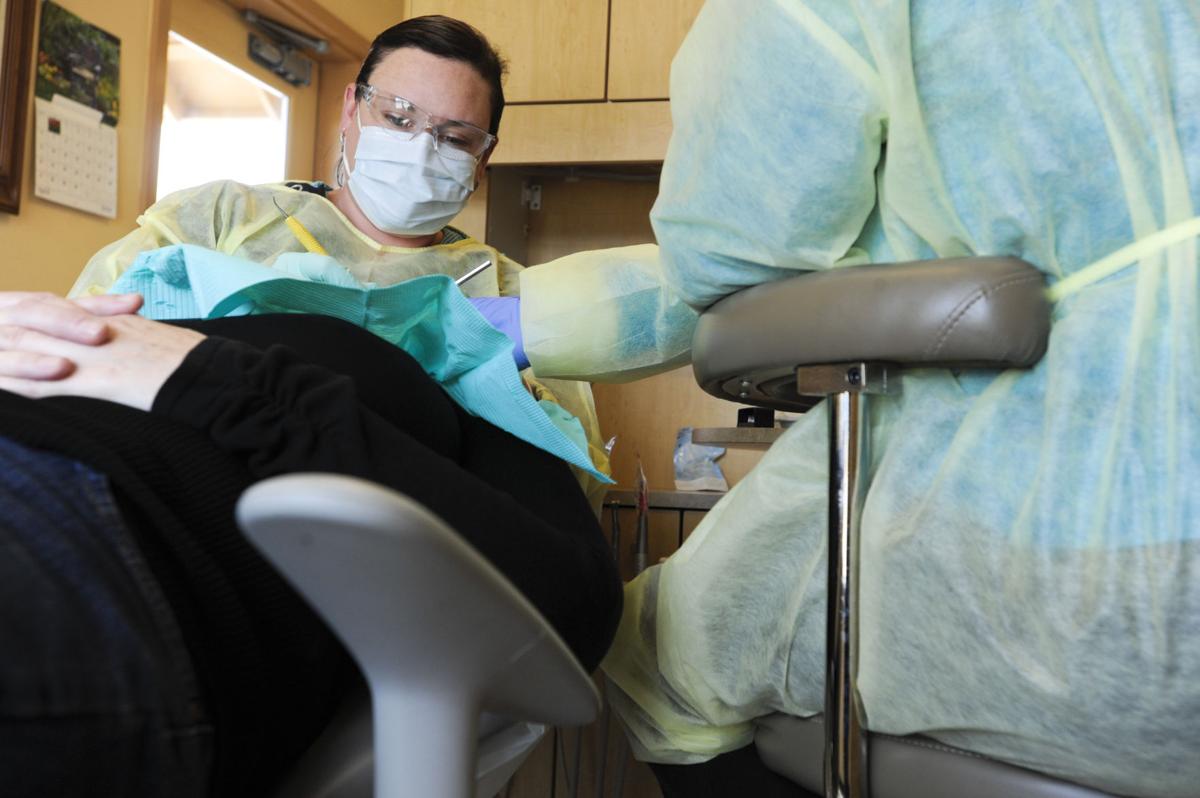 HELENA -- Dentists around the state are concerned that $8.9 million in cuts to Medicaid dental services enacted during a special session of the Legislature last month will severely impact the state's elderly and disabled.
In response to an anticipated revenue shortfall and the most expensive fire season in state history, Gov. Steve Bullock in August asked departments to propose 10 percent reductions totaling $227 million to balance the budget. Those proposals were eventually whittled down to $76 million, but cuts to dental services remained on the chopping block when the Legislature convened last month.
States are required to provide a level of dental coverage for children covered by Medicaid and the Children's Health Insurance Program, but benefits for adults are optional.
Montana has provided packages that generally have been praised by dentists over the years. As of September, Medicaid covered 18,834 people who are disabled and 8,368 over the age of 65, according to a report from the health department. Medicare doesn't cover most dental care.
The $8.9 million includes $2.4 million in state money for the Medicaid dental program, which also results in a loss of almost $4.6 million in federal dollars. There are also cuts to the children's orthodontia program totaling $1.9 million in state and federal funds over the next two years.
One of the most concerning cuts to dentists is the elimination of denture coverage.
"As a clinician, my hands are tied behind my back to be able to help people as they come in now," said Dr. Matt Calkins, who operates Sand Creek Dental in Glendive. "If they have a tooth that's infected and needs to be taken out, now there's nothing to replace that tooth. If someone has no teeth left or a couple, it's not a good situation."
People in nursing homes can be some of the sickest, and also the poorest, meaning they are dependent on Medicaid for dentures and other dental care, said Dr. Jane Gillette, who operates a small traveling practice that visits nursing homes around the state and also works on research and health policy. That demographic can also often have no family to help financially.
"They're very helpless and dependent, and it's sad because they can't advocate for themselves. ... Some of them don't have pictures on their walls, they cry uncontrollably. A lot of times because they have advanced Alzheimer's, they've lost the ability to communicate. It's like a prison for them. It's so sad," Gillette said.
For these patients, food can be one of the few remaining bright spots in their day.
"We take away their one joy in life and that's to eat their pot roast and green beans. The only thing they have left is to eat their cake and now we are going to take away their teeth to do that."
If patients can't get dentures, it severely limits the range of nutritional options they have, said David Hemion, executive director of the Montana Dental Association.
"Grandma in a nursing home is not going to enjoy the kind of quality of life she would without dentures," Hemion said.
Through her work, Gillette sees patients who need a wide range of dental care, not just new dentures. The cuts will greatly reduce what she can offer them, from preventive care to preserve teeth to a swaddling method used to calm and protect patients with developmental disabilities, Alzheimer's disease or advanced dementia. 
The latter helps the mentally impaired "tolerate the dentistry we do,'' Gillette said. "We can swaddle the patient like a baby, and then they're safe where they can't grab at your instruments and they can't hurt you, too."
Hemion said reduced dental care can cause health issues in the rest of the body as well.
"If you have poor oral health, there is evidence it can lead to a variety of conditions including severe infections, cardiovascular issues and effects on pregnancy," Hemion said. "If dental services to adults are being eliminated, those are going to show up as conditions that can be more severe and have more impact on the budget.
"They're going to show up in the emergency room just like a lot of other conditions that people present with in the emergency rooms."
The cuts are also of concern to nursing homes that work to keep patients as healthy as possible.
Christine Despres, the director of nursing at Madison Valley Manor in Ennis, said her nursing home strives to create a home-like environment and takes the best care of residents possible.
"Their quality of life means the world to us, and any way we can keep that joy that they have, which can revolve around food and eating and feeling good, is our top priority."
The nursing home, which cares for 26 patients on average, is a county-run facility and is proud of its five-star rating from the federal Centers for Medicare and Medicaid.
Patient weight is a quality measure for the federal Centers. Despres gets a chart every month that tracks weight loss in residents. Dementia is already a huge factor in weight loss, and reduced dental care could make things even more difficult.
"They need their mouths to be functional so they can eat so they can be well on so many levels," Despres said.
There's also the issue of dignity.
"There's a huge dignity issue involved in having to puree residents' food," Despres said."The kitchen swears it still tastes great, but I don't know that there are many people who agree. The plate appeal, the dignity, the consumption and meal enjoyment really go to the wayside."
She said it's possible nursing homes would be required to pay for the services patients need, which would be hard with already tight budgets.
"The cuts are going to come from somewhere," Despres said. "I would hate to see any of our programs or any of the wonderful things we provide for the residents (reduced) to pay for mouth care that has always been included."
Dentists are hopeful they will be able to work with the health department to lessen the blow of the cuts. To implement reductions, the department must write rules dictating changes to the existing programs. Dentists hope to provide feedback on the rules as well as testify at mandatory public hearings. The health department says it expects to enact the rules by March.
Dentists also expressed disappointment the health department didn't reach out to them before they proposed the cuts. 
"They didn't really visit with dentists," Calkins said. "They went ahead and did things on their own."
Gillette said dentists have a good relationship with the department and have always been able to collaborate on issues, but because of the tight timeline to draft budget cuts, it didn't happen this time.
The health department said it had met with the dental association and a dentist to outline the proposal and ask for feedback, and will continue to work with the dental association to provide context as it writes rules.
The cuts also could hamper the state's successful private-public charitable dental care partnership, Calkins said.
The health department has said the program could be continued with internal resources, but dentists are still worried.
Hemion said the charity program cuts, which he points out are a tiny fraction of the full $76 million in reductions to agencies statewide, could have a big impact.
"For that $30,000, which pays for a coordinator who recruits dentists who provide voluntary care, the state over the years has received $4.3 million in services."
Reductions would also put more pressure on the charity program, he said. "We'll just have more people who aren't qualified. … This program has addressed those who fall through the cracks. We think that is a very, very shortsighted decision."
Hemion said right now the state pays for about two-thirds of the program and there's a waiting list of about 100 people who need care.
Dentists are also facing a 2.99 percent cut to the overall rate they are paid for services performed for Medicaid patients, which the state health department says will take effect Jan. 1.
In Montana, Hemion said those reductions could cause some dental practices to stop accepting patients with Medicaid.
About two-thirds of practices accept Medicaid, he said, and dentists statewide have practices that range from 25 percent of patients covered by Medicaid to upwards of 40 percent, though there are also some practices that are almost exclusively Medicaid.
"When they see Medicaid patients, the dentists are subsidizing that care for them," Hemion said. "The payments they get do not cover the cost of business, their overhead. In many cases the dentist is voluntarily providing their services. They just do it as an ethical commitment to public service."
All of this comes as dentists could be facing even deeper cuts because of actions taken in the regular 2017 legislative session.
In April, legislators approved automatic budget reductions if revenue came in lower than expected. Those automatic cuts were triggered this summer, but have not yet taken effect because a legislative committee objected to them.
Department officials have said delaying those cuts, which also were set at 2.99 percent, could make them even deeper to capture the savings called for in the budget.
"That's just going to make even less providers want to be a part of Medicaid," Calkins said. "That will decrease access to care for patients."
Calkins' office is in Glendive and he said he's one of few providers around who takes Medicaid.
"I'm in a small town in eastern Montana and there's really no providers around that take it. I'm one of the only ones that takes a good amount. There's a couple that take a patient here and there, but nothing significant."
About 30 percent of his practice is Medicaid patients. His practice has benefited from the oil boom in the nearby Bakken oilfields, although as that activity slowed in recent years he's been able to add in more Medicaid patients.
"Once the price of oil went down, people were moving and leaving, and to keep things busy we added that in. It's been good to be able to help those individuals and it's something I want to keep doing,'' he said. "It's just disheartening to see that we can't help these people in a lot of ways now. It's going to affect people's lives for the worse."
Be the first to know
Get local news delivered to your inbox!