The old Dooley church attracted a congregation that never sat in its pews. Instead, for years the flock gathered outside the leaning, abandoned building, taking photos, remembering and imagining what life was like for those who prayed under its roof.
The historic building northeast of Plentywood, only a dozen or so miles from Canada, collapsed Monday after years of decay. Formerly the Rocky Valley Lutheran Church, it was the last official outpost of the Dooley ghost town that has drawn both locals and tourists.
"Whether it's country churches or one-room schoolhouses, those are the places that really tell a big story about our past, and yet it's really a challenge to keep a lot of important buildings standing," said Chere Jiusto, who leads the Montana Preservation Alliance.
The collapse didn't surprise local history experts.
"I'm surprised it's lasted as long as it has," said Pat Tange, the Sheridan County Museum director. He didn't know of any structural efforts to preserve the building. 
Dooley was platted by a railroad company along a branch line built in 1913, a common practice in Sheridan County. The "Rocky Valley Congregation" had organized two years earlier, holding services in Norwegian and English, but didn't have a permanent church.
The cornerstone was laid in 1915, and the building went up at a cost of $437.75. By 1945, the church no longer regularly held services, and Dooley's population had plummeted. In 1959, the building was deeded to the Plentywood Lutheran Church "by three people identified as 'the sole survivors and members of the Rocky Valley Lutheran Church.'"
In 1993, the window glass was gone, plaster was falling, shingles were missing, and the chimney and stoop were gone. But the foundation appeared sound.
"The building displays good integrity, although it shows evidence of decades of abandonment," the application said.
That abandonment was an essential part of the character that drew visitors to the church, and locals testified to its popularity.
"It was very photogenic," Tange said.
"Everybody goes there and takes a picture of it," said Jessica Stid, a Plentywood photographer.
"I've had people in Texas say they've driven up here to see it. … I don't know how people actually find out about it," said another nearby photographer, Liselle Moberg Strassman. It's even hosted small weddings on the grounds.
The aesthetic appeal is obvious — a handcrafted building framed against golden grass and blue sky that could scarcely have been better manufactured to draw adoration on social media.
But Jiusto reckons there's more than that.
"Humans need to have attachment to their surroundings, to their environment," she said. "We see characteristics and eccentricities in unique buildings, and ponder what those say about ourselves and our roots.
"These are the buildings and these are the properties that tell long-standing stories. It's a way of connecting to our identity."
Moberg Strassman has built a photography business, Abandoned Montana, off of that interest.
She's found that people are often interested in the factual history of old buildings, but just as much, "the wonder of what used to be there."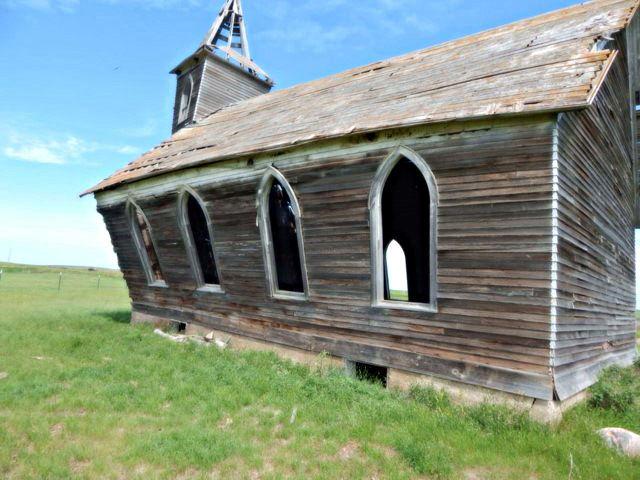 Early years
Local groups have put much effort into documenting what used to be there. Sheridan's Daybreak, Volume I, was compiled in 1970 by Magnus Aasheim, a local teacher, farmer and legislator who died in 2008. A section on Dooley was authored by Ethel Iverson, and goes into great detail about Dooley's early years:
The town borrowed its name from the nearby W.D. Dooley homestead.
"About 40 buildings went up at once," Iverson wrote. By the fall of 1913, Dooley had a bank, two general stores, a meat market, a drugstore and ice cream parlor, two saloons, a restaurant, a sweet shop, a feed mill, a newspaper, and two hardware stores — both of which, at different times, would house the town morgue.
But this was a railroad town. Three grain elevators and four lumber yards operated at one point. Dooley was a go-through for Canadian grain moving into the American market.
Electricity came to town in 1915, and a new grade school building in 1916. Doctors, a dentist, and other new businesses followed.
From the start, Dooley was plagued by adversity. The winter of 1915-16 was so harsh that trains became stuck in 17-foot snow drifts. Three major fires in 1916, 1919, and 1920 destroyed multiple businesses. A 1934 tornado damaged the town, and another fire swept through two months later.
You have free articles remaining.
There was also fun. Dooley had a salaried baseball team, band, barn dances, silent movies and plays. The town was a regular stop for big-tent shows.
Iverson doesn't say much about the town's demise, other than that it "gradually disappeared." At the time of her writing, only a few buildings still stood, and only one family lived in the town area.
She closes the Dooley section humbly; "please forgive our omissions and mistakes — our memory went with the town."
A second edition of the book in 1985 adds only a few details, and a third edition published in 2005 wasn't publicly available in the Montana Historical Society's digital collections. But a documentation of Sheridan County historic resources for the National Register of Historic Places sheds more light on the growth and demise:
The land that would become Sheridan County was part of the "Great Blackfeet Reservation," which several American Indian tribes were forced on to. The sweeping block of land in Northern Montana was broken up in 1888 and divided into three smaller reservations, including the Fort Peck Reservation, which only included a small part of southwestern Sheridan County.
Railroads would go on to market much of Montana that was previously viewed as unsuitable for agriculture as a "mecca for prospective farmers." Some of Sheridan County's land proved useful, but by the late 1910s a drought hurt crop yields and wheat prices collapsed. Many farms consolidated, and displaced families often left the region.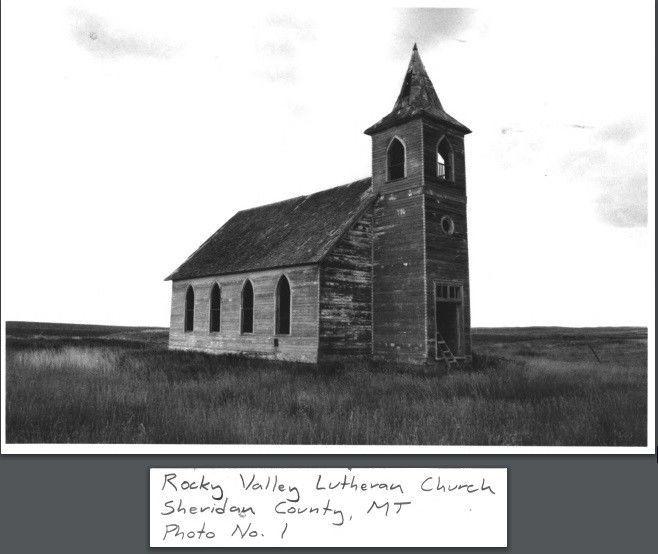 The dominance of railroads was also challenged soon.
"The creation and growth of towns in Sheridan County represent the impact of the railroad on the human landscape of the Great Plains. In turn, the decline of many of the towns reflects the ascendancy of the automobile and truck at the expense of the railways and animal-powered conveyances," the resource documentation says. "More significantly, though, the cycle of town growth and decline reflects the exuberance and optimism of the turn-of-the-century homestead era, and the belated realization that much of that optimism was untenable."
Preservation
More and more of the remnants of Dooley-type towns are disappearing.
"There is a common experience across rural Montana that dates to the homestead era and late 1800s and early 1900s with small communities being founded and growing and taking hold and just shifting with changes in the weather and the bust of the homesteading movement," Jiusto said.
Tange said that more and more of those places are being literally wiped away — "no evidence other than a few foundations."
Doug Smith, a Sheridan County planner and local historian, cited Montana's vast geography combined with an often-dwindling rural population.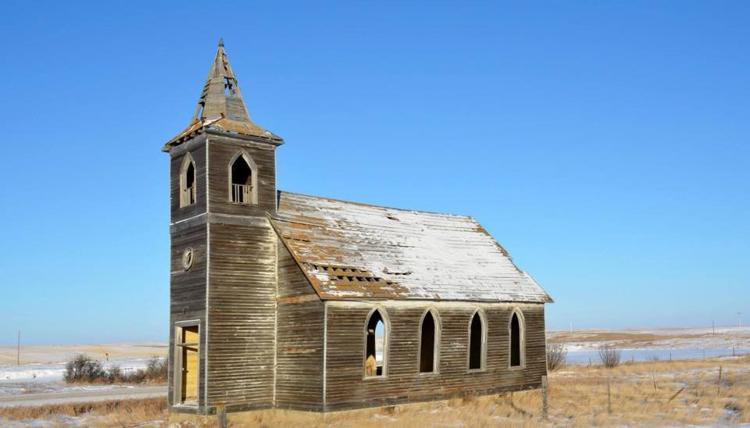 "You have fewer people left and fewer organizations left to maintain those structures. It's just a problem of attrition," Smith said.
Finances can also be a major hurdle. Many historic buildings have been absorbed into agricultural property, and owners are more concerned about making ends meet on a ranch than renovating a dilapidated building.
Places like the Dooley church that may have seemed OK 30 years ago have aged, and often not well. What seems quaint can quickly become crushed.
"For buildings that are in very remote places and not being taken care of, that is a process that accelerates," Jiusto said.
A line of storms marched over the church Monday, beating the building down. Around 3 p.m. a thunderstorm dealt the final blow. 
"There was definitely a storm that moved over that area," National Weather Service meteorologist Dan Borsum said. "It would have been a good, strong thunderstorm." 
In nearby North Dakota, storms were reported in the Fortuna area with gusts up to 60 mph and hail. In Plentywood warnings of severe thunderstorms just south of town began after 2 p.m. To knock over a weaker building even just a 15 mph gust hitting the right direction could do the trick, Borsum said. 
Storms have undoubtedly battered the church for years. But Jiusto is hopeful that much can be saved, and not just from the homestead era. For example, Sheridan County has landmarks predating railroad towns. The resource documentation notes that the Assiniboine Tribe occupied Sheridan County beginning in about 1800, after the Blackfeet tribe migrated west, and other cultures occupied the area far earlier. The 1993 resource documentation says that Sheridan County has three undated medicine wheels — that's a good chunk of the fewer than 20 in all of Montana.
"We find there's a lot of people that contact us that are interested to find out how they can take action to preserve these places and what can be done to keep them standing," she said. "People in Montana really have a commitment to preservation."
She also pointed to a new grant program approved by the Montana Legislature this year to preserve historic buildings, and said that the preservation alliance lends assistance when it can.
"It depends on communities, family, government programs, everybody banding together," she said.