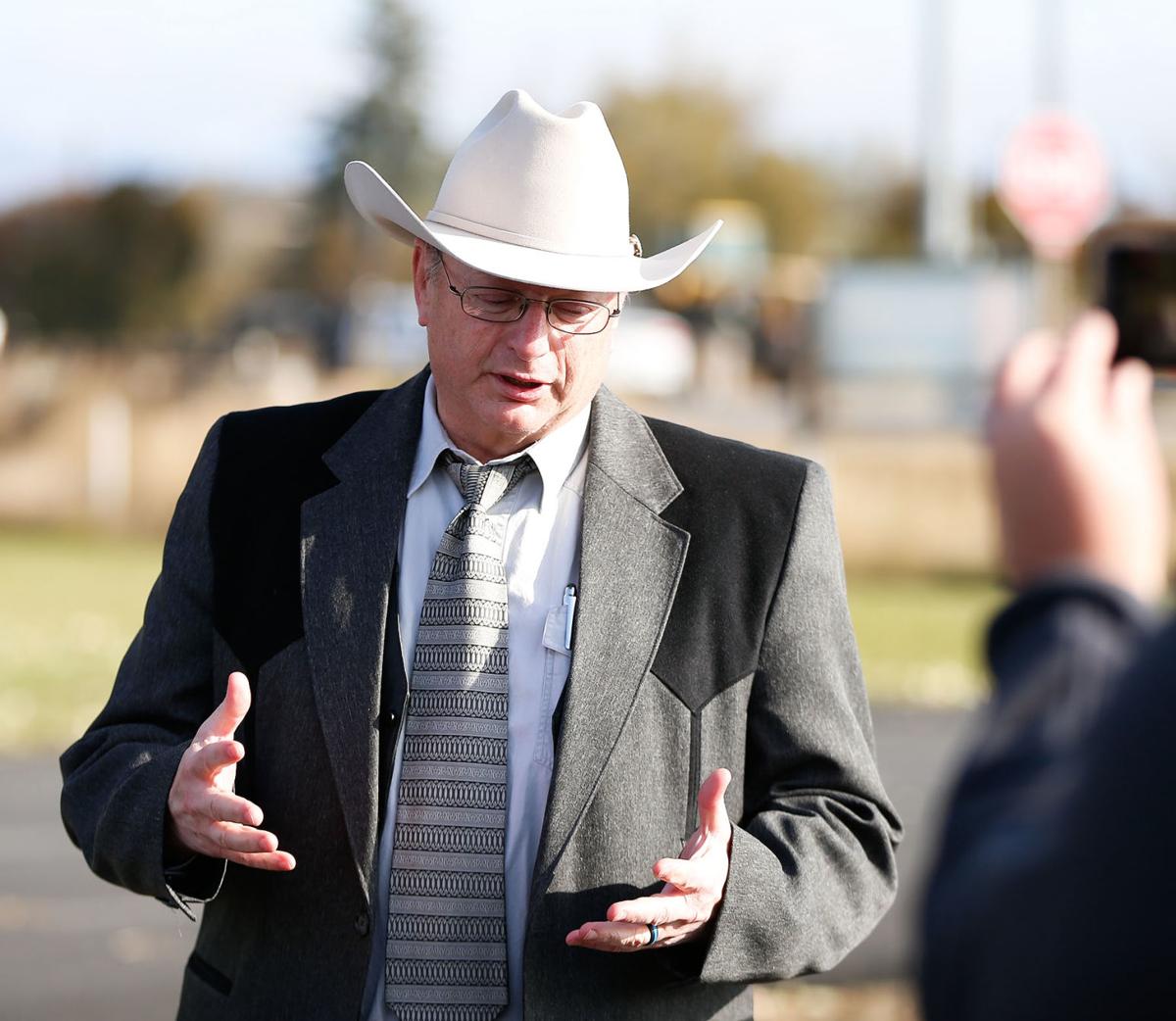 Lewis and Clark County Sheriff Leo Dutton said he and his department will be more reserved in the future about what information to release, following Tuesday's bomb scare at Rossiter Elementary School that ended up being a false alarm.
Reports quickly made state and national news after Dutton and Undersheriff Jason Grimmis held a press conference Tuesday morning and said that an improvised explosive device, commonly called an "IED," had detonated on the school playground. The announcement included details of the suspected device as a soda bottle wrapped in black tape that left a debris field near the basketball court.
Students at Rossiter were evacuated as law enforcement from county, state and federal agencies responded.
After further investigation, officials determined the soda bottle, which was filled with nuts and bolts and contained a liquid, had not exploded and was not an improvised bomb. It had been placed there inadvertently by a homeless man and the contents were not flammable, Dutton announced at a press conference Tuesday afternoon.
The sheriff's office and media that reported on the press conference saw backlash from some in the community over the description of the suspected explosive and for stating it had detonated before later reporting it to be a false alarm.
On Wednesday, Dutton provided additional details on what led to the incorrect information and changes he and the department would make as to what information to provide the public.
"It wasn't to sensationalize anything," he said. "It does draw into question how much information I should release, but it wasn't to alarm the community, I was being forthright and honest about exactly what I knew. When I told you it exploded we were confident it had, and yes we were still investigating and I did say things can change, but it was exactly what I knew and I chose to be open about it. In retrospect, I will probably hold some information back in the future."
After Rossiter staff called 911 to report the suspicious bottle, the first deputy who responded was a military veteran who had served overseas, Dutton said. The deputy visually inspected the site and placed cones around it as the district moved to evacuate.
The county's bomb squad is highly trained in responding to and identifying explosive devices. The squad does provide in-service training to deputies, but deputies are primarily taught to use common sense and call in experts for something deemed suspicious, Dutton said. Deputies are specifically trained not to approach any suspicious objects due to safety concerns.
While Dutton emphasized it was his responsibility to decide what information to release, he did take into account the deputy's military experience and familiarity with IEDs when he chose to confirm the bottle had detonated.
"There were nuts and bolts everywhere and it fit the profile (of a detonated device)," he said. "So am I going to trust my guy? The answer is yes unless it is proven otherwise."
Rossiter uses a motion-activated surveillance system and review of the video appeared to confirm a detonation, Dutton continued. The bottle is seen in a still frame sitting in place, and then in another still frame the bottle had moved and the nuts and bolts were scattered into a debris field, giving the appearance of an explosion. 
Upon review of additional surveillance video, law enforcement later learned that a child had kicked the bottle, causing it to move and its contents to scatter. It was about that time that the bomb squad's initial analysis came back determining that the fluid contained in the bottle was not flammable.
Dutton did hold back some details initially, such as the information about the nuts and bolts in the bottle, which only a suspect would likely know. But he released a general description of the bottle as other schools went on lockdown. Dutton said his primary concern was public safety and finding out if any similar devices were left at Rossiter or other schools.
"The fact I said it 'detonated' is a factor that is bothering people, but I hope they realize we also came back and said it didn't and I released what I considered credible," he said. "In hindsight, should we have said it detonated – that'll be up to my bosses (residents.) I said it and I have to take all of the blame, so it is a lesson learned."
The word "IED" came from the deputy on the scene, and Dutton said he chose to use the term in his report to the media.
"Unfortunately you've probably heard that term in connection with war, but it is certainly not exclusive to war. But you won't hear that term again unless it has something really elaborate about it.
"This came from someone again that probably used that vernacular in his military experience, but again, what was released to the public is not his fault, it is mine."
Dutton said in the future he plans to use terms such as a "suspicious item" in his initial reports to the public.
Reporter Tom Kuglin can be reached at 447-4076 @IR_TomKuglin
Be the first to know
Get local news delivered to your inbox!