A young Crow boy sat on an eastbound train at the end of the 19th century.
The 13-year-old from Lodge Grass, George Washington Hogan, left behind a mother and two distraught sisters. One of them threatened to pour oil over the tracks and derail the train if he left. Hogan's destination was an Indian boarding school nearly 2,000 miles away in Pennsylvania.
His boarding school days had begun in Crow Agency where he "wasn't treated very kindly," said his daughter Mardell Plainfeather. "He was hit around the head quite a few times. It must have broke his ear drums because he was very hard of hearing. He said that happened before he asked to go to Carlisle."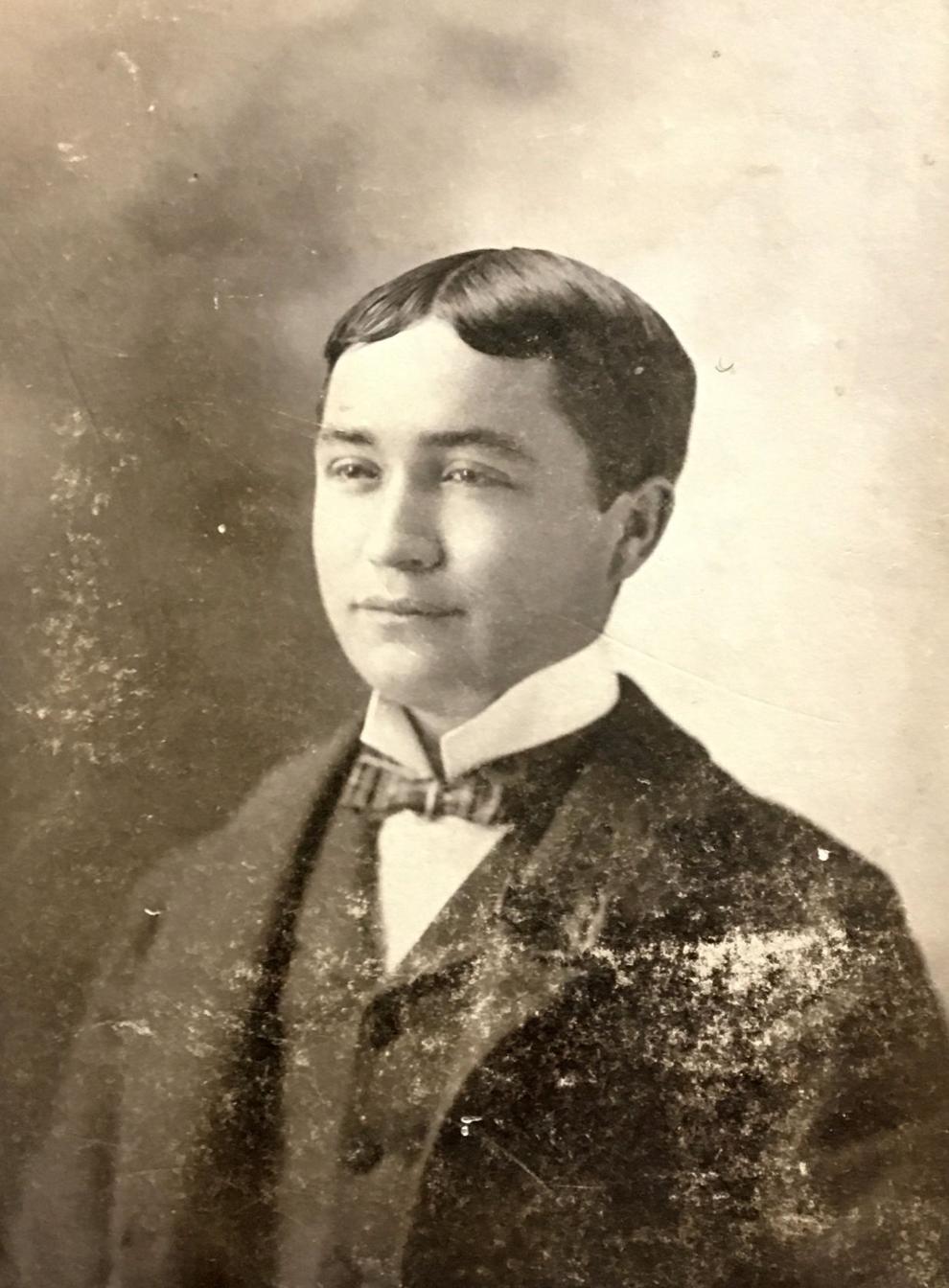 Hogan arrived at Carlisle Indian Industrial School in 1898, one of thousands of Indigenous children and adolescents who attended the school during its 39 years in operation. Cut off from his family, he didn't return home until 1904. When he did get home he brought with him a "gift" from the U.S. government, a gift he would use as a tool of resistance against that same government. During his hundreds of hours of study at Carlisle, his daughter said, he forged a weapon that the Crow chiefs back home didn't have. That was a white man's education.
The grounds where George Washington Hogan was trained to march for six years had all the landmarks familiar to anyone who's been to a college or university: stately administrative buildings, multi-story dormitories, a football field and baseball diamond. Unlike most school campuses, however, Carlisle also had a cemetery.
At least 186 Native American children died at Carlisle, according to the Office of Army Cemeteries. The school was a product of an assimilation campaign in the decades that followed the Indian Wars. The dozens of boarding schools that dotted the nation were administered by federal and religious authorities.
The U.S. Army is currently repatriating many of the remains at Carlisle to the more than 40 tribes to whom they belong. In July, nine Rosebud Sioux children were finally returned home to South Dakota, the most recent transfer since repatriation from Carlisle began in 2017.
Those who died while attending Carlisle are not hidden somewhere on the grounds, but clearly marked with marble headstones. Unlike the hundreds buried in unmarked graves in religious residential schools in Canada, the U.S. government has the names and tribes of those 186 children on file.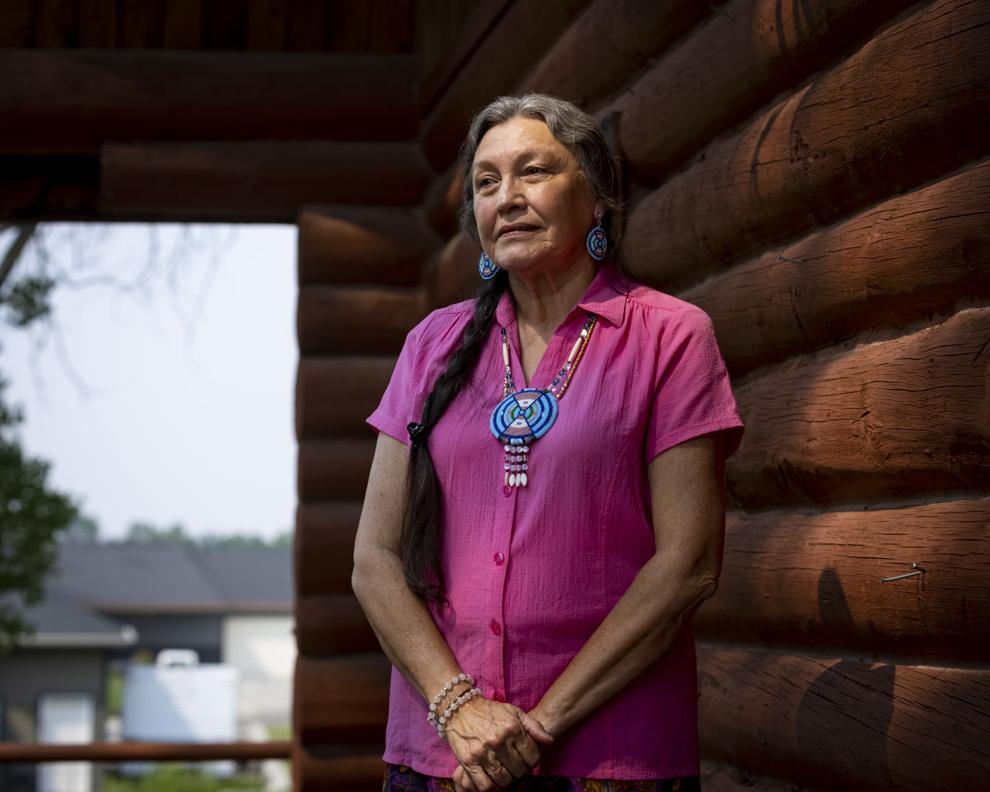 Crow who never came home
At least three of them were Crow, according to longtime educator Janine Pease, who has been working to identify every member of the Crow tribe who entered Carlisle. Since her research began at the start of 2021, she's found 96 Apsáalooke in the school's archives.
"There are three students who died who are Crow, from what I can see from this distance. The Crow Tribe has not done research in going there and identifying the remains, but there are three. There are others who left because they were in failing health, and Carlisle was a school where the administration really didn't want students to die there. Captain Pratt was not a person who wanted to see their demise. I found 17 who were sent home due to ill health," said Pease, who is also Crow.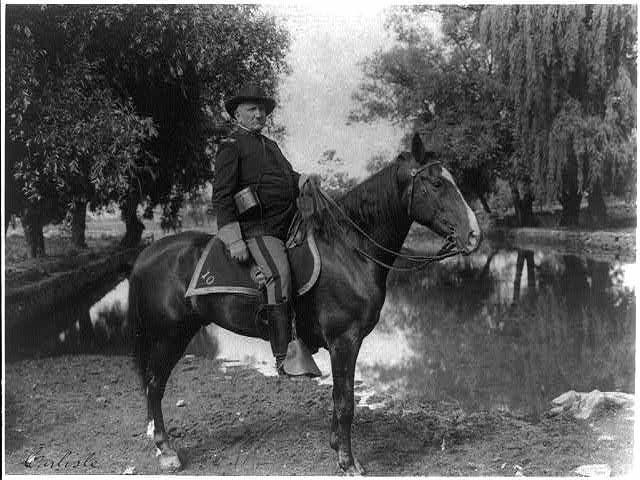 Although Richard Henry Pratt was a lieutenant colonel by the time he convinced the federal government to utilize boarding schools as a method for assimilation, the idea took root while he was a captain assigned to Ft. Marion. The fort, which dated back to the Spanish Empire's presence in Florida, was by then a prison for Indigenous people.
"His assignment was the Comanches, the Apaches, Cheyennes, Kiowas and one Cahto. This is a big prison, but these were Indians who he was assigned to. He got to know them well enough that he got them art supplies, and they soon took to creating art. He then brought in a tutor to teach them English, and he was shocked at how educable they were. Up until then, the common thinking was that they weren't able to be taught. He saw potential, and wrote to Congress saying if he had $1,200 a year per pupil, it would be cheaper than waging war. That would please a lot of the Eastern population, who looked on waging war with the Indians as inhumane. Pratt is the one who thought of starting Carlisle, then 24 schools followed," Pease said.

Those schools were administered by the Bureau of Indian Affairs. It was Pratt who summarized the investment in uprooting thousands of Indigenous children, cutting their hair, converting them to Christianity and effectively outlawing the culture of their parents with the phrase, "Kill the Indian, Save the Man."
It was fortunate for the Crow students that most who arrived were already grown into adolescence, Pease said, with their native language and customs firmly in place by the time they reached Carlisle.
"Some of them were 17 or 18 years old and I think the reason for that is that the BIA agent was the recruiter, and he chose outstanding students from the Crow Agency Boarding School, or some of the other schools. So we didn't have this traumatic sending of a child to Pennsylvania. There were a few 7- and 8-year-olds, but very few," Pease said.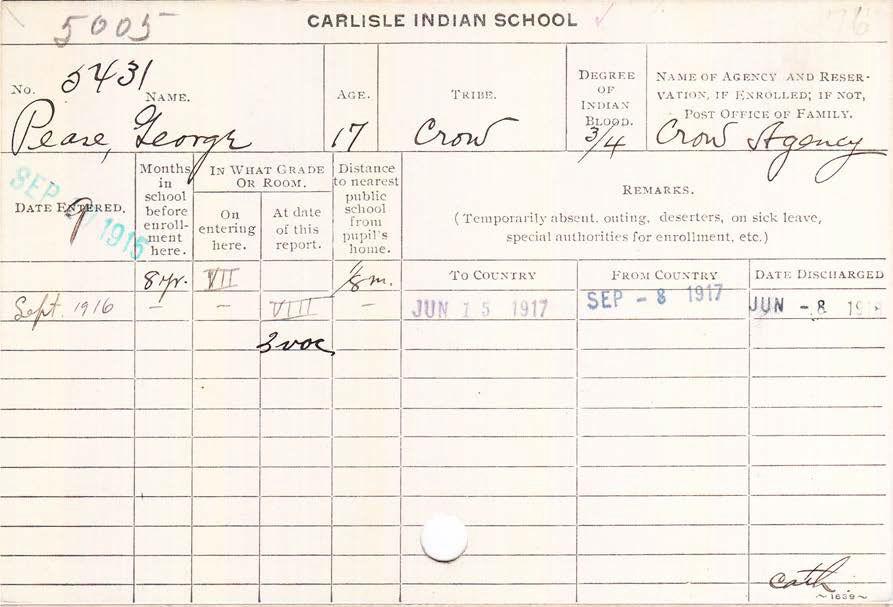 Pease has family of her own connected to the school. Her great uncle, George Pease, was at Carlisle when it closed in 1918. He then moved to the Chemawa Indian School in Oregon, where he started work as an undertaker's assistant just as influenza began to spread across the United States. Lee Newspapers papers previously reported that at least 222 Indigenous children are buried at the Oregon boarding school.
"He said the students were dropping like flies, and he had to bury them…He eventually enlisted in the Navy and got out of that terrible duty," Pease said.
Native American deaths were not unique to the school, or boarding schools in general at the time. Waves of disease were causing Indigenous populations to plummet both in and out of the dormitories.
"There's a lot of death, a lot of population loss in this period of time, and the context of Carlisle and really all this early reservation period of time is that smallpox is a daily event. Tuberculosis was also attacking, but especially young adults. Every time smallpox hit the Crow Reservation, half the people died…In 1906, when they opened the boarding school in Pryor, they had nine students come down with smallpox," Pease said.
"It was a time of not enough food. The game were all gone, and we were living off rations based on the number of people in a household. So, children were born to unhealthy women who were probably on the verge of starvation."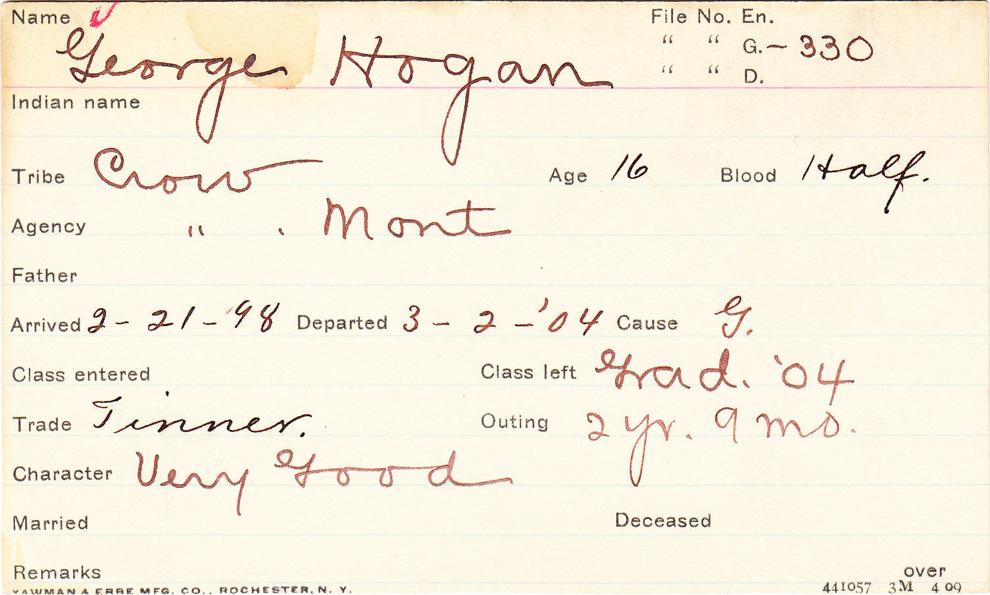 It was out of this environment that the 13-year-old George Washington Hogan emerged. Although Carlisle did enforce a ban on Indigenous culture, and employed corporal punishment to do so, Hogan was escaping a much more brutal boarding school in Crow Agency. While he was able to walk out, other students had to be carried.
"My grandpa had a brother named Benny, which strangely they named my Grandpa Benny, too. He was taken to the boarding school in Crow Agency and he must have been a crier. He must have cried…Something happened where he was beaten to death, or he was beaten so bad that he died. And then my great grandmother went to get the body and brought him home. After that, she wouldn't send any of her children to that boarding school," Pease said.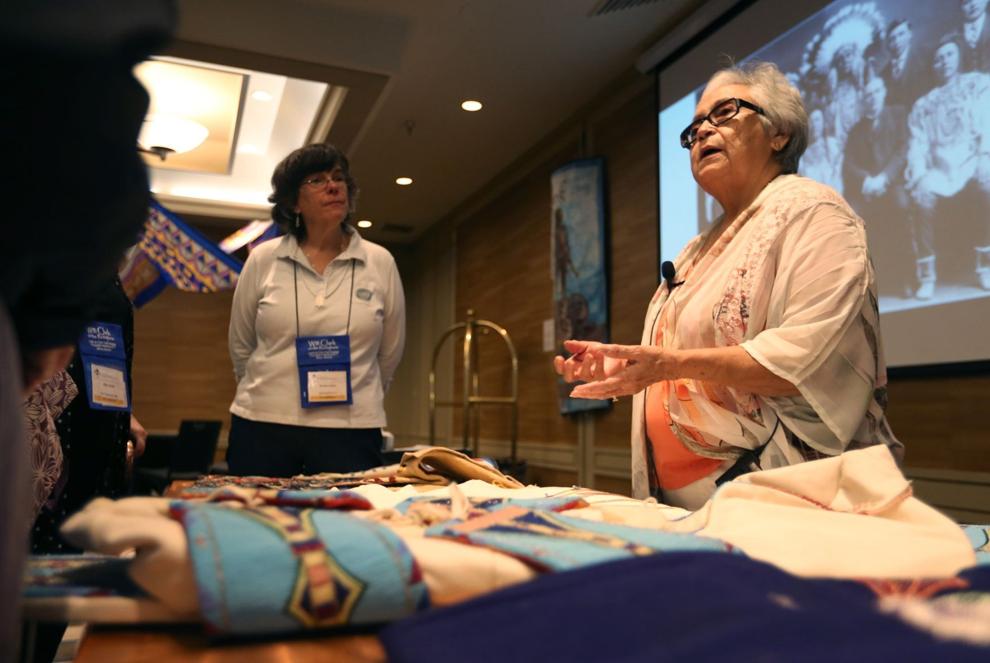 Hogan talked at length about Carlisle and his time there with his youngest daughter, Mardell Plainfeather. It was the 13-year-old's decision to leave home behind.
"He wanted to get away from boarding school, probably from the superintendent there. He wanted more education. He always told me and [my sister] Mary, 'They can take your land from you. They can take your name from you, meaning the federal government. They can even take the shirt off your back, but they can't take an education from you.' My sister is a registered nurse, and I graduated from Rocky Mountain College," said Plainfeather, whose work as an enrolled Crow member has included documenting and preserving the tribe's culture.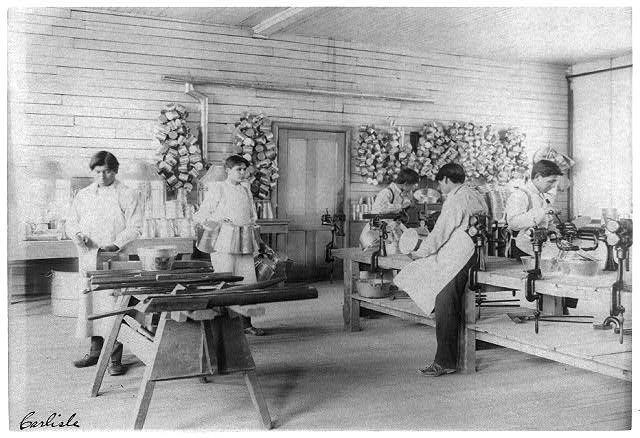 Life at Carlisle
At Carlisle, with no means of returning home, Hogan settled into the regimented life there. He marched to and from his classes in a wool uniform, and spent his summers on "outings," assignments to farms and ranches in Pennsylvania. He did hard labor all through the season, on at least one outing learning tin-smithing, before returning to classes in the fall. Within that regimen, he told his daughter that he was treated far more humanely than he was at Crow Agency.
Hogan came home appreciating his time so much at Carlisle that one of his grandchildren is named after Richard Pratt. During his time away, however, the closeness he had with his sisters had faded. Both of them had their own children to care for by then, and the loss of that closeness was a regret that Hogan carried until his death, when Plainfeather only 11.
Although returning to the Crow Nation a Christian, Hogan was still fluent in the Crow language. He put both cultures, the one instilled in him by his parents and the one compelled by the United States government, to work on the reservation. He became instrumental in the Crow Tribe's dealing with the BIA, acting as both a liaison and an adviser.
"He became a politician. The old chiefs depended on him. People like Chief Plenty Coups ... He would often be secretary of the tribal council. He really loved his people and was very proud to be an Apsáalooke.
"Later in life, my house was sometimes filled with people coming and asking for help from my dad," said Plainfeather. "He collected stories for the State of Montana. He knew calligraphy, and when people said he had beautiful handwriting, he told them he learned it at Carlisle … it turned out that I'm kind of like my dad. I've interviewed people for the Western Heritage Center. I wish I had listened more when all those elders would come. They'd ask him to write letters and interpret things that they got from the bureau. He did a lot of that free of charge, and that's due to his education."
Out of Carlisle came several people who were instrumental in improving life on the Crow Reservation, both as politicians and activists.
"The Carlisle student had a literacy level of about a 10th grade. That was at a time when most people in the United States didn't pass the 6th grade … Some of the folks who came back from Carlisle were some of the most highly educated Montanans, and I think they knew it," Pease said.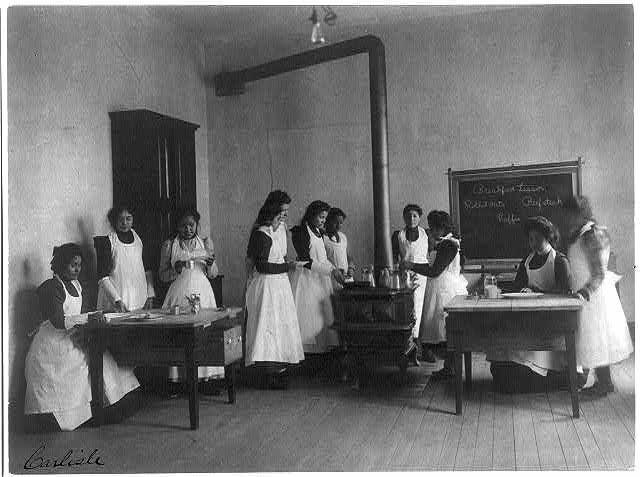 Minnie wouldn't back off
Minnie Reed Williams spent just over four years at the boarding school, from 1897 to 1901. The school trained the girls who attended to essentially be servants. While living in Crow Agency, however, Williams was far from servile.
She took up the cause of two young boys who suffered a beating and expulsion from the Crow Agency boarding school. Their transgression was leaving school for several days with their parents to bury their grandmother.
Williams, who also launched a women's club in Crow Agency, petitioned Helena. Her actions eventually led to the malicious teachers being removed. She also championed improvements to the tribe's water supply and jail, "a box with bars," according to Pease. Williams' name appears again and again throughout the tribal council records.
"Minnie just wouldn't back off," said Pease, whose research into Williams ignited her interest in Crow tribal members who went to Carlisle.
The first day school on the Crow Reservation opened in Lodge Grass in 1903, and signaled a slow decline in the number of Crow leaving home. Pease said the subsequent day schools minimized the damage inflicted by boarding schools. With the option to stay with their families afforded to an increasing number of children, the back of the Indian boarding school system was slowly broken.
That system's legacy endures in both the lives lost at Carlisle, and in the lives of those who returned home.
"It's bittersweet. There were those who took advantage of the experience at Carlisle … They came back and spoke their language even after 10 years. They just didn't lose their culture, but there were many who did," Pease said.