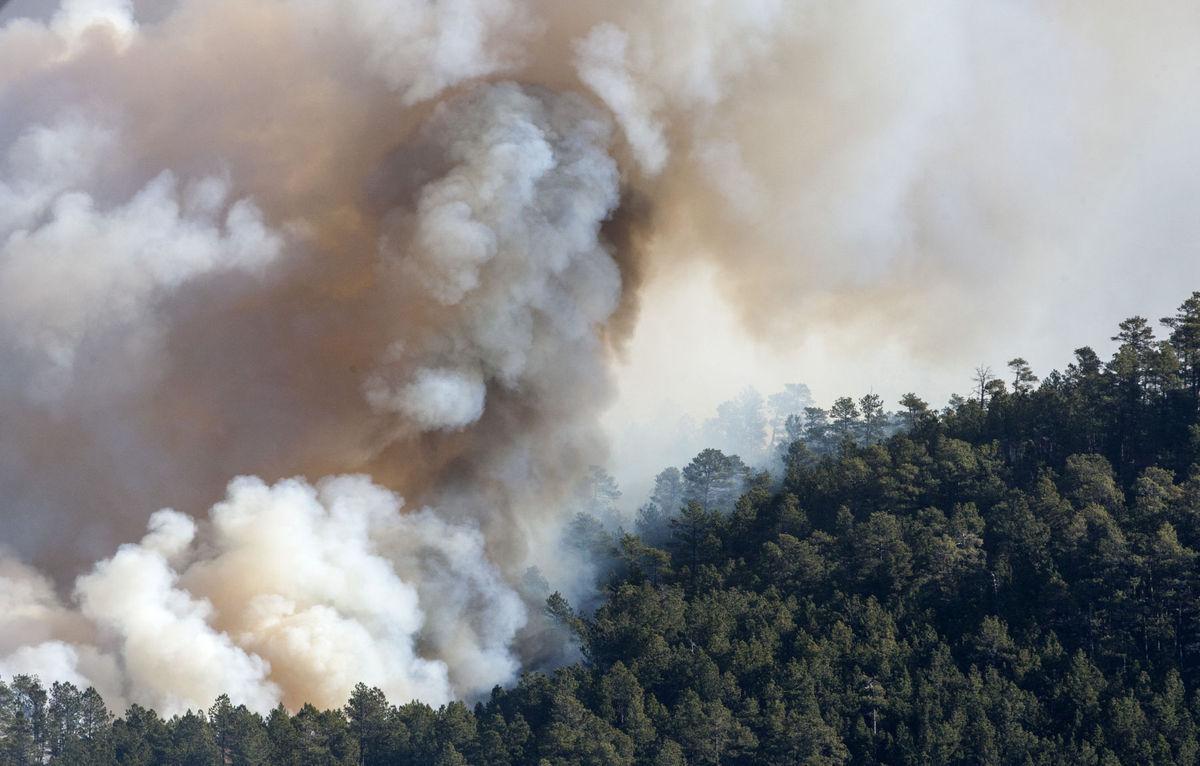 RAPID CITY, S.D. — Fueled by strong winds Tuesday night, the Legion Lake Fire grew by more than 31,000 acres overnight, according to a news release from Custer State Park.
The fire now covers roughly 35,000 acres, or more than 54 square miles. It is the third-largest wildfire in modern Black Hills history.
Wind gusts up to 33 mph aligned with the canyon in the French Creek Natural Area Tuesday evening and caused spotting in several areas west of Wildlife Loop Road. The fire then moved out of the park boundary, rapidly growing to the east and south, the release said.
The strong winds are expected to cause more problems today for the more than 230 firefighters battling the blaze. One weather station in the park measured a gust of 34 mph this morning, according to Scott Rudge, meteorologist for the National Weather Service in Rapid City.
Wind speeds of 15 to 25 mph are forecast for the rest of the day with gusts up to 35 mph. The winds are expected to decrease to 10 to 20 mph later tonight, and then increase again on Thursday to 15 to 30 mph with gusts up to 40 mph.
The rapidly spreading fire caused more road closures and evacuations Tuesday night. S.D. Highway 79 was shut down from the intersection of S.D. Highway 36, just south of Hermosa, to Maverick Junction east of Hot Springs. The highway reopened this morning.
You have free articles remaining.
Around 7 p.m. Tuesday, the Custer County Sheriff's Office began evacuating residents east of the park's boundary near Wildlife Loop Road and LH Road. An hour later, those evacuations expanded to include Cobb, Downen and Dry Creek roads west of S.D. Highway 79, as well as all areas south of Buffalo Gap.
Later that evening, the communities of Buffalo Gap and Fairburn were also evacuated. Hermosa School is closed today because of the fire.
The fire is 7 percent contained, the release said. No significant structures have been destroyed, but several outbuildings and fences were burned.
Fire crews were considering using a heavy air tanker along S.D. Highway 79 to help quench the blaze, said Kobee Stalder, park visitor services representative.
No precipitation is expected until Saturday, when cooler air will move into the area bringing more moisture and the chance for snow, said Rudge, the meteorologist.
---
Photos: Large wildfire burning in South Dakota
Be the first to know
Get local news delivered to your inbox!