Active cases of COVID-19 have surpassed 1,000 in Burleigh County and 6,000 in North Dakota, the state Department of Health reported Tuesday.
Burleigh's active case total of 1,013 was second to Cass County's 1,365. Morton County had 355. The statewide active case total rose for a 13th consecutive day, to 6,032, a new high.
Health officials reported 1,036 new positive cases, a daily record, raising the statewide pandemic total to 33,666. New cases were confirmed in all but six of North Dakota's 53 counties. There were 219 new cases in Burleigh and 58 in Morton for a combined total of 277, a new high.
The new cases statewide were from 5,579 tests handled Monday, making the daily positivity rate as calculated by the state nearly 20%. North Dakota has ranked worst in the nation for daily new cases per capita the past two weeks, according to The Associated Press, which uses data from Johns Hopkins University researchers.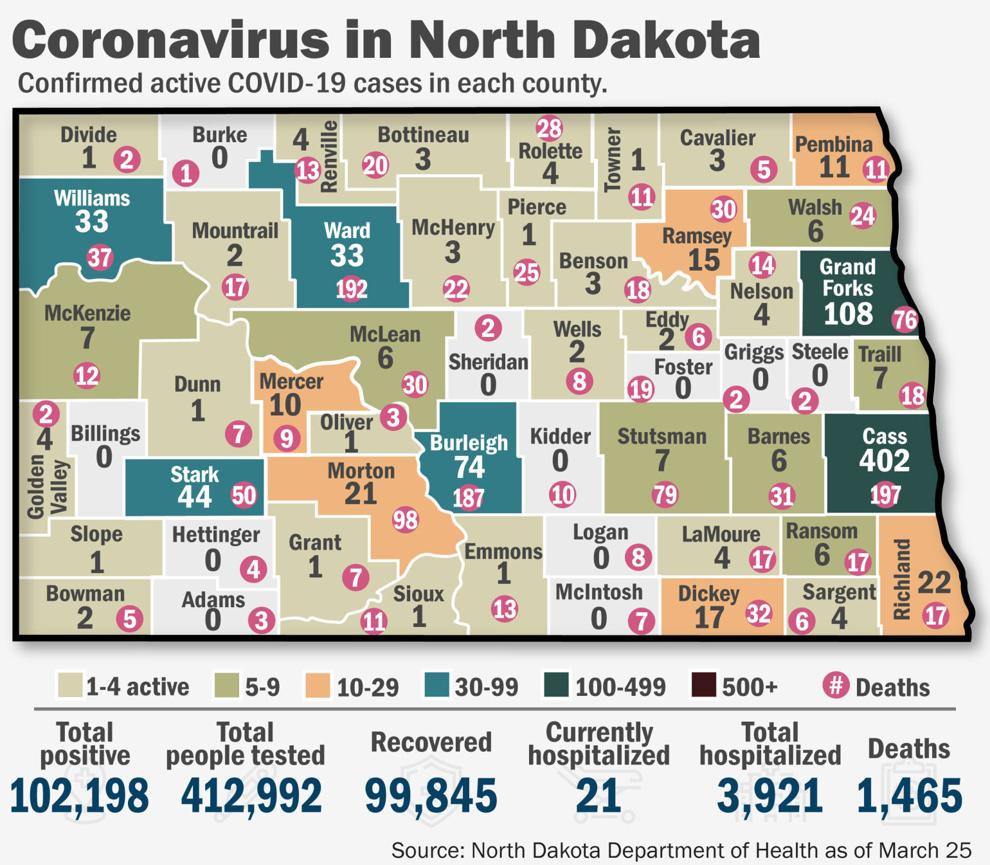 The health department reported four new coronavirus-related deaths, raising the state total to 412: two Cass County women in their 80s, a Ramsey County man in his 70s and a Stark County man in his 60s. All had underlying medical conditions, according to the state.
Hospitalizations dropped by eight to 145. There were 263 available staffed inpatient beds plus 25 intensive care unit beds in North Dakota on Monday afternoon, according to the most recent state data available early Tuesday. There were 11 available staffed beds plus one ICU bed in Bismarck: 10 beds but no ICU at CHI St. Alexius Health, and one bed plus one ICU at Sanford Health.
Statewide, there have been 26,392 recoveries and 1,301 hospitalizations since the onset of the pandemic in mid-March. The number of state residents tested for coronavirus at least once is at 274,572 and total tests number 776,039.
Burleigh, Morton and 14 other North Dakota counties are in the orange "high risk" level on the state's five-level color-coded system; 15 are in the yellow "moderate risk" level; 17 are in the green "low risk" level; and five are in the blue "new normal" level. The risk level determines what sort of coronavirus-related protocols are in place under the ND Smart Restart Plan for everything from businesses to family gatherings. The guidelines are not enforced.