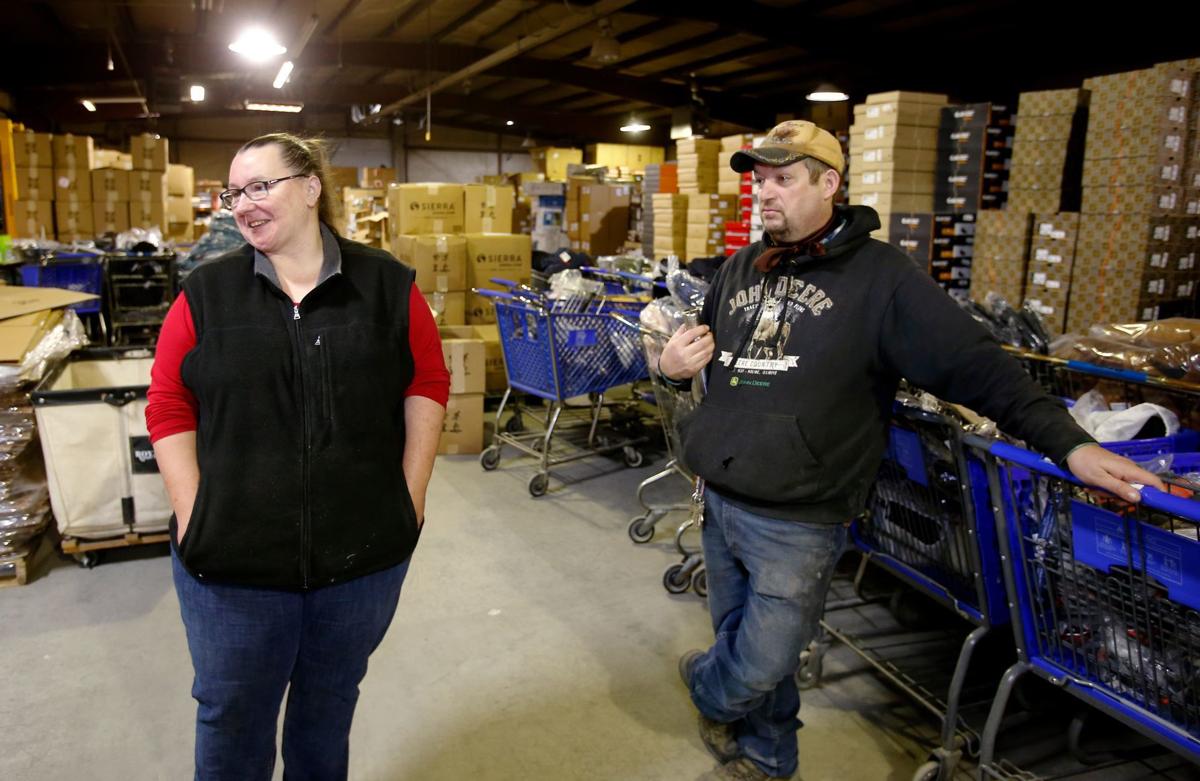 Comilla Taylor got started in the world of e-commerce and Amazon repackaging after moving to a town where jobs were scarce.
A prep-and-ship center in Roundup posted a job opening.
"I knew nothing about them. I just happened to get hired," Taylor said.
As shopping habits continually trend more toward online, a new set of local shops are opening in Montana to support Amazon's vast and complicated infrastructure.
Prep centers, which work with Amazon sellers to package their items for a cut, are providing remote work in rural Montana as well-paying job options dwindle in small towns.
What they are
The first repackaging center in Montana started five years ago.  
In 2015, Kristal Graham began selling her late brother's books on Amazon. Then she began selling other items, things she'd buy discounted, in bulk, as a self-proclaimed "extreme couponer." Looking to expand, and needing help packaging her items, she tried to scope out a prep center in Montana.
She didn't find any. So she decided to start one herself.
She and her husband, John Kiem, set up in her garage, built a website, and Selltec Prep and Ship was born. 
Five years and three locations later, Graham owns the largest prep center in the state. The large warehouse off a gravel road in Roundup is stuffed with boxes waiting to be shipped.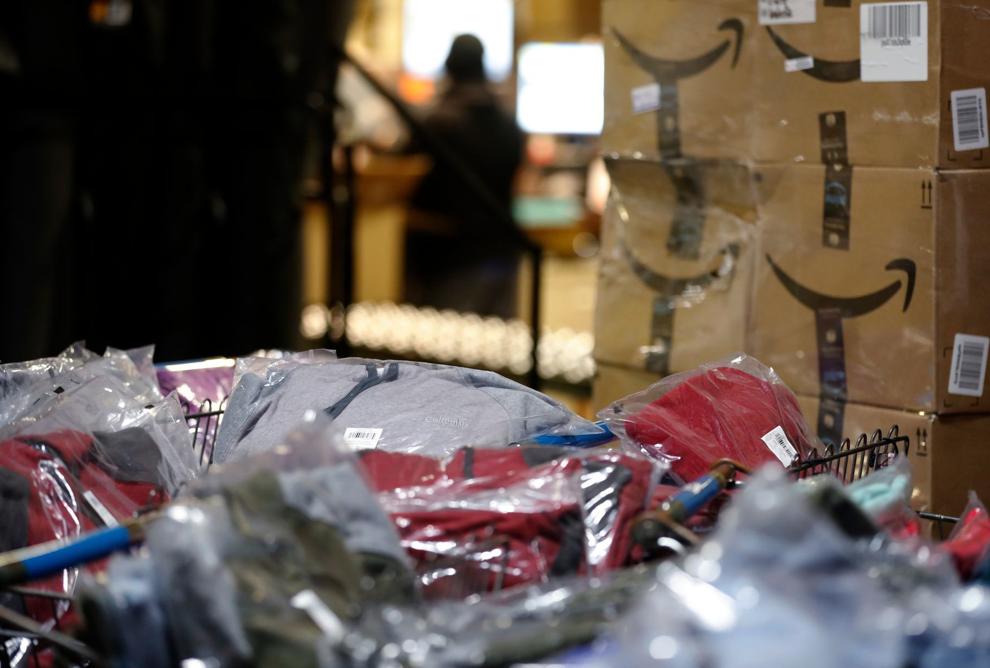 Since 2015, more than 12 centers have started in Montana. 
Prep centers are an odd cog in the Amazon machine. They arose alongside Amazon Marketplace, a platform where third-party vendors can sell items through the online retailer.
The prep center receives vendors' deliveries, repackages them to fit Amazon's strict specifications, and ships them off to an Amazon center.
They began cropping up across the country, but have clustered in states that were exempt of sales taxes. Montana is one of five states without sales taxes. 
As Amazon's labeling and packaging rules became increasingly stringent, the demand for prep centers grew. 
Sellers rack up savings by sending products to tax-free Montana by committing "online arbitrage."
Domestic and international sellers commit arbitrage by buying discounted items online, shipping them directly to a Montana prep center, and reselling the products on Amazon for a higher price.
For sellers buying in bulk, the savings quickly add up.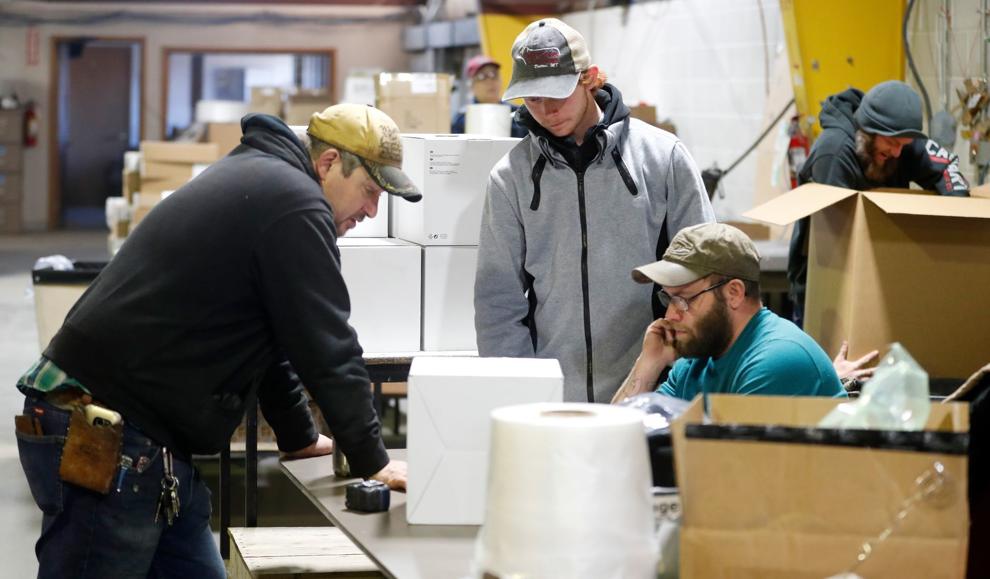 "Vendors save thousands of dollars by sending products to us," Linda McAfee said. McAfee owns MT Ship 'n' Pro in Roundup.
Some big-box chains have tried to fight back against sellers undercutting them by blacklisting Montana addresses connected to prep centers, according to Graham.
"Target is one of them," Graham said. "The address is restricted as a prep center."
But many of the prep centers have found ways around that by changing their shipping addresses, letting sellers ship to their home addresses or a friend's address.
The tax discount allows Montana's prep centers to charge more than prep centers in other states.
Most of Montana's centers start with prices at $1 per item. Each item they prep and ship gets them a buck. Certain items can get a bit more, but typically the amount they make is contingent on the number of shipments moved.
Typically workers at the prep centers are the first eyeballs on the product. Sellers ship them sight unseen, and rely on the preppers to weed out damaged products. The shipments could come from a retailer or from physical stores. Some sellers will buy another seller's products and then flip them on their stores. 
Supporting locals
All of the 12 prep centers in Montana are owned by women. The prep centers are flexible, easy to start and allow women to work from home in areas that might not have flexible, or well-paying jobs.
"There are no jobs," Taylor said. "So, the women made their own jobs."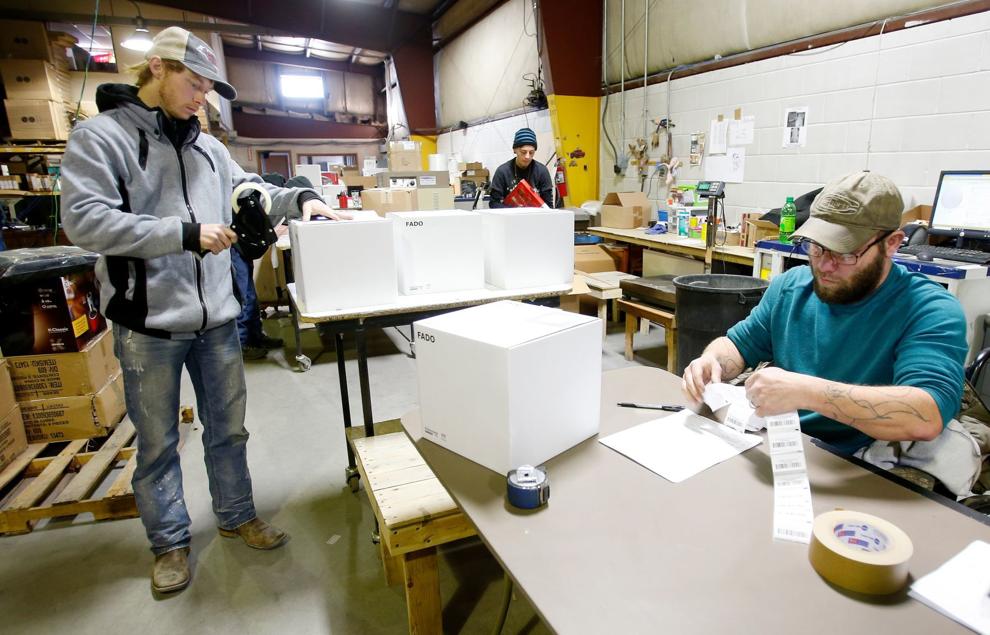 The prep centers are overwhelmingly based in small towns in Montana like Winnett, Edgar, Bridger and Roundup. One is based in Billings. 
Taylor worked at Selltec Prep for about a year before deciding she could earn more with her own prep center. She started KC Prep and Ship in 2017, with the help of McAfee, and has stuck with it since then. 
"Nice thing about prepping is a person can decide how much they want to make. They can turn it into a large business, or keep it small," McAfee said.
Marti Bering began looking for a remote job, as she didn't want to commute long distances.
"In Montana it's hard to find (jobs) that are close," the Bridger resident said.
She and her husband own Mountainveiw Tires and Auto LLC, but needed to supplement income. She read about prep centers in an article, and in November reached out to McAfee for training.
She started Mountainview Prep n Ship in December working out of her home. She's one month old, and only has one client, but her goals for the prep center are lofty.
"My desire is to expand and help as many as I can," she said.
Bering wants to eventually expand to a warehouse and hire multiple employees. She already knows friends in the Bridger area that would jump at the opportunity, she said.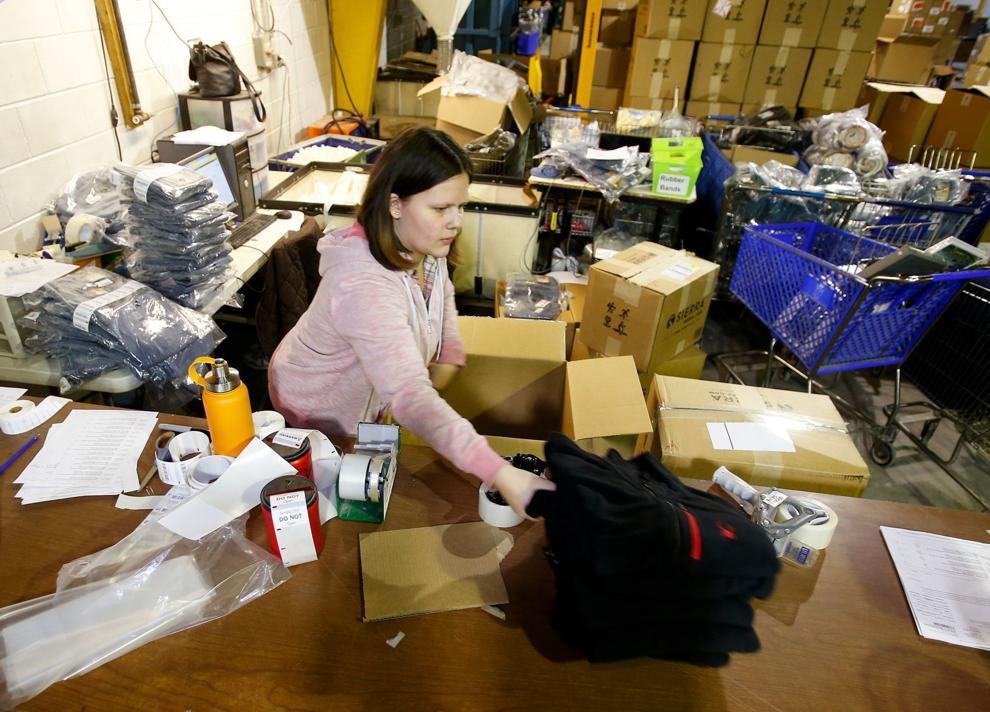 She thinks embracing remote work and e-commerce is the future for rural areas that don't have vital independent economies.
"Those kinds of businesses really help support a community and keep it going," she said. "Once you're making money you're also spending it in that community. That helps with future growth."
The six centers in Roundup have become their own industry. Selltec alone employs 16 full-time staff in Roundup, and a few part-timers.
In its five years Graham has struggled to find equilibrium with her store. She's either had too many clients that she can't keep up, or she's scraping to make ends meet. She plans to stick with it.
"I refuse to be the person who had an idea and didn't follow through," she said.
Graham recognizes the jobs it has carved out in town.
"The main reason I still have it open and haven't given up is because of the employees," Graham said. "I'm glad I can help them as much as anything else … I can't close. Where will they go, what will they do?"
Training
The week after a national article was published outlining Montana's role in fulfilling Amazon orders, McAfee's email inbox filled with people asking her to train them how to start their own prep and ship center.
In The Verge article, published mid-November, McAfee had expressed a willingness to show almost anyone how to start their own prep and ship centers. There is virtually no competition, she said.
"The next day there were probably 15 to 20 emails of women either telling how great it was or that they want to learn," McAfee said.
McAfee has been training women since she branched off from Selltec more than three years ago. Her prep center has expanded enough that she occasionally hires part time employees to help out.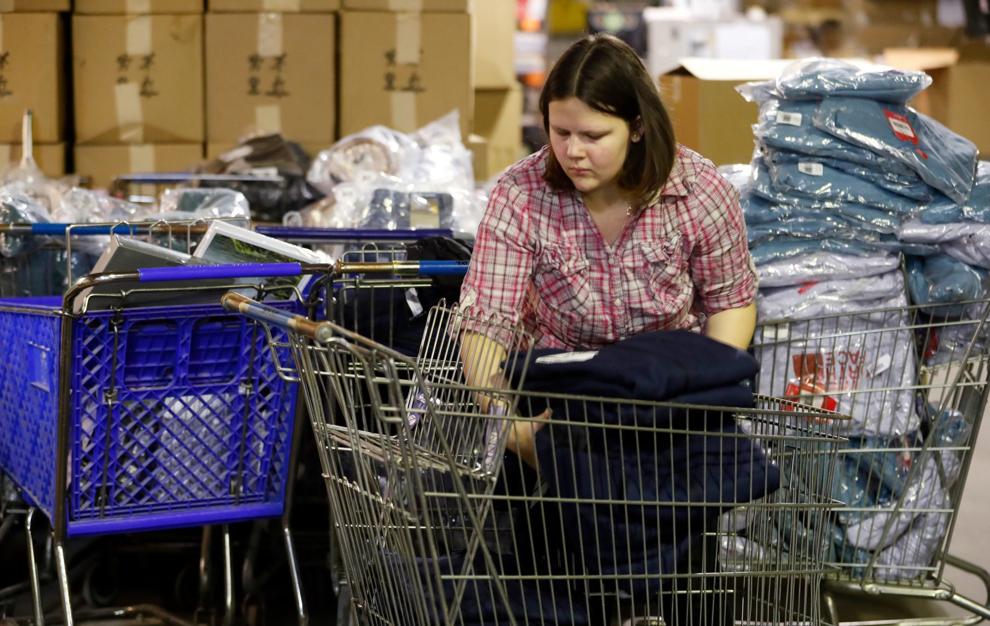 "I feel blessed that I have the knowledge to help somebody," McAfee said. "You just need the basics, and they want to do something for their family and themselves."
McAfee got started first at Selltec Prep where she worked under Graham. The two split over differences, and McAfee decided she could set up her own.
From there McAfee started MT Prep 'n' Ship Pro. A short time after Jill Johnson, another Roundup resident, put a bug in McAfee's ear: she wanted to train. A mutual friend introduced the pair.
"And (Linda) kind of mentored me. She was doing it about part time for probably a year and then I got laid off with the state," Johnson said.
Johnson, laid off as a state property appraiser, threw herself into the work. Then, she met another woman, Chris Redger in Billings, who got her started in prepping. The ball never stopped rolling.
Between Johnson and McAfee, the two have been responsible for training the majority of women who have gotten into prepping. In late December, there were 12 prep centers, with more in the works.
Starting a prep center doesn't require much start-up money.
"If you're just a little short on cash this is a better way to go," said Sandra Dail, a prepper outside of Great Falls. "It's more low-key."
In order to start all you really need is a printer for labels and a website to attract customers.
The ladies trained by McAfee and Johnson are all included in a group chat where they can swap advice, tips or even blacklist particularly horrible clients.
Most of the woman aren't worried that Montana would get overcrowded with prep centers. There are no shortage of sellers who need a tax-free ship center, McAfee said.
When one seller in McAfee's group chat has more clients than they want, they refer them to a new prepper, she said. Amazon has more than 2 million active sellers, according to Marketplace Pulse. 
"Even if you divvy that up, that's a lot of sellers," McAfee said.
The ladies aren't worried that too many websites will get lost in Google searches, or that sellers won't be able to find less-established preppers.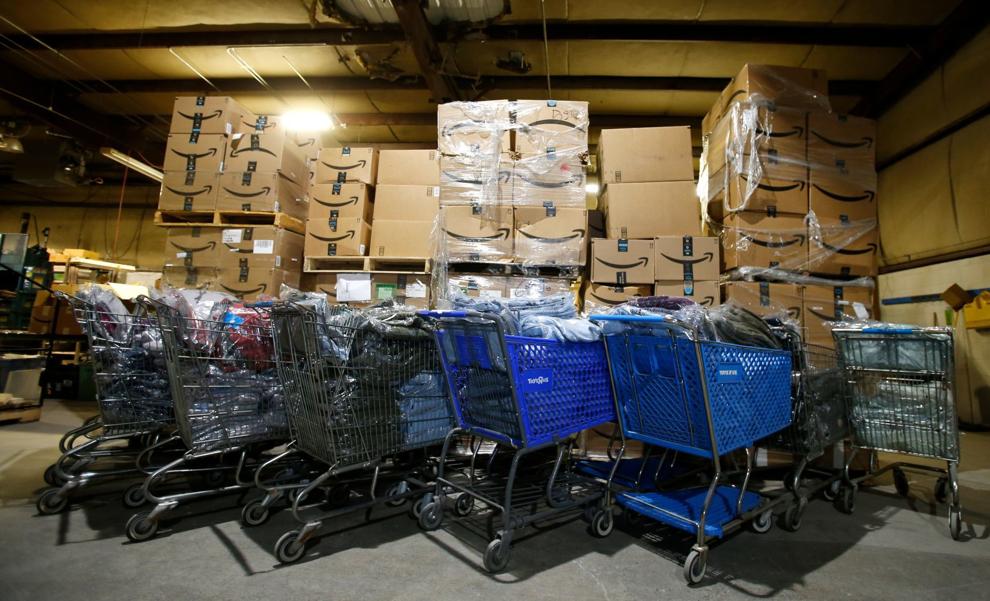 Graham does have her employees sign a non-compete agreement, but said she isn't too concerned if the agreement is broken.
For those in the group chat, they cooperate to ensure that everyone has clients.
"I just refer them (new clients) to new girls," Taylor said. "We just go down the line so everybody gets something."