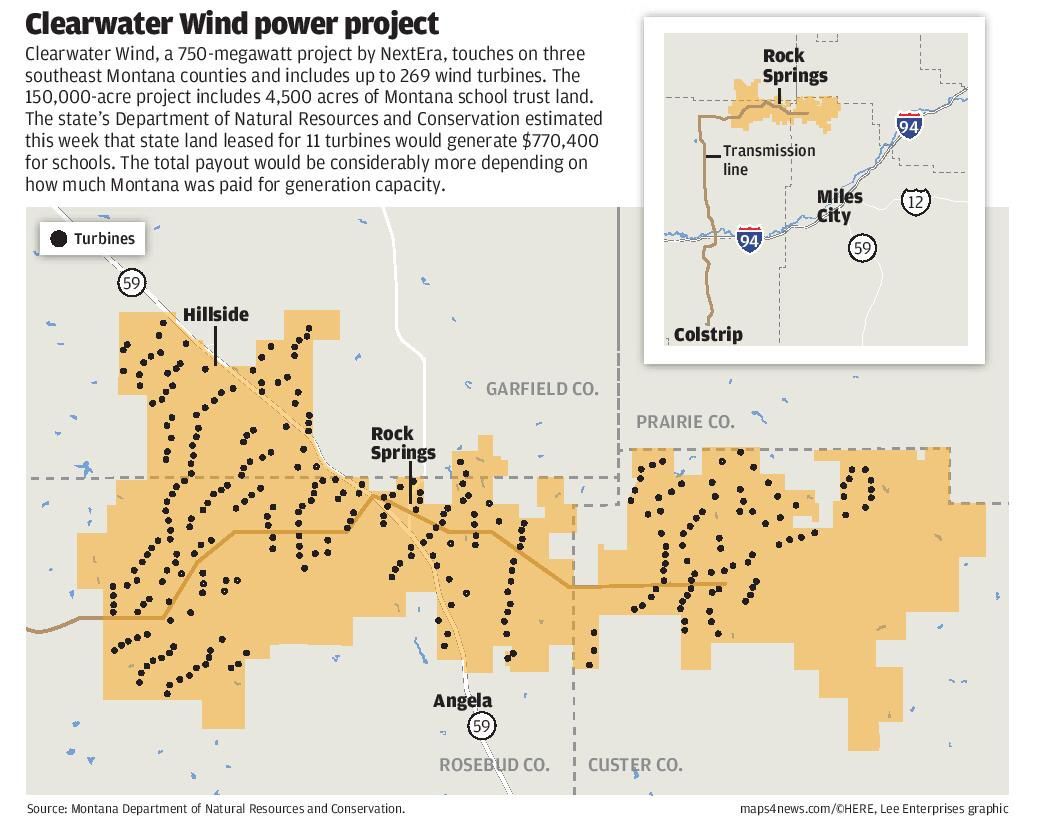 A southeast Montana wind farm would generate more than $700,000 for Montana schools over the next three decades, according to the Department of Natural Resources and Conservation.
Clearwater Wind, a sprawling 150,000-acre development set to begin construction this summer, would include 11 wind turbines on school trust land, for which the state would receive $770,400 in lease payments over 35 years, with more money to come from energy royalties.
"The projected income could be well over $700,000," said Cory Shaw, DNRC property management section supervisor. 
The state share of the project area is about 4,500 acres. Power generated from state land would produce additional payments, the amount of which is still uncalculated. 
A DNRC analysis of Clearwater Wind concluded that a lease for the turbines would more than double the current revenue from the land, which already generates about $36,400 a year from cattle grazing. The wind turbines and the cows would share space after construction.
NextEra estimates taxes paid on the wind farm will be $217 million over the 30-year life of the southeast Montana project 22 miles northwest of Miles City. Payments to landowners are estimated at $226 million over three decades.
At 750 megawatts capacity, Clearwater will be three times bigger than the state's current largest wind farm, the 250-megawatt Pryor Mountain Wind Project constructed by PacifiCorp near Bridger in 2020. 
DNRC concluded the wind farm will pose environmental effects on wildlife, including birds and bats. There were 15 bird species spotted in the area during environmental review, but that the ecological impact wouldn't significantly change. The area isn't critical habitat for any endangered bird species. 
The Montana Land Board, which consists of the state's governor, attorney general, auditor and secretary of state, approved the public land portion of Clearwater in April 2020.
Clearwater, which is being developed by Florida-based NextEra, picked up its first customer last week when Puget Sound Energy announced it would purchase 350 megawatts of capacity, with enough power to electrify 140,000 homes coming online by the end of 2022. The wind farm includes portions of Custer, Rosebud and Garfield counties. It will connect to the energy grid on the high side of Colstrip substation, putting NextEra in a good position to export electricity to the Pacific Northwest.
Fully built, Clearwater is expected to include up to 269 wind turbines.
Montana first started eyeing wind power leases for school trust land 20 years ago, but the opportunities have been few and far between. There are roughly a dozen turbines spinning on school trust land at the Judith Gap Wind Farm, the state's earliest utility scale project.
Shaw said the 20-year lease on Judith Gap is up in 2024. The project generates about $61,000 a year for the school trust land portion.
Clearwater is the second wind farm to incorporate school trust lands, Shaw said. There is another project, the 80-megawatt Martinsdale Wind Farm, that's in process, but could generate money for schools.