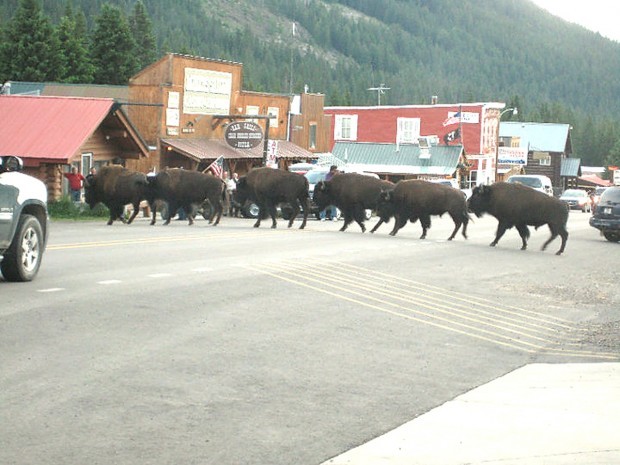 Always alert for tourists in the summer, Cooke City and Silver Gate residents witnessed an unusual influx of about 150 bison visitors Tuesday night.
"I talked to folks who have lived here 50 years and they've never seen that happen," said Cooke City resident Suzy Hahn.
By Thursday, many of the bison had turned around and walked back out to neighboring Yellowstone National Park, about five miles to the west, apparently, like all the other tourists, having seen what they came to see.
But about 15 to 20 bulls, cows and calves remained in the Colter Pass area, east of Cooke City, in a meadow across from the Big Moose Lodge.
"I've never seen that many come up this far," said Bev Chatelain, owner of the lodge. "It's pretty amazing when you have buffalo looking in the windows."
Rick Wallen, a Yellowstone Park bison biologist, said it's not unusual for bison to wander up Soda Butte Creek toward Cooke City and beyond. What was unusual, though, was the number of bison.
"I think there's probably a lot more activity along that northeast boundary than people realize," he said.
Hahn said the grunting bison woke her and her neighbors up Thursday morning as they moved back through town. She sat on her porch, drank her coffee and enjoyed the spectacle.
"The joke has been, 'I hope they don't know something about the caldera that we don't,' " she said.
Yellowstone sits on a giant caldera, the hollow remains of a massive volcano eruption that scientists say may someday blow again.