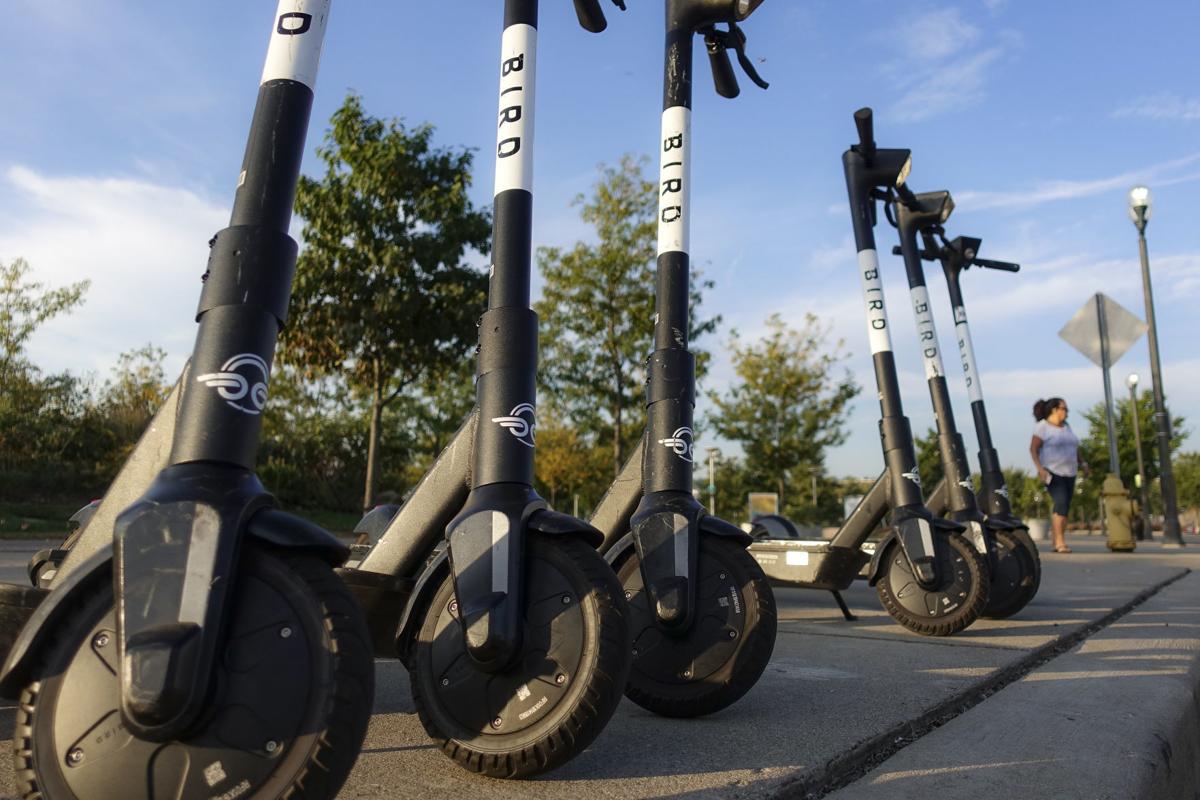 Electric scooter rentals may be coming to Casper, but there are some changes to be made first.
Bird Rides Inc., a California-based company that operates more than 200,000 scooters globally, presented the idea to Casper City Council during a work session on Tuesday.
The shared scooter system is already in Evanston and is set to launch this week in Rock Springs, according to territory manager Michael Covato.
Bird's proposal would bring a fleet of at least 50 electric scooters to Casper, hopefully in time for residents to use them this summer. Riders use an app to find and pay for their rides, which start at $1 per use and average about $0.40 per mile ridden.
Ideally, the scooters would be used in Casper's downtown area. But as city code stands now, people aren't allowed to ride scooters (or other "toy vehicles" including skateboards, roller blades and skates) on streets or sidewalks downtown.
City Attorney John Henley said that's the biggest change that would need to be made before people could start flying around Casper on their Birds.
"We think it's best that some ordinances change," Henley said Wednesday. "We want them available downtown, so we need to take a look at that ordinance."
There are also city ordinances related to biking that Henley said would likely need to be applied to the scooters — they prohibit people from riding two to a bike, for instance, and say you can't ride side by side with another biker on the streets. Scooter riders would also be subject to the rules of the road.
New or updated ordinances take three readings at City Council meetings — which give the public the opportunity to comment — before they can go into effect.
The proposal also raised some safety concerns among council members on Tuesday, which could be addressed with new rules. Council member Bruce Knell clarified that you can get a DUI on a scooter just like you can on a bike.
Putting them downtown would give people going to and from bars and restaurants the chance to use the scooters instead of driving. But helmets aren't required, and most of downtown doesn't have designated bike lanes, which means riders would be riding the narrow streets right next to cars.
Bird's proposal would shut off the scooters between midnight and 4 a.m. each night, in hopes of avoiding drunk scooter incidents. The scooters can't go faster than 15 mph, and the company can also lower that in certain areas or block places off completely if the city wants.
The council and city staff have lots of work to do before the partnership with Bird can move ahead — defining the area where the scooters can be used or parked, speed limits, off-limits areas, age restrictions, and more.
Bird's memorandum of understanding with Casper allows anyone 18 or older to rent and use the bikes, but Henley said the city would be interested in lowering that to at least 16 with the company's approval.
Covato, on behalf of Bird, said Tuesday that they try to avoid placing the scooters near bodies of water to discourage people from throwing them in.
There are no plans for designated docking or parking areas, so the scooters would have to be located through the company's app or just by walking around. The company can create parking areas if the city requests, but those are mostly used in larger metropolitan areas.
That also raises the issue of scooters being left on sidewalks, where they can obstruct walkways and cause problems for foot traffic. In residential areas, they could be parked in parkways, but many sidewalks downtown are narrow enough that adding a scooter — even if it's parked correctly upright — could be out of ADA compliance.
Covato said Bird also brings some jobs to its cities. The company contracts with locals to round up scooters for charging, retrieve scooters from outlying areas or make repairs as needed. 
Electric scooters have been removed in some cities over safety concerns, but many who have kicked scooters out also bring them back later with enhanced regulations. Bird is also the subject of a mass tort lawsuit in Los Angeles Superior Court, in which 42 people complained in 2020 of injuries caused by faulty brakes, sudden acceleration and malfunctions.