When the 1988 fires in Yellowstone National Park, which had been steadily burning all summer, blew up in late August, visits from tourists to the area slowed to a trickle.
In West Yellowstone — a gateway community that operates almost exclusively on the dollars brought in by summer tourists (and winter snowmobile riders) — shop owners, hotel managers and restaurant runners braced for the loss of revenue that would surely follow the exodus of tourists.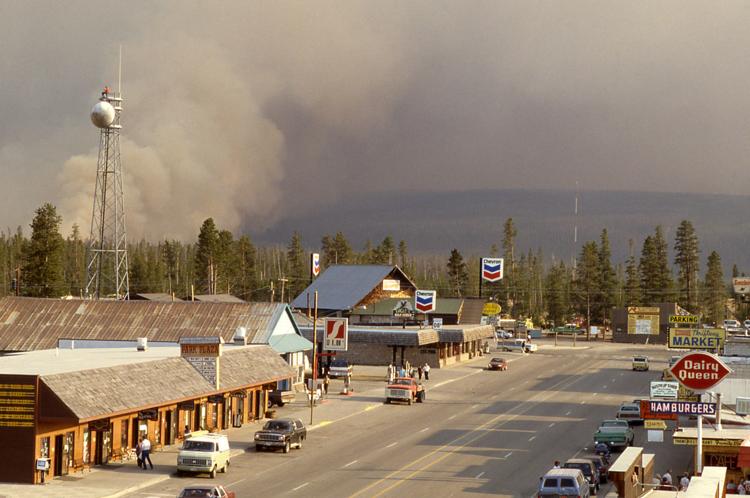 And sure enough, as August became increasingly smoke-filled, most of the tourists cleared out and the town filled up with firefighters. 
"A lot of our properties were booked by the organizations bringing in firefighters," said Mary Sue Costello, a business owner in town during the '88 fires and now president of the West Yellowstone Chamber of Commerce. "We virtually became a fire camp."
It wouldn't be until the next decade that fire crews setting up tent-filled encampments on the outskirts of towns would become regular practice. When state firefighting crews, National Guardsmen and at one point even regular Army troops descended on West Yellowstone, they booked up nearly all the vacant hotel rooms, Costello said. 
They ate many of their meals in the local restaurants and bought supplies at the shops and grocery store in town. 
"We sold a lot of material," said Greg Forsythe, owner of West Mart Building Center in West Yellowstone. Forsythe has been with West Mart for 38 years. 
He remembers specifically toward the end of the summer when fires inside the park started moving in the direction of town. A fire spotter sat at the top of a communications tower just east of North Canyon Street that had a direct view into the park. Smoke filled the town. 
"I was young enough that it didn't scare me," he said. "It should have. I was in the old store; we couldn't see the front to the back."
Most of the gateway communities around Yellowstone — Cooke City to the northeast, Gardiner to the north and, of course, West Yellowstone on the west — don't have hard data on how the 1988 fires impacted their local economies.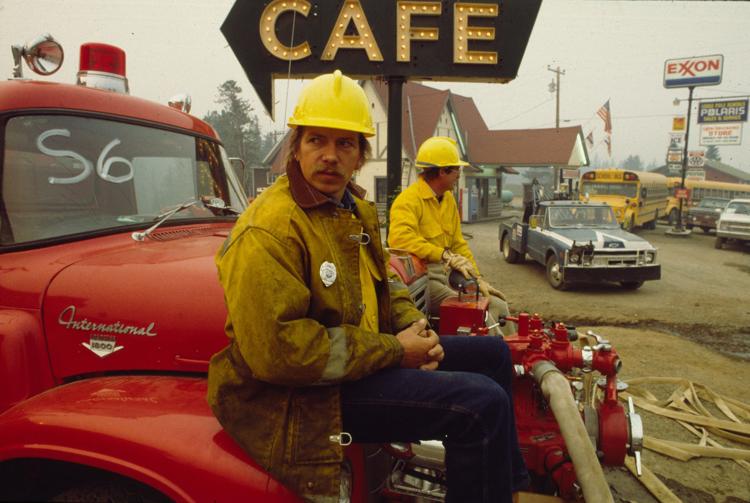 The metrics used today to measure economic impact weren't around in 1988. The state's lodging facility sales and use tax, which most communities now closely track and use to mark the amount of tourism money visitors bring to town, didn't exist in its current targeted forms in 1988.
But a look at the visitor numbers from Yellowstone itself shows just how quickly and dramatically tourists cleared out. They also show that a good number still visited the park at the height of the fires.
In July 1988, when more than a dozen fires were already burning across the park, Yellowstone saw 636,295 visitors. It's a big number and only about 50,000 less visitors than the year before. 
By the next month, when the fires began to grow exponentially in size and move closer to touristy centers of the park, visitor numbers began to fall. In August 1988, Yellowstone recorded 440,130 visitors, down from 626,537 the August before. 
Aug. 20, 1988, was known by firefighters and park officials as "Black Saturday," an explosive day on the fire lines when wildfires in the park flared up dramatically and roughly doubled in size by nightfall. 
As a result, visitor numbers dropped significantly in September. By the end of the month, Yellowstone had recorded 176,833 visitors to the park, compared to 361,842 the September before. 
Still, that's almost 200,000 visitors to the park when the fires were at their worst.
"Our tour buses were still running through the smoke and the fire," said Costello with the West Yellowstone Chamber of Commerce. 
She thinks a lot of the tourist activity the town saw in late August and early September were visitors who simply wanted to see the fires.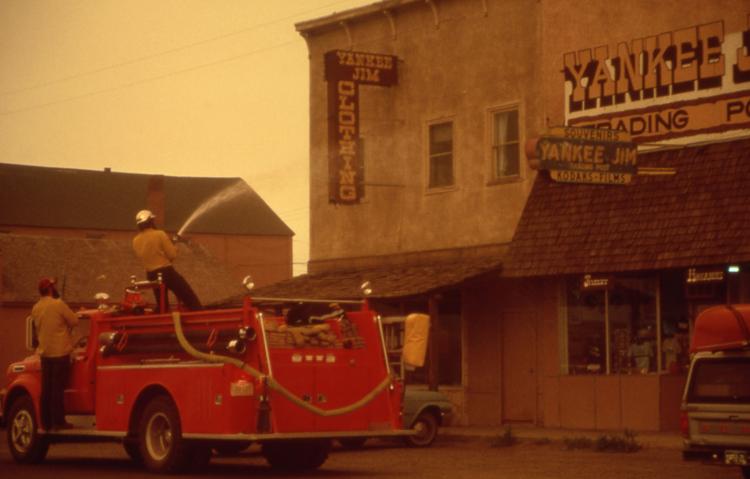 It was a similar scene in Gardiner to the north.  
"Yeah, the park was never actually closed," said Richard Parks, a fly fishing guide in Gardiner who owns Parks Fly Shop. 
Parks, who was still a relatively new guide in 1988, said the beginning of the summer wasn't too different from years previous. 
"Initially for us (the fires) were no real big deal," he said. 
For much of the season, it was just smoky in town. 
"By the end of the summer we all smelled like ham," he said. "But it got to be more and more of a deal as the summer wore on."
Still, visitors kept coming and he kept booking fishing trips in the area. In fact, Parks believes that he wouldn't have seen much of a dip at all in his business had the summer continued on the trajectory it was on. 
Instead, Montana Gov. Ted Schwinden announced a ban on outdoor recreation across the state on Sept. 6, 1988. It stayed in effect until Sept. 13 when rains had started to fall across much of Montana. 
Short though the ban may have been, Parks felt it did a lot of damage. The pronouncement allowed travelers to cancel flights and receive full refunds from the airlines.
Parks believes once those tickets were refunded many of the cancelled flights were never re-booked, costing him a number of potential customers. 
Still, the impact wasn't enough to seriously damage his new business. 
"It wasn't more than a blip," he said. 
In early September, the North Fork Fire was burning just south of Bunsen Peak, which overlooks the park's headquarters in Mammoth and, just across the Yellowstone River and outside the park, Gardiner.
"It's a little surreal to go to a fire information meeting (for town residents) and be told there's no need to worry unless the fire comes over Bunsen Peak, something that was days away," Parks said. "And you go out of the meeting and two hours later the fire comes over Bunsen Peak."
Cooke City, which sits just above the northeast entrance to the park, was evacuated at one point in September leading someone to spray-paint a "D" to the end of "COOKE" on the town's city limit sign.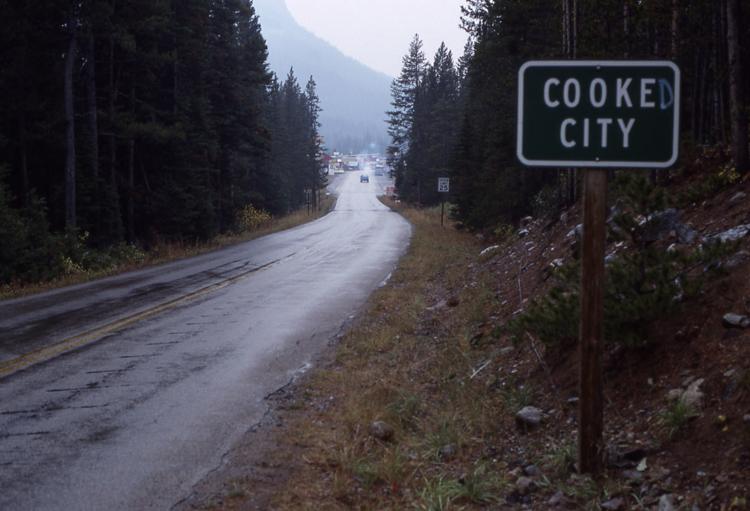 "It was evacuated but a lot of people stayed," said Donna Rowland, the executive director of Cooke City Chamber of Commerce. "People stayed to protect their property," she said. 
The fires were so large and dramatic and did so much damage that business owners in many of the gateway communities worried that it would affect tourism for years to come. 
"There was a lot of angst about how things were gonna be the next year," Parks said. 
"I thought, 'No one's gonna come next year,'" Forsythe said. 
Instead, visitation to Yellowstone was higher that following year than it was in both 1987 and 1988.
Overall, Yellowstone National Park saw 2.64 million visitors in 1989, up from 2.57 million in 1987 and 2.18 million in 1988.
Army and National Guard troops stayed in West Yellowstone through the fall. They marched in the West Yellowstone School's homecoming parade and cheered on the school's football team from the sidelines at the homecoming game. Girls basketball at the time was still a fall sport and they showed up to those games as well to cheer. 
"They kind of became a part of our town," said Kevin Flanagan, superintendent of West Yellowstone School. He had just started the fourth grade that fall. 
He remembers soldiers and guardsmen giving pins and other souvenirs to kids around town. It seemed they went out of their way to be friendly and approachable with children they encountered.
"They were great with the kids," Flanagan said.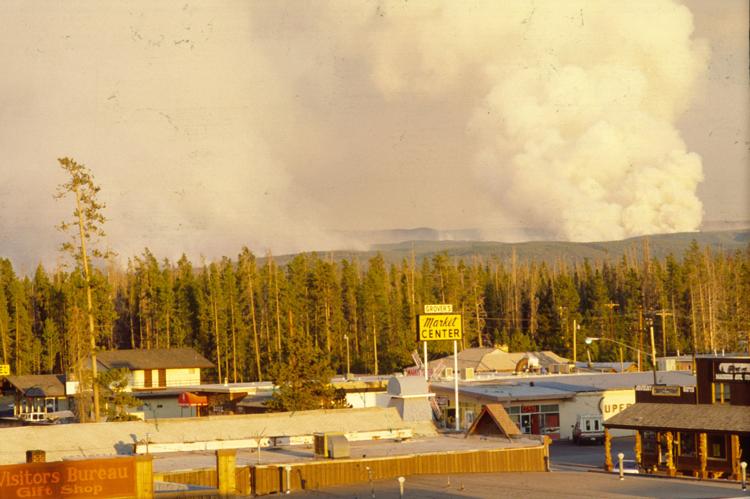 It was something he appreciates now as he looks back; there were moments that summer when things got scary. Flanagan remembers his parents telling him to pack his little backpack as a go-bag that could be grabbed at a moment's notice should the fires threaten the town. 
For a few hours on Black Saturday, he thought for sure he'd need it. 
More than impacting tourism — like others, Flanagan doesn't remember any serious dip in visitor levels — he said the 1988 fires impacted visitors' perceptions of wildfire. Something, he said, that persists still. 
The park has had wildfires since, he said. None have been as bad as the conflagrations 30 years ago but when tourists hear about a forest fire in Yellowstone, many immediately think it's the 1988 fires all over again. 
"We felt we didn't have as good of visitation in the following years," Costello said. 
But she acknowledged it wasn't nearly the drop-off most of the businesses were expecting. 
"The impact was less than what we were thinking it would be," she said. 
Forsythe agreed. He saw a lot of visitors return in 1989 to see firsthand the damage done by the fires. He also saw the community come together in ways it hadn't before. 
"The whole community took care of itself," he said.