In portions of rural eastern Montana, including much of the sprawling Fort Peck Indian Reservation, already-spotty cellphone coverage has gotten even harder to find for many residents.
Telecom giant AT&T began notifying customers earlier this year that it was dropping mobile coverage for some residents in the area, and began disconnecting phones this month.
It's unclear how many people were affected by the change. AT&T spokeswoman Suzanne Trantow declined to say how many customers have been dropped by the company, or for what geographic area the changes apply.
In an email, Trantow referred instead to the company's cellular coverage map, which shows a vast swath of northeast Montana, covering most of the Fort Peck Reservation and part of the Hi-Line extending west and southwest to Fort Peck Lake, as either not serviced or covered only through off-network coverage.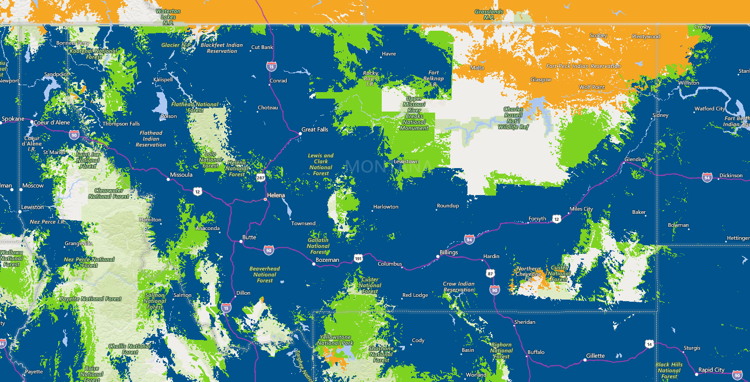 "We recently notified a small number of customers who live or have a billing address outside our owned network coverage area that we can no longer be their primary provider," Trantow wrote, adding that those customers had been notified of the changes 60 days ahead of time.
But Aaron Heath, an auto parts salesman based in Wolf Point, said the news that his cellphone was getting cut off came as a shock. He said he got home after work last week to find a letter from AT&T stating the carrier was dropping his coverage, effective that day.
"I still had service, and I just called, double-checking, since I already went through this with Verizon once and was trying to be proactive," Heath said, referring to Verizon's decision in 2017 to stop offering contracts to customers in portions of Eastern Montana.
"My wife brought it to me because she was confused by it, we didn't get no warning or nothing," Heath said. He has doubts that the couple would have missed earlier notifications from the company. "My wife is kind of a pain, because she can't stand the mail being in the mailbox past 11 in the morning."
When he woke up the next morning, his cellphone had been disconnected.
Since he uses his phone to clock in at work, to contact customers and to receive photos of parts he needs, Heath said the sudden loss of service forced him to scramble to get orders processed and delivered on time.
Like other customers affected, Heath's home internet and other services through AT&T remain online. But he said he's still frustrated by what he considers the company reneging on his contract.
"I thought I was paying extra money to have unlimited internet and everything," he said.
The company permitted some emergency officials in the area to keep their cell service, said Roosevelt County Undersheriff John Summers. After the sheriff's office initially received a notice a couple months ago that they would need to switch providers, Summers said they were later contacted by a company representative who said they would be allowed to keep their coverage as a law enforcement agency.
Still, he added that he knows multiple people whose lines were dropped this month, including those who made the switch from Verizon to AT&T when the other mobile carrier stopped doing business in the area.
You have free articles remaining.
Culbertson Republican state Rep. Rhonda Knudsen said she started getting phone calls from worried constituents in Roosevelt, Daniels and Sheridan counties who had received similar notifications earlier this year.
"I do not have AT&T, but even when I was in the Legislative session I had several constituents call," she said. "Like many areas, most people are reliant just on cellphones. They don't have land lines anymore in many areas. And also, they don't have fiber to their home if they're in a rural area … (so) that includes their internet access as well."
But while the state's Public Service Commission regulates some telecom business in Montana, she had to explain that the state's jurisdiction doesn't extend to nationwide cell companies. The Federal Communications Commission regulates those carriers, but does not require notification to customers losing service. FCC spokeswoman Cecilia Sulhoff said she couldn't comment on the record about what the agency requires for cell companies before they can disconnect service.
Knudsen was quick to add that as a free-market advocate, she's also not in favor of extending that state regulatory power.
"I do advocate for competition, though," Knudsen said.
The loss of AT&T leaves Scobey-based telecoms provider Nemont Telephone Cooperative as the only available mobile provider in some parts of the region. Nemont marketing manager Leif Handran said the majority of the company's 11,000 customers live in northeast Montana, although the co-op has also expanded into the area around Huntley and as far south as Crow Agency, Absarokee and northern Wyoming.
Despite AT&T's departure, the area's residents may increasingly have another option.
Wolf Point resident Erik Johannessen said he recently opened up shop in his town as a T-Mobile wireless service dealer, offering coverage through the national telecom company after it recently began expanding its coverage into the region.
In the past year or so, he said the company has either constructed new cellphone towers or placed its own transceivers on existing towers from Circle to Scobey and as far west as Hinsdale and Havre. Its total cellular sites number about 30 in the region, he said.
"Prior to about a year ago, they didn't have it," Johannessen said. "So I guess they kind of snuck in ninja-mode."
Last week, when AT&T disconnected customers in the area, he said his new store experienced a substantial bump in traffic. He said the company is in the midst of installing or bringing online additional towers during the next 18 months, and described the coverage as existing "mainly along the Hi-Line" and about 20 miles north in some places.
Trantow, the AT&T spokeswoman, said in an email that customers who were disconnected "have been regularly using very large amounts of data outside of our service area," but declined to elaborate.
Johannessen doesn't think the reason for AT&T's decision to drop customers is much different from Verizon's. Both of the wireless providers were dependent on cell towers and transceivers in the area that Nemont owns.
"Verizon found out they were paying roaming charges like crazy to Nemont," he said. "I think it took AT&T that long to realize they were doing the same thing Verizon was doing."