LIVINGSTON — The story of Christopher Paolini's career as a best-selling author often begins at the age of 15 when he finished his homeschooling and began plotting out his first fantasy novel.
But that story could also start at age 9, when Paolini spotted "the most amazing book cover I had ever seen in my life," and began years of voraciously reading fantasy novels that would later inform his work as a writer.
"It was this knight in full armor, minus the helmet, holding this spear, facing off with this big scaly dragon monster," Paolini said of the book he'd seen on a shelf in the B. Dalton bookstore in Bozeman while with his grandfather, Maurizio Paolini. "I thought to myself that any book with a cover like that had to be the most awesome story that I'd ever read." 
Paolini's grandfather bought that first book, "The Ruby Knight" by David Eddings. When the young reader realized it was the second book of a trilogy, he turned to the Livingston Park County Public Library, where before long he was checking out book after book from the library's shelves of fantasy novels.
On Thursday Paolini will return to the Livingston Public Library, this time to share from his latest work, "The Fork, The Witch, and the Worm," a book of related short stories set in the same world as his best-selling "The Inheritance Cycle" and featuring some of the same characters.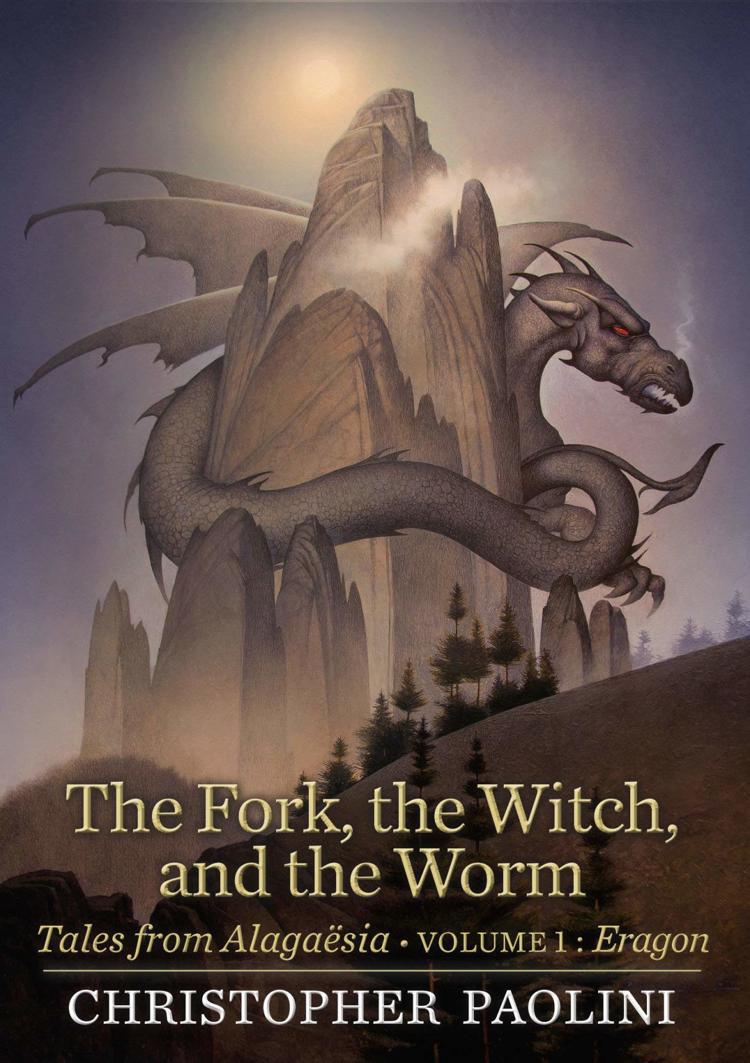 Paolini says he thinks the book should appeal to readers regardless of whether they've read his others or how old the readers are. His books long have been marketed to a young adult audience.
"Yes, they're short stories, but it is all one cohesive novel," he said. "And there are stories in there of dragons and magic and battles, and it concerns themes of responsibility and honor and how we face the things in life that can't be changed."
A Tweet asking for a random fact about one of Paolini's characters was part of the inspiration for a story in the book. The other part, he said, was his frustration at having ideas for stories in that world that weren't fit for turning into novels. He also said he missed the characters and the world.
Part of the book was written by his sister Angela Paolini. She wrote a section of the book in the voice of Angela the Herbalist, a character Paolini based on her. Paolini says they have frequently collaborated behind the scenes on his books, where his sister hears his story ideas and acts as one of his first readers and an editor on early drafts.
"I'm hoping readers will get to see more of her fiction in the future," he said. "She's a really good writer."
Paolini says the 6 p.m. library event, which is free to the public, will involve funny stories, short readings and a session answering "lots of questions to the best of my ability." 
A description of the event on his website paolini.net says there will also be book signings and books available for purchase from Conley's Books and Music. 
"I'm gonna stand on my hands if I bore people," Paolini said recently during an interview in Livingston.
Paolini's book tour has taken him across the United States and most recently through to the U.K. and Europe, with stops in Italy, Spain, the Netherlands, Germany and Portugal.
Amid all those stops, the Livingston Public Library remains a special place for the longtime Paradise Valley resident. In addition to facilitating his early reading habits, the library hosted his very first presentation for "Eragon" in 2002, to which he wore a medieval costume.
Paolini's presentations are another part of that age 18 part of his life's narrative, the one in which he and his family staked their financial livelihood on his book and went on a jam-packed tour promoting it with presentations from state to state.
A copy of Paolini's book found its way into the hands of the son of author Carl Hiassen and ultimately in front of publisher Knopf and later on the New York Times Best Seller's list. 
His most recent book of short stories debuted at No. 1 on the list for Young Adult Hardcovers. It has remained on the list for 13 weeks and now sits at No. 5. 
Paolini says he still remembers going back to the Livingston Public Library after "Eragon" was published and putting copies in the library so he could see them on the shelves with all the authors whose work he'd read growing up.
"I'm a huge, huge fan of the library. I support it in every way I can," he said. "It's going to be fun to be there again." 
Paolini is now 35 and has been a professional writer for the last 17 years. During the two decades since he began trying to construct that first book, Paolini has spent a considerable amount of time reflecting on how the work gets done and what it all means. If given the chance, he'd offer his teenage self two pieces of advice. The first is don't worry so much.
"The second one would be that mistakes do not mean you are a bad writer or a bad person. Mistakes are part of the process," he said. "If you want to learn how to play the piano, no one expects you to sit down and play perfectly. You are going to hit bad notes — that's expected, right? That's part of the process."
Paolini said editing and being open to feedback is critical to success. 
"You write bad scenes, you write bad books sometimes, but as long as you're willing to sit there and fix it, that's all that matters," he said. " ... As soon as you accept that, you become immune to failure, and it's like this superpower."
He also says that given the choice between a good story badly written and a bad story beautifully written, he'd take the former, explaining that "You can fix bad prose" but "it's almost impossible to fix a bad story."
Right now Paolini is trying to put the finishing touches on a project he has been working on since 2015, a work of science fiction he has only cryptically referred to as "TSiaSos." 
He said he thinks he may be a week away from sending the written work to his agent after completing the latest round of revisions.
Asked if it could be a series, Paolini said "maybe," drawing out the sound of the "a" and smiling. He described it as a "space opera," a genre defined by melodrama and adventures in space travel.
"I'm a huge 'Star Trek' fan, 'Star Wars' fan, 'Babylon 5' fan, 'Battlestar Galactica,'" Paolini said. He added that "building the world for this sci-fi story," took over a year and included "devising an entire system of physics that encompasses the real world and real physics but allows for all of the technology I want without known physics" and at one point involved learning about the work of a "rocket scientist who has a theory of everything." 
He also described the project as "a massive science fiction novel full of spaceships, lasers, aliens, explosions and tentacles. Lots of tentacles."
Once his science fiction work is done, Paolini says he thinks he he'll head back to writing fantasy, although it's possible he'll change his mind.
"It's all plotted out and ready to go," he said of the project he anticipates tackling next.
Will he return again to the "Inheritance Cycle" world? Paolini wouldn't say when, only that he plans on it eventually.
"I do have plans for more collections, for more short stories in the world of Eragon, for more full-sized novels for that world," he said. "There's a lot going on."