Marked by an emotional hearing Monday, a bill to place a memorial along U.S. Highway 287 in honor of slain Broadwater County deputy Mason Moore passed unanimously from committee.
Moore, a husband and father of three, was shot and killed early on the morning of May 16, 2017, near Three Forks. Officials believe Lloyd and Marshall Barrus perpetrated the crime, going out in search of a law enforcement officer on a "suicide mission."
Around 2 a.m., Moore attempted to stop the pair as they sped north on Highway 287 at speeds of more than 100 mph, and a pursuit ensued. About six minutes into the pursuit, officials say the father and son opened fire, striking Moore and disabling the vehicle before returning and firing more rounds.
Marshall Barrus, who is believed to have fired the fatal shots, would later be killed in a gunfight with law enforcement near Missoula. Lloyd Barrus is currently awaiting trial on multiple felony charges, including accountability to deliberate homicide for Moore's death.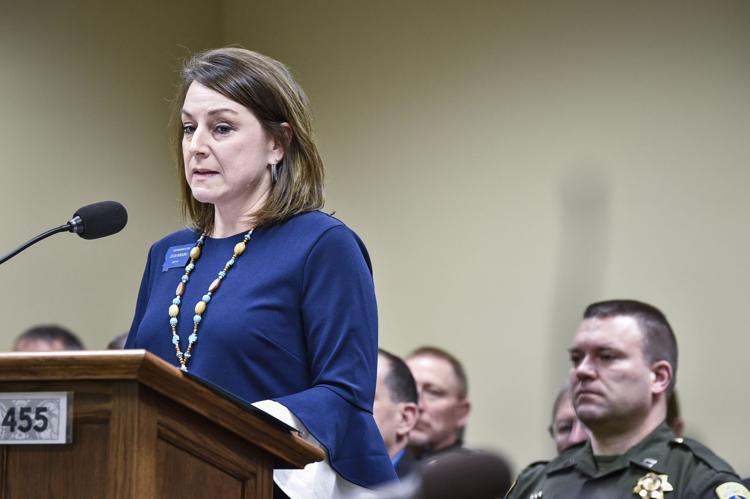 The Mason Moore Memorial Highway bill is carried by Helena-area Republican Rep. Julie Dooling. It would place a memorial displaying Moore's name, title, badge number and date of his death at mile marker 109 on Highway 287, just south of the intersection with Interstate 90.
"This will provide a small token of remembrance and gratitude to a man who gave the ultimate sacrifice to the citizens of Montana," Dooling told the House Transportation Committee on Monday.
Mason Moore's wife, Jodi Moore, testified that she and her family continue to drive by the site of her husband's death on a daily basis, sometimes multiple times each day.
"Taking that spot and making it a memorial would help change a painful location to a place where we can all remember Mason's hard work and sacrifice of not only Mason, but all of his brothers and sisters in blue," she said. "This would be a location where instead of remembering the evil of two individuals, we can focus on honoring and respecting our law enforcement and the jobs they do and sacrifices they make."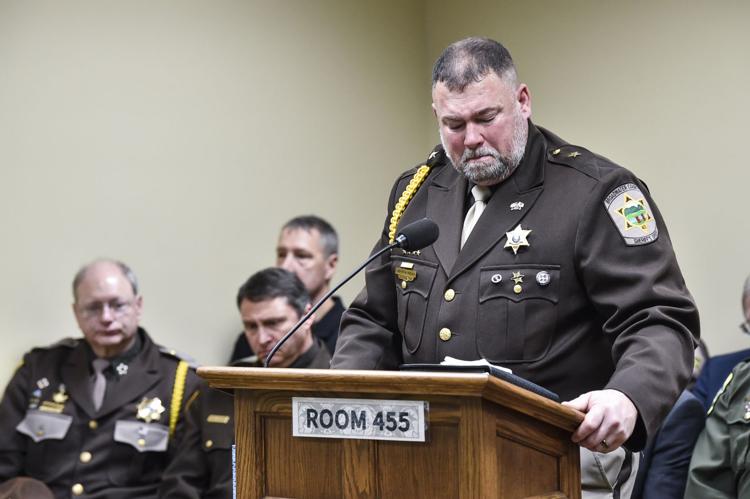 This bill saw the support of several law enforcement officers, including Broadwater County Sheriff Wynn Meehan, who thanked those that helped bring the bill forward.
Attorney General Tim Fox praised Moore and other law enforcement officers and first responders in his testimony.
"He epitomized what is great about the law enforcement and fire services, and what it takes to be a man of God," Fox said. "He knew the risks and challenges, yet he not only accepted them but he embraced them. Mason Moore was a hero in life and in death."
Broadwater County Commissioner Laura Obert told the committee that the community still feels pain and anguish over Moore's death, and the memorial would give them a chance to remember him.
"This memorial marker goes a very long ways in not only honoring deputy Mason Moore, but it also gives his community a chance and an opportunity to honor him, his family, his friends, his loved ones, but also those outside of Broadwater County, his collective community," she said. "This marker would give all Montanans an opportunity to say thank you to deputy Mason Moore."
Reporter Tom Kuglin can be reached at 447-4076 @IR_TomKuglin
Be the first to know
Get local news delivered to your inbox!