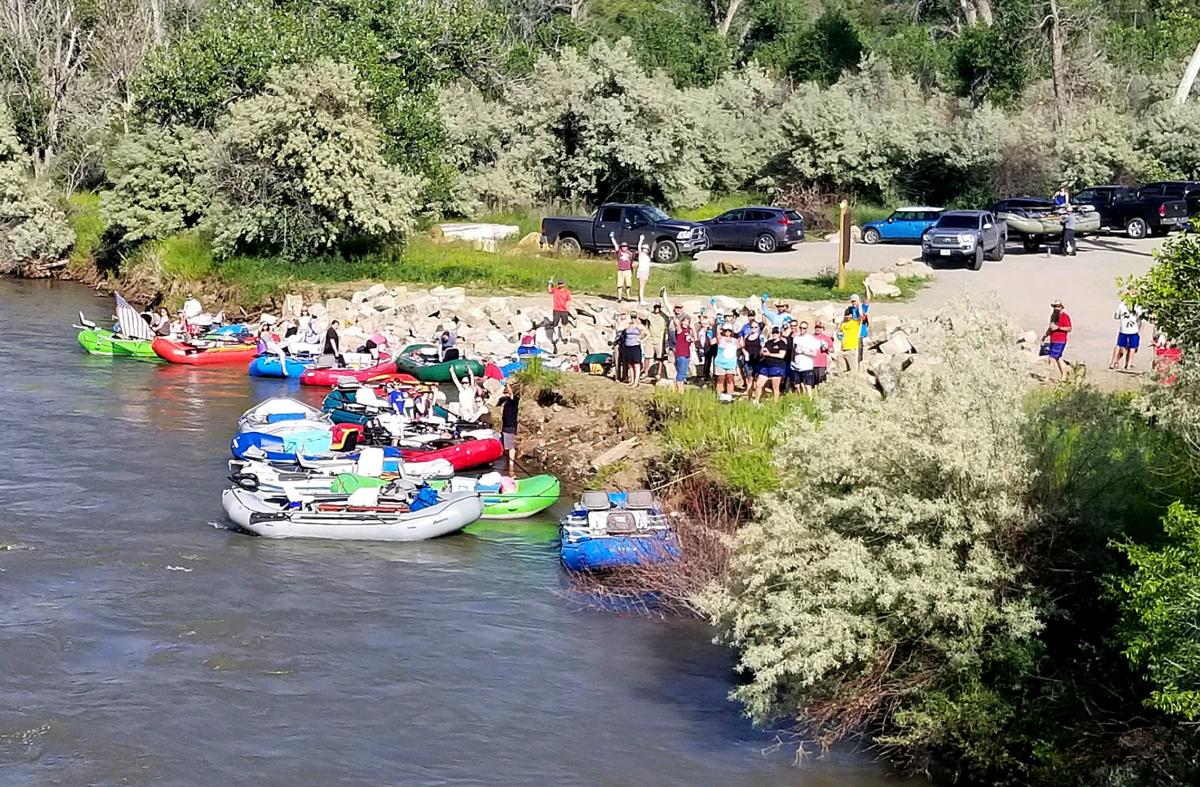 In Matt Sather's opinion, the Yellowstone River has long been ignored by many Billings residents.
"It's always bugged me that Billings has the longest free-flowing river going through town, and we don't talk about it much," he said.
Sather has set out to change that.
Friday Night Floats is a loosely organized group of area rafters who have found a way to have fun with like-minded boaters while also raising money for their favorite local nonprofit organizations. The group of rafters meet at a boat launch close to Billings at around 5 p.m. on Fridays before launching for a two- to three-hour float on the Yellowstone River. Along the way the boaters often stop to socialize on an island. Most are rafters, though sometimes paddleboarders join in the float.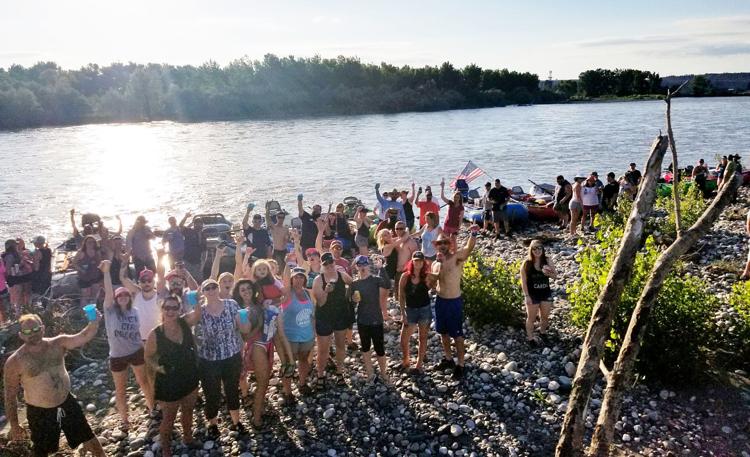 Wet behind the ears
Sather started rafting in 1998 when he was living in Bozeman, renting a boat from the local Army-Navy Store and floating the nearby Madison River with a buddy. In 2005, after returning from his first tour of duty with the 163rd Infantry unit in Iraq, he bought a 14-foot Maravia raft with a rowing frame.
Since then he's become a regular on the Yellowstone and Stillwater rivers, floated the permit-only Smith River State Park, and capsized on the Lochsa River's massive spring waves.
Along the way the idea for Friday Night Floats was born.
"We started it in 2011 in the spring instead of doing the normal bar scene," Sather said.
Back then, the group totaled about five to six people. With the creation of a new boat launch and river access site at the Blue Creek Bridge across from Riverfront Park this spring, the float has grown to as many as 20 boats.
"Now because of the new ramp, we're getting a lot more people involved," he said.
Last week, members of the rock band Pop Evil joined the floaters as special guests.
A new fishing access site and boat ramp across from Riverfront Park near the South Billings Boulevard Bridge opened to the public Friday. 
Join them
Anyone with a sturdy raft is welcome to come along. Cheaper discount-store rafts are discouraged.
"I could not imagine not having a (decent) raft and floating that river," said Dana Lariviere, a Friday Night Floater for five years.
"Friday Night Floats promotes doing it responsibly," she added.
That means everyone must have a lifejacket, no glass containers allowed, trash must be packed out and any trash found along the way is picked up.
The group has rescued other, less-experienced and less well-equipped floaters on the river, she said.
"We're always watching out for them."
What sounded like a horde of giant, angry hornets Saturday was actually volunteers with chainsaws clearing Russian olive trees off of a parcel…
Collaboration
Lariviere got involved with Friday Night Floats about two years ago after meeting members at a local gathering to discuss the settlement for the 2011 ExxonMobil Pipeline oil spill into the Yellowstone River at Laurel. The state was seeking proposals to disburse the settlement funds.
"We realized we were working for the same idea," Lariviere said.
Thanks to the Yellowstone River Parks Association, who initially purchased the Blue Creek Bridge property, and the involvement of Our Montana, of which Lariviere is the executive director, and Montana Fish, Wildlife & Parks, which designed and installed the new ramp, and Friday Night Floater labor, the Blue Creek FAS became a reality. The site opened to the public on June 14.
"This whole thing was a partnership project," Lariviere said. "If YRPA had not purchased the land, we would not have gotten this grant. It's just an amazing group of people."
Our Montana is also developing a free cellphone app users can add information to, such as river hazards or things to do along the river. The app can also ping the user's last location for search and rescue situations. Money for the app's development came from the pipeline spill settlement, as well.
Ideal location
The Blue Creek FAS has been popular since it opened, positioned about seven miles downstream from the Duck Creek FAS east of Laurel and six miles upstream from the East Bridge FAS near Lockwood. Perfect for a quick Friday night float.
To take out at Riverfront Park before the new ramp was installed, boaters had to haul or drag their gear across a long, rocky gravel bar to the small parking area. Now dropping a boat in is quick and easy.
Sather is so into the weekly floats that he drives back to Billings from his job in Helena with the Army National Guard almost every week to join the boaters.
"I'd like to see it become an every night float, just to promote people being on the river," he said.