Thanksgiving Day travel should be a breeze for much of Montana, but Friday and Saturday are going to be a real turkey, the National Weather Service forecasts.
Temperatures in the Billings area will be in the 50s to low 60s Wednesday and Thursday with a little rain possible. But there will be snow Friday in the late afternoon to evening, continuing through Saturday.
"If you're going to get out and about today and tomorrow, it's pretty good weather," said Joe Lester, National Weather Service meteorologist in Billings.
There will be gusts along the western foothills over the holiday as mid-week weather turns to a cold and snowy weekend. Winds could be 40 mph blowing southwest to west, with gusts up to 50 mph near Livingston and Nye by Wednesday night. Eastern Montana should be warm through Friday before giving way to colder temperatures and possibly light snow showers, Friday night and Saturday. 
Thanksgiving could see some rain sprinkles by late afternoon across lower elevations. There should be snow in the mountains by Thursday night, NWS forecasts.
You have free articles remaining.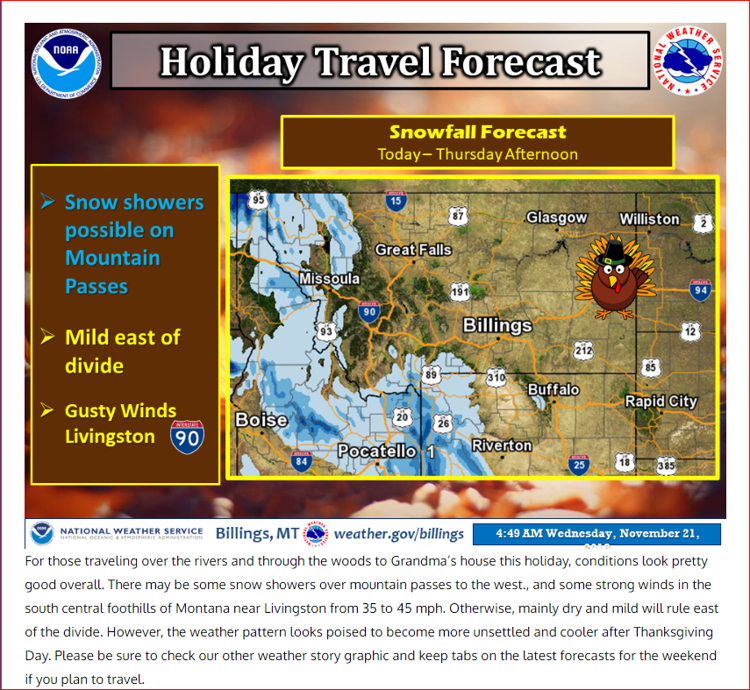 The Absaroka-Beartooth foothills could see six to eight inches of snow, with up to a foot in the mountains. The Billings area could see two to three inches of snow beginning Friday, but it's possible the system could blow out of the area by Saturday morning. Windy conditions and snow Friday could make driving conditions difficult between Bozeman Pass and Big Timber.
The weather will be more challenging for travelers in western Montana, where snow and rain is expected Thursday, with increasing snow Friday and Saturday. Three to six inches of show are expected on Lookout, Lolo and Lost Trail passes. Interstate and highway travel is expected to be difficult Friday and Saturday. Butte could receive three to five inches of snow Friday and Saturday. Bozeman could receive up to two inches of snow Friday night, but should clear up Saturday.
Toward Wyoming, there is a hazardous weather outlook for the Cody area. Light snow should begin falling Thursday night. Expect heavy snow and treacherous travel conditions Friday night and Saturday. The outlook extends to Sheridan and the Big Horn Mountains.
Here is when Billings retailers open for Black Friday shopping.