The body of a 3-year-old who fell into the Musselshell River was found late Thursday, Musselshell County Sheriff Shawn Lesnik said Thursday evening.
The body was found around 5:20 p.m. Thursday.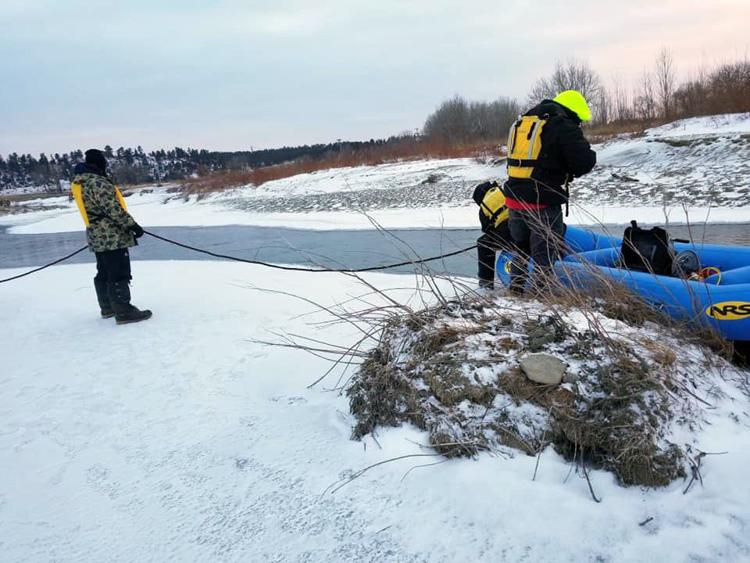 The 3-year-old was with his 5-year-old sister when he fell in Monday, Lesnik said. The boy is Canadian and was visiting the Kilby Butte Hutterite Colony outside of Roundup with his family.
Ice and snowy conditions on the river complicated search efforts, but on Thursday, warmer temperatures — it was 46 degrees Thursday morning — had eased the pressure on search crews, who worked through subzero temperatures and wind earlier in the week, Lesnik said.
"We're just going to continue to look and continue to hope to get lucky," Lesnik said Thursday afternoon. "Because at this point, it's just going to be luck if we find him."
But the warmth also caused the river levels to rise and made the ice "dicey to work on," Lesnik said.
You have free articles remaining.
Keep reading for FREE!
Enjoy more articles by signing up or logging in. No credit card required.
Personnel from the Yellowstone County Sheriff's office and Roundup's volunteer fire department have been aiding the search. Billings-based US Water Rescue/MT Dive Tech were also on the scene to help search under the ice.
Elected official
Lesnik was involved in the search efforts Wednesday morning, when all other newly elected county officials were sworn in during a group ceremony. Instead, District Court Judge Randal Spaulding held a separate swearing-in for Lesnik at the courthouse Wednesday evening.
Lesnik had to intervene in a lawsuit filed by his challenger, write-in candidate Ronnie Burns, seeking a recount with special rules that could have reversed Lesnik's 41-vote win.
District Court Judge Katharine Bidegaray had granted Burns' unopposed requests for the recount and the special recount rules, but vacated those orders after Lesnik's attorney said the rules violated state election laws.
The Montana Supreme Court then denied Burns' request to challenge the lower court's handling of the case.