A large wind and solar farm east of Broadview is under new ownership and slated for operation in two years.
Houston-based Broad Reach Power announced its purchase of the Buffalo Trail Wind and Solar farm near Broadview, 30 miles northwest of Billings, on Thursday. At 250 megawatts, the wind farm would be the largest of its kind in Montana, as would the 250-megawatt capacity solar farm.
Broad Reach did not disclose the project's value, but similar sized wind farms in the region have cost $400 million to $500 million without an accompanying solar farm. A wind farm of Buffalo Trail's scale can power about 80,000 homes.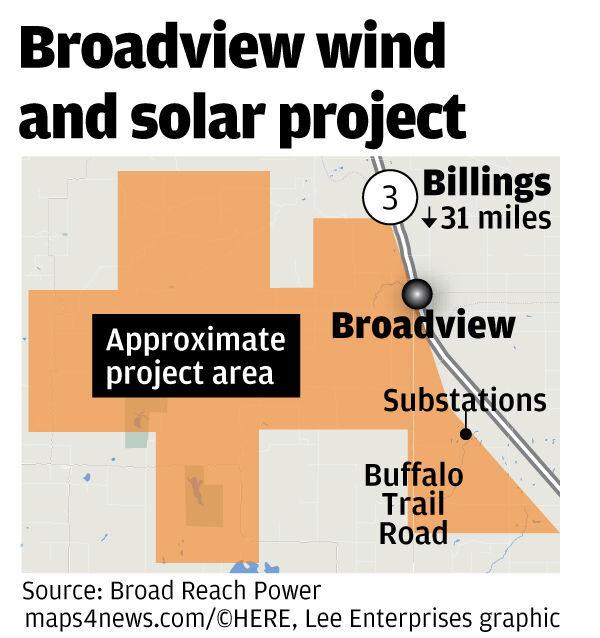 Buffalo Trail was originally proposed as a wind-only project with 125 wind turbines, according to transmission records. Developer Invenergy requested in 2015 to connect the Northwestern Energy's 230-kilovolt line at Broadview Substation. The Chicago-based company hoped to have wind turbines spinning by October 2018, but the project didn't take off. Invenergy wasn't a stranger to Montana. The company developed the 135-megawatt Judith Gap wind farm, which came online in 2006 near Harlowton.
Broad Reach is already working on several solar projects in the region, both near Broadview and northwest of Billings in the Alkali Creek area. Strategically, buying Buffalo Trail made sense, not only for its generation, but also because of its location beside Broadview Substation, one of the largest energy onramps to customers in the Pacific Northwest.
"I think it's the largest substation in Montana," said Mark Klein, Broad Reach managing partner and chief operating officer. "There's two different voltages, 230 (kilovolts), which is basically the backbone transmission system for NorthWestern Energy. And then the 500 kV, which is basically the main trunk line coming out of Colstrip for exporting to Washington and Oregon. The significance is market access, particularly out of state for export."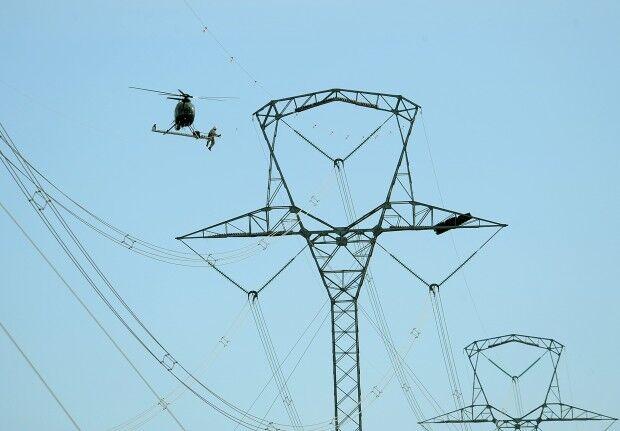 There is enough existing transmission capacity to accommodate the project. There is expected to be more in coming years as Pacific Northwest utilities with a majority ownership in the transmission line and Colstrip Power Plant pivot to renewable energy. In Washington state, utilities are required to pivot to renewable energy and away from coal power by 2025.
The new project would be the first pairing of wind and solar in Montana. Broad Reach is also a big developer of wind and solar backed by battery storage, which allows energy to flow onto the grid during times of peak demand when energy prices are more favorable and also when the sun isn't shining and the wind doesn't blow.
In June, the company announced it was building 15 stand-alone battery storage projects in Texas, with an eye on charging the batteries when market power was priced low and selling the energy when prices were higher.
In September 2019, Broad Reach partnered with ENCAP, a private equity firm steeped in oil and gas investments, to develop 2 gigawatts of energy storage projects, either standalone, or paired with wind and solar farms.
The Broad Reach Wind and Solar developer is Daniel Zolnikov, a former state legislator from Billings and past chairman of the House Federal Relations, Energy and Telecommunications Committee. Zolnikov joined Broad Reach in the second half of this year.
"I am looking forward to begin developing these projects as we continue investing in Montana," said Zolnikov in a purchase announcement. "Once completed, these projects will provide much needed reliability to the region's grid while also contributing valuable local construction jobs and significant tax dollars to counties such as Yellowstone, Stillwater and Golden Valley."
Broadview is one of three large Montana projects rolled out in last few years with out-of-state customers in mind. PacifiCorp, the largest utility in the region, is completing the 240 megawatt Pryor Mountain Wind Farm near Bridger this month. That $400 million project taps the transmission line servicing Yellowtail Dam.
A third project, Clearwater Wind, is being developed by Florida-based Nextera, between Forsyth and Miles City. At full build out the wind farm is expected to be 750 megawatts.
---
Agriculture, energy and politics reporter Tom Lutey shares his five most memorable stories of 2020
Agriculture, energy and politics reporter Tom Lutey shares his five most memorable stories of 2020
Billings Gazette agriculture and politics reporter Tom Lutey shares some of his most memorable stories from 2020.
It's been a newsy year, but drawing from the more than 200 articles I've written in the past 12 months, these five touch on larger themes.
The first, "Coronavirus threatens Montana's already struggling cattle market," was an early warning sign about the unexpected ways the pandemic was about to clobber our economy. Just a few weeks later, there were 45,000 fewer jobs in Montana.
The second article, "Unemployment escalation has been extraordinary in Montana," was the only article I've seen that didn't just report the number of unemployment claims processed, but touched on the failure of an overloaded system.
It's easy to get caught up in the data government offers, in this case the 76,042 unemployment claims processed in the first 21 days of the pandemic in Montana. There had been less than 14,000 in February. Equally important is the data you have to ask for. During that same three weeks, there were 1.042 million calls to Montana's unemployment phone line, most of which went unanswered.
The third article, "Postal delays spark concerns about service, mail ballot elections," was an enterprise Sunday piece sparked by increasing delays in the mail. My own pharmacy shipments were taking 12 days to arrive. My wife's mail was being dropped off in Edgar, a little town about 40 miles from where we live. Speaking with postal workers, I learned they were being ordered to leave mail behind, that the dysfunction we experienced resulted from a directive from a new postmaster.
A week after that first article, we were learning about mail sorting machines being dismantled and the removal of letter drop boxes, all of which could make voting by mail more difficult.
The fourth article, "Bullying, spying and harassment revealed in Montana PSC documents," stems from some watchdog reporting earlier in the year that resulted in a request for information that was clearly public. Rather than produce the information, the Montana Public Service Commission sued us. After several months, the court ruled in our favor. It was one of four taxpayer-funded lawsuits initiated by the PSC that it lost in 2020.
The fifth article, "Colstrip sale falls apart amid strong opposition" was a late-breaking story that required some careful explanation. The sale of a 25% share of Colstrip Unit 4 had dominated Montana's energy politics for nearly two years. The sale had big implications for Montana customers of NorthWestern Energy, which wanted to buy a larger share of Colstrip. Likewise, Puget Sound Energy customers had a lot on the line, as did the workers at the power plant and servicing mine. Very few people spoke in favor of the transaction before it collapsed.