With two of its four units shutting down this year, Colstrip Power Plant is still struggling to find cheap coal and retain employees, plant operator Talen Energy told lawmakers this week.
Talen Montana President Dale Lebsack said his company continues to lose money on Colstrip Units 1 and 2. In June, the company abruptly announced it would close 1 and 2 this December, three years ahead of schedule. The announcement to shutter the units came after four months of Colstrip talks at the state Legislature, during which there was no mention of the units closing earlier than 2022. Lebsack said Talen has been transparent about Colstrip's struggles.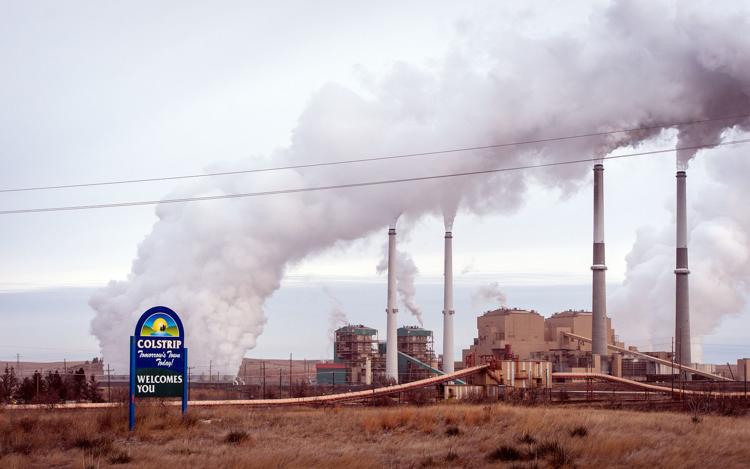 "We've been honest and upfront about our challenges over the course of the last few years. We've communicated repeatedly that we're losing quite a bit of money on units 1 and 2," Lebsack told the Legislature's Montana Energy and Telecommunications Interim Committee. The meeting occurred July 29. "And as operator, we've been working tirelessly to try to remedy that situation. Unfortunately, despite our best efforts, we were unsuccessful in making units 1 and 2 economically viable."
The power plant's six owners, Talen, NorthWestern Energy. Puget Sound Energy, Portland General Electric, Avista Corp and PacifiCorp had agreed in 2016 to close the units no later than 2022 in order to settle an air pollution lawsuit. All 6 owners signed the agreement to retire Units 1 and 2. It was done to protect Units 3 and 4 from further litigation, although only Talen and Puget have ownership shares in 1 and 2. But market competition from cheap natural gas and renewable energy sources wore on the units' profitability.
The number of workers leaving the power plant has increased due to uncertainty, Lebsack said. The company is trying to avoid significant layoffs related to the closure of Units 1 and 2. Additionally, Units 3 and 4 face a 2025 coal power ban in Washington, where Puget Sound Energy and Avista Corp. are based and PacifCorp does business. Oregon coal power bans begin in 2030. Between the two Pacific Northwest states there are 3.1 million Colstrip customers going offline.
"Our hardworking employees have continued to do a great job safely and reliably operating the plant, despite the uncertainty that surrounds Colstrip," Lebsack said. "However, this uncertainty has contributed to an increase in attrition. As we've seen employees retire early, or leave for other jobs, at a much higher rate than in the past."
Talen has offered retention and benefits packages to encourage workers to stay, Lebsack told lawmakers. The operator has worked with the International Brotherhood of Electrical Workers Local 1638 to extend the collective bargaining agreement for three years. Union workers recently voted to approve the agreement by 70%.
Roughly a third of the power plant's 330 workers are tied to Units 1 and 2, Lebsack said. Talen plans keep as many of those workers as possible on payroll decommissioning the units after shutdown, or working Units 3 and 4. With the number of workers leaving voluntarily increasing, it's unclear how many workers will lose jobs as a result of the two units closing in December.
"Because of these factors, we don't yet have hard and fast estimates regarding the number of impacted employees," Lebsack said. "We expect to continue to work through this situation over the next 18 to 24 months with the focus of recognizing the value of our employees during this time of uncertainty."
The plan is the put Units 1 and 2 into "a cold, dark, dry safe condition" and leave them standing until the entire power plant is ready to be demolished, most likely years from now.
The immediate challenges facing Units 3 and 4 are securing cheap coal and keeping workers from leaving, Lebsack said. The power plant's legacy coal source is Rosebud Mine, which is within walking distance of the power plant. The current coal contract for Rosebud expires at year's end, and whether a new deal can be struck without a price increase remains to be seen. Rosebud's previous owner, Westmoreland Coal Co., went bankrupt earlier this year. The mine is now owned by a group of creditors doing business as Westmoreland Mining LLC.
Coal is the power plant's biggest expense and finding the cheapest supply is crucial for Talen. Last year, Talen began the regulatory paperwork to use coal from a source other than Rosebud Mine, if necessary. That work continues, Lebsack said.
"From our perspective, our primary focus right now as it relates to Units 3 and 4 is to keep the units running and to keep them economically viable. I mean, we're focused on things like, you know, making sure that we have a workforce, when attrition, you know, climbed over 10% at Colstrip last year."
Be the first to know
Get local news delivered to your inbox!