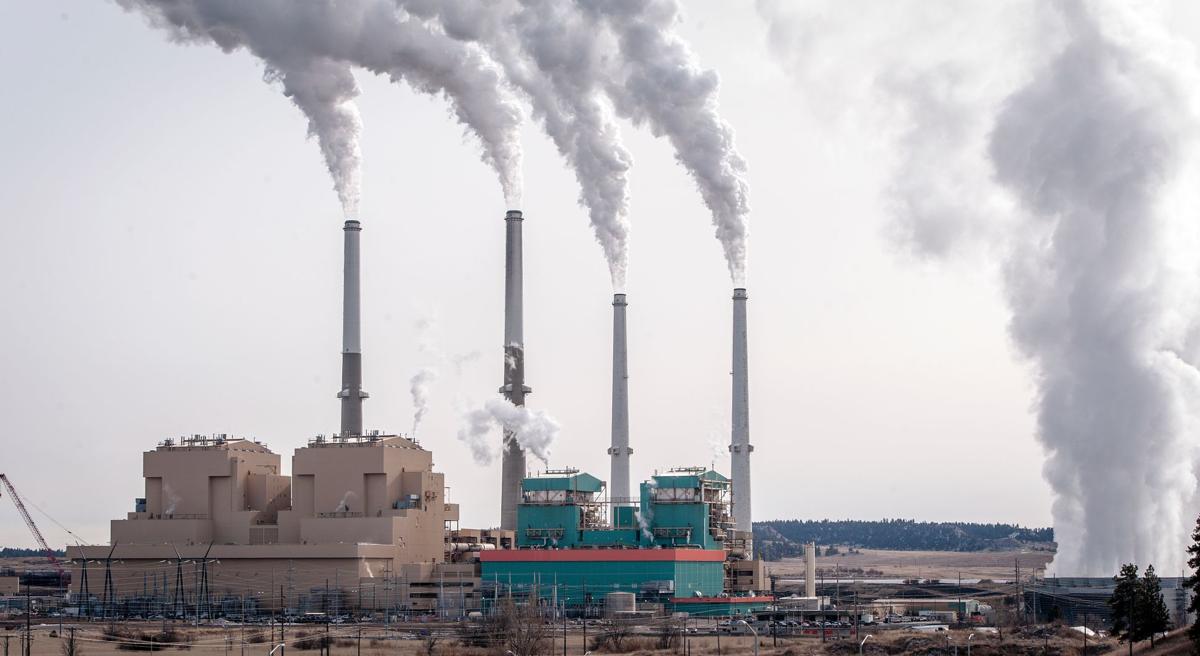 Shutting down Colstrip Unit 3 becomes much easier under an agreement between power plant owners Puget Sound Energy and NorthWestern Energy, documents show.
Regulatory filings in Washington reveal that Puget expects to dictate NorthWestern's vote when it comes to closing Unit 3 sometime in the next five years. Puget identifies NorthWestern as the Colstrip owner most likely to block the shutdown were the agreement not in place.
"NorthWestern would likely be the owner with the most difficulty approving the closure, or decommissioning of Colstrip Unit 3 due to political and economic pressures in the State of Montana," said Puget's Ron Roberts, in written testimony before the Washington Utility and Transportation Commission. Roberts is Puget's director of generation and natural gas storage.
"At worst, NorthWestern Energy could have had a de facto veto for any decision to close or decommission Colstrip Unit 3, even if all the entities with an ownership interest in the unit thought that closure and decommissioning were appropriate."
The agreement also obligates Puget to vote the way NorthWestern directs on matters concerning Unit 4. The Washington utility won't support measures that shorten the life of the unit.
The sales agreement with Puget benefits each company for different reasons, according to NorthWestern.
Roberts goes on to explain that Puget's sales agreement with NorthWestern works around the Colstrip Unit 3 and 4 Ownership and Operation Agreement, under which unanimous consent is required by all owners for certain things including closure. NorthWestern's current Colstrip interest is a 30% share of Unit 4 but under the Ownership and Operation Agreement it's arguable the South Dakota-based utility would still be able to prevent the other owners from shutting down Unit 3.
It's the Unit 3 and 4 Ownership and Operation Agreement that's often cited as a firewall against closure, most often by politicians determined to keep the power plant open as the majority of Colstrip's owners make exit plans. Owners Avista Corp., PacifiCorp and Puget, face a 2025 deadline in Washington, after which they won't be able to bill customers for coal power costs. A similar Oregon deadline awaits PacifiCorp in 2030 and Colstrip owner Portland General Electric in 2035.
Puget also indicates that it's debatable whether the Unit 3 and 4 Ownership and Operation Agreement truly requires unanimous consent to close a unit, calling the terms ambiguous. Without the vote sharing arrangement in the sales agreement between Puget and NorthWestern, there was "potentially lengthy and costly litigation to determine the question whether unanimous consent were required under the Colstrip Units 3 and 4 Ownership and Operation Agreement to close or decommission Colstrip Unit 3, even if all of the entities with an ownership interest in the unit thought that closure and decommissioning were appropriate.
A mandatory mediation clause prevents NorthWestern or Puget from suing each other to settle differences related to the contract.
Puget's case filings with WUTC indicate that there's more reason than just state climate change laws driving owners' decisions to get out. "The costs of maintaining and operating Colstrip Unit 4 continue to escalate. These escalating operations and maintenance costs reflect the escalating costs encountered by other coal-fired generation units and the difficulties that coal-fired generating units are having in remaining competitive with declining electricity market prices resulting from competition with relatively inexpensive natural gas generation and increased penetration of renewable resources," Puget says in explaining why it makes sense to get out of Unit 4. There are also significant repairs that most owners are reluctant to pay for. The superheated section of the Unit 4 boiler is damaged, according the Puget report, and the repair is expected to cost $20 million.
Documents in the Puget case reveal that several Colstrip owners have refused to pay for Unit 4 boiler repairs, both in 2018 and again in 2019.
In its 2020 Integrated Resource Plan, Avista said its customers would be better off financially if both Units 3 and 4 closed in 2025, which would be true even if Washington state wasn't imposing restrictions on coal power. The company would turn to renewable energy resources, like Montana wind energy, as well as improved production from its dams as a cheaper replacement to its Colstrip power.
Puget has indicated it will replace its Colstrip power over the next several years with more affordable market power purchases and a contract for power with a natural gas-fired power plant. In the last few weeks, the company has contracted for 40 megawatts of baseload hydropower from Energy Keepers, which is owned by the Confederate Salish Kootenai Tribes of northwest Montana. It's baseload power that's reliable in its output, unlike wind or solar energy, and can be adjusted upward or downward according to demand. Puget has also agreed to buy 100 megawatts of baseload power from the Bonneville Power Administration starting in 2022. In regulatory filings the company has said there will be an ample supply of electricity on the open market in the years to come. Puget expects that power to be cheaper than its Colstrip supply.
NorthWestern said in an email that buying more of Unit 4 is its best move. It says it believes baseload power will become scarce in the West as coal-fired power plants shut down and that buying a larger share of Unit 4 is the most affordable way to add baseload power.
"NorthWestern Energy is critically short of capacity and this 185 megawatts is available now. Purchasing a 185 megawatt share Colstrip Unit 4 for is by far the most affordable way to help close the gap in the capacity shortage facing our Montana customers. No other option — buying additional energy from the market or building a plant that would generate this amount of energy over multiple days when it is needed the most — can achieve the same results." The statement was issued by Jo Dee Black, NorthWestern Energy public relations specialist.
If the agreement is approved by Montana's Public Service Commission, 90 megawatts of the power would be sold back back to Puget for roughly five years. Remediation and decommissioning costs related to NorthWestern's current 30% of Unit 4 would be addressed with revenue from power sold to Puget.
NorthWestern has indicated a preference to keep Unit 4 operating through 2042, though in the past months it has indicated that it sees the additional 25% purchase of Unit 4 as beneficial to its Montana customers, even if the unit shuts down in five years.
Nothing prevents the utility from buying Puget's share now, but NorthWestern has asked Montana's Public Service Commission to add the share to rate base, a move that will commit customers to paying for future expenses associated with the Puget share, like fuel, operating costs and capital expenditures. Many of those costs haven't been disclosed to the public. NorthWestern has indicated it will raise the issue of capital expenditures as those expenses arrive and after the 25% share has been put into the rate base.
The Montana Consumer Counsel, created by the state Constitution to advocate on behalf of regulated utility customers, has raised concerns about the unknowns of NorthWestern's purchase. Preapproving NorthWestern's purchase without knowing more about coal costs, as well as escalating operations and maintenance costs referred to by Puget, could expose the utility's Montana customers to unknown future risks, according to the consumer counsel.