MANVEL, N.D. — On a snowy, chilly night, more than 100 people gathered at St. Timothy's Catholic Church in Manvel Wednesday, Nov. 28, to honor a family they did not know for long but cared for deeply.
The community of Manvel came together to share memories of the Dean family — Chelsi, Anthony and their daughters Avri, 1, and Kaytlin, 5. The family died in a car crash near Billings on Thanksgiving Day while traveling from Caldwell, Idaho, to Ekalaka to spend the holiday with relatives.
The Dean family was new to the area, living in Manvel for just a few months, but they were already involved in the community. The family enrolled Kaytlin in kindergarten and Manvel's youth hockey program. Chelsi was a volunteer firefighter and Anthony was assigned to Grand Forks Air Force Base, where he worked as an RQ-4 Global Hawk crew chief.
Manvel school administrator Matt Bakke said Monday was an especially tough day for students. Kaytlin's kindergarten class sang her favorite song during music class. When the students finished the song, one of her friends said "I bet Kaytlin is smiling down on us right now," Bakke said.
She loved hockey and would bring it up every chance she could. A jersey in her honor hung in the lobby of the church as a way to remember the young girl who was described as "spunky" and "a bright light," Bakke said.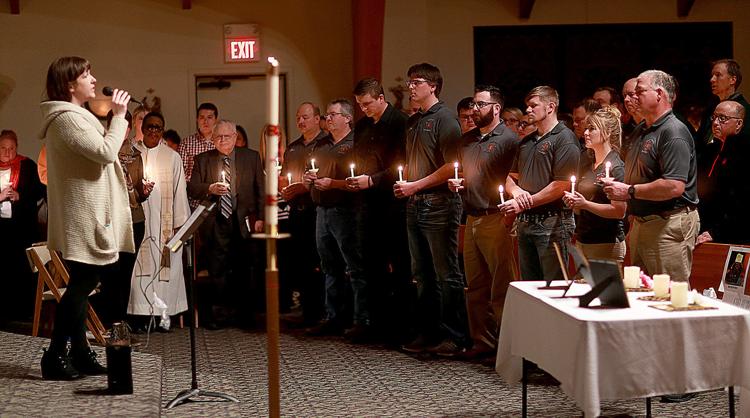 "Whenever ice skating, ice skates or even ice was brought up in class, she would shout loud and proud 'Like hockey? I'm in hockey!'" Bakke said as he read a note from her teacher, Courtney Sandness.
Manvel fire chief Steve Schumer said although Chelsi was only a part of the fire department for about a month and a half, she was always "outgoing" and wanted to learn. Schumer said she had intentions of going to fire school in Minot.
When Schumer asked why she wanted to become a firefighter, Chelsi said she always wanted to be like her dad, who was also a firefighter.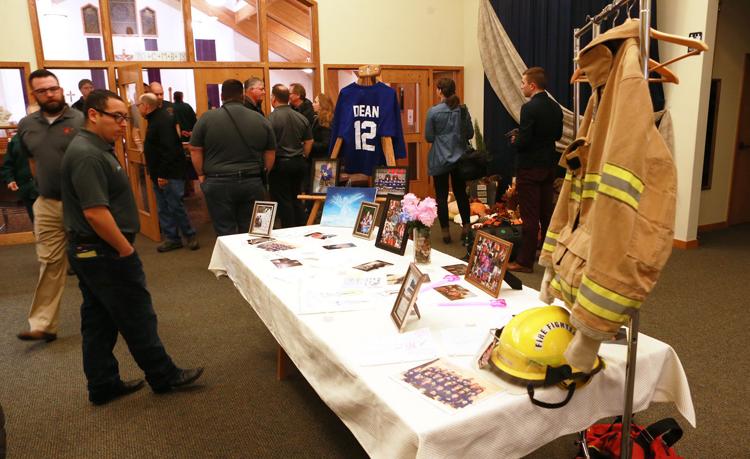 "It's like losing one of your kids, because we are a family, this fire department is," Schumer said. "When people come on we just welcome them with wide-open arms."
A letter from Anthony's mother, Leslie Webb, was also read at the service.
Anthony always wanted to be a pilot in the Air Force, Webb wrote. But a couple bad dreams about flying and a high score in the maintenance section of the military's vocational aptitude test made Anthony choose a different path, one that would lead him to being the Global Hawk crew chief at the base.
Anthony and Chelsi started dating in high school, Webb wrote. Although they broke up and got back together a few times in school, Webb said they were "soulmates and destined to be together."
Katie Osowski and Briana Theisen Bohm, who organized the vigil, noted that the family had just started planting their roots in the community.
"I think they would have been a really big blessing to keep in our community," Bohm said.
---