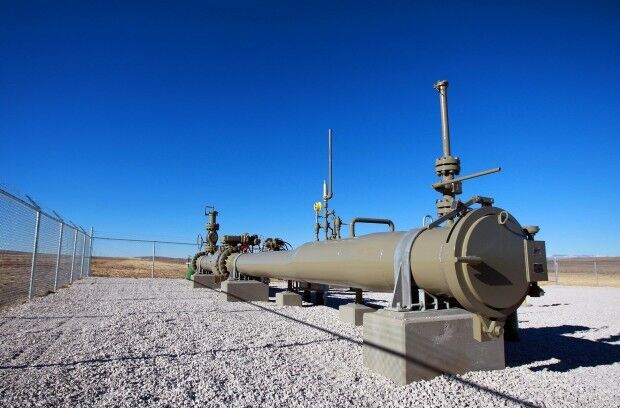 Leading environmental groups in Wyoming have come out in fierce opposition to a major pipeline project proposed for the state, over concerns the development could destroy sensitive wildlife habitat and exacerbate climate change.
If approved, the Wyoming Pipeline Corridor Initiative would formally designate about 1,100 miles of public land for future pipelines, primarily dedicated to delivering carbon dioxide to oil sites. An additional 900 miles of private and state land are would also be interspersed throughout the corridors. Proposed over a decade ago, the pipeline initiative seeks to dramatically expand the state's infrastructure and help companies transport oil and gas products.
Critics of the project — which include Western Watershed Project and Sierra Club Wyoming, among others — filed a 74-page protest with the Bureau of Land Management last week, protesting the agency's environmental review and resource management plan amendments associated with the pipeline corridor initiative.
The groups' protest meticulously outlined a host of environmental consequences, like heavy greenhouse gas emissions, severe wildlife disturbance and widespread habitat loss, that could occur if pipeline construction moved ahead. Some of the routes would also intersect with greater sage grouse habitat and big game migration routes.
In short, the BLM did not fulfill its obligations under federal law to comprehensively assess the potential environmental impacts of the corridors, the Nov. 23 complaint argues.
"This proposal proves that BLM has as little regard for sage-grouse as the oil and gas industry does," said Kelly Fuller, energy and mining campaign director at Western Watersheds Project. "To approve this massive new network of pipeline corridors, BLM will strip protection from tens of thousands of acres that BLM's own sage-grouse plans say pipelines are supposed to avoid. This is how you drive wildlife extinct." 
The social costs of climate change and loss of wildlife potentially caused by the development far outweigh any of the promised economic benefits, according to the conservation groups.
"The more we learn about big game migration corridors, the more clear it becomes that these migration routes are essential to maintaining healthy and thriving populations of deer, pronghorn, moose, and bighorn sheep," Connie Wilbert, director of Sierra Club Wyoming, said in a statement Wednesday. "A number of herds are already struggling, and this ill-conceived proposal could drive their numbers ever closer to the brink."
Furthermore, the complaint accused the BLM of allegedly failing to provide adequate opportunities for public participation in the review process, as required by the National Environmental Policy Act, or sufficient consultation with affected tribes.
The BLM did not immediately respond to a request for comment.
The federal government's approval of the proposal would not immediately authorize pipelines along the corridor. Instead, the initiative would amend resource management plans, as needed, across multiple BLM field offices to accommodate future development. Companies hoping to build a pipeline within the approved corridor would still need to undergo additional review processes.
By approving roughly 2,000 miles for potential pipelines, the state reasoned it could potentially expedite or streamline the environmental review process for future construction on federal land by oil and gas companies. The pipelines would be specially constructed to carry carbon dioxide to oil sites, where it would be injected into reservoirs to remove residual oil that traditional drilling processes did not extract.
The Petroleum Association of Wyoming defended the integrity of the infrastructure project and called the protest filed by the environmental groups a "bombasic accusation against hard-working civil servants."
"Continuous technological advancements in the industry have made the production and transportation of reliable, affordable energy cleaner, safer, and more efficient than any time in our history — all the while generating billions of dollars for the Wyoming economy," communications director Ryan McConnaughey said in a written statement.
The BLM released its final environmental impact statement and resource management plan amendments for the pipeline corridor initiative earlier this year. The regulators identified its preferred alternative as one that would amend some resource management plans in order to designate new pipeline corridors on public land. But the agency would only accept the development of pipelines on the designated routes transporting "carbon dioxide, enhanced oil recovery products and other compatible uses." 
Follow the latest on Wyoming's energy industry and the environment at @camillereports