The mountain of beets outside Western Sugar's Billings factory casts a long shadow on State Avenue, but the inventory is anything but static.
The hot, mid-September sun draws steam from the pile, raising concerns of spoilage as factory workers fire up the boilers for the start of six months of sugar making.
"We try to manage a three- to five-day supply of beets during the early harvest period," said Randall Jobman, Western's vice president of agriculture for the northern region. Heat can be a spoiler.
The factory supply in September is constantly changing. Harvesting sugar beets in early September is challenging. Hot summer temperatures can cause beets to rot in the pile. The challenge is keeping the pile's core temperature no warmer than the mid-50s. Farmers from Western Wyoming to Hysham harvest only when called upon to manage the load. Saturday's beets are cut up no later than Wednesday, and so on.
Once summer passes, the beets will store fairly well in piles outside until the sugar making finishes sometime in February.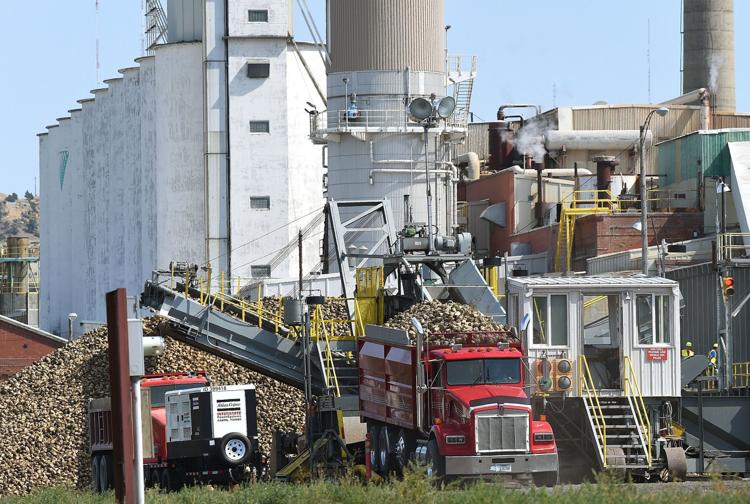 You have free articles remaining.
The dull funk of boiled beets has wafted across South Billings since Sept 5.
"The quality of the beets being harvested during our early dig are above expectations," Jobman said in an email. "Weather permitting, we will begin full harvest operations for long term storage in early October."
The expectation is that the harvest will average about 31.5 tons per acre. Farmer Brett Nedens, of Hardin, said production was about average, set up by a spring that wasn't too warm, but not frosty. Most crops avoided early freezing conditions and then didn't cook as summer came on.
Most of Big Horn County also missed the crop destroying hail that clobbered Yellowstone County's sugar beets in the Huntley Project area in August. There were some farmers in the Saint Xavier area that had hail damage, Nedens said, but most Big Horn County beet farmers were spared.
Word of the Hardin beet crop's quality reached Eastern Montana where Sidney Sugars General Manager David Garland said he had heard about it. In the Sidney area, growing conditions were also cool in the spring and slow to warm in summer. Sidney Sugars hadn't started harvest yet, Garland said. The expectation in the east was that beets contained less sugar and yield was lower than the last few years, also, because of weather.