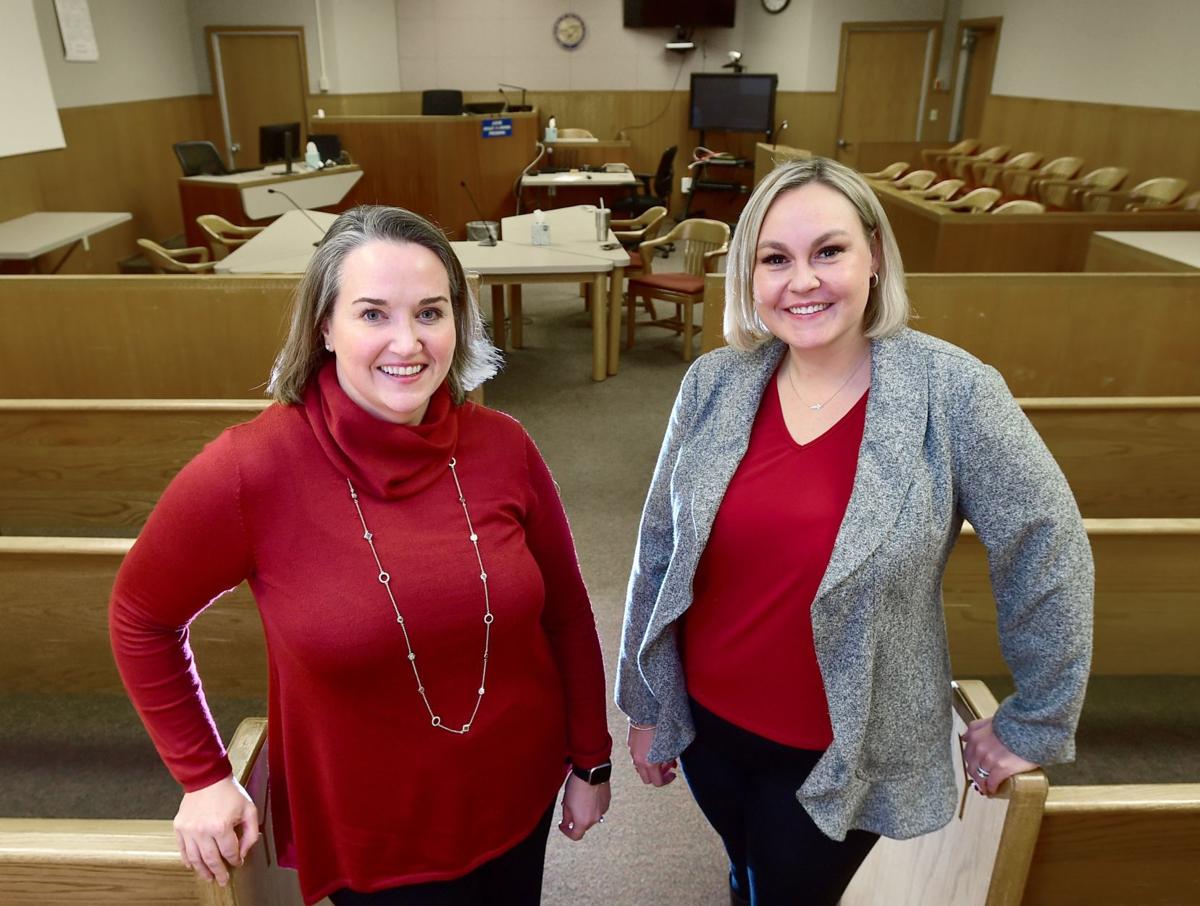 Starting in January, some parents in Yellowstone County who have their children removed will get to see a judge within 72 hours.
While that's normal for most states, Montana generally gives courts 20 days.
That timeline tends to get a reaction at professional conferences, said child protection supervisor Jenn Weber.
"There's always this gasp when that comes up," she said at a November meeting for lawmakers on the Children, Families, Health and Human Services Committee.
Beginning in January, Yellowstone County District Judges Ashley Harada and Jessica Fehr will pilot an expedited hearing aimed at getting parents on board earlier and improving family reunification rates.
The two judges will conduct what they're calling "emergency protective services hearings" on Mondays and Thursdays. There, parents will meet with a public defender, get their first child visitation scheduled, book an appointment for a chemical dependency evaluation and download a phone app that sends reminders about court dates and visitation.
They'll also meet with one of the two judges, who will strive to make clear their intent: The No. 1 goal in any child removal case, both judges say, is to safely reunify the family.
"It's amazing, you see the change in their face when they realize it's not adversarial," Fehr said. "It's not law and order."
Most child removal cases result from neglect and not abuse. Federal data from 2012 shows that of the 686,000 children who were maltreated that year, 78% were neglected, 18% were physically abused, 9% were sexually abused and 11% were victims of some other type of maltreatment. (Children could be counted under more than one form of maltreatment.)
Harada said that it's always traumatic for a child to be removed from their parents' care.
"Even if it's a dysfunctional environment and a dysfunctional home, it's all that child knows," the judge said. "That is oftentimes their safe place, even though it's not safe in our eyes."
You have free articles remaining.
The longer parents wait to see their children, the easier it is for them to disengage, the judges said. Under the current system, it can take up to 30 days to arrange the first visit.
For 77% of the child abuse and neglect cases in Yellowstone County in 2017, drug abuse — primarily methamphetamine — was a major factor in removal, data from the county attorney's office shows. For some, the only motivation to sober up is their children.
"And so to take away the motivation for sobriety and say, 'Well, you can see that child in 30 days,'" Harada said, "What's their motive to stay sober?"
The pilot program is welcome news to public defender Jim Reintsma, who represents parents.
"A good portion of my clientele doesn't trust the government, hates CPS, doesn't want to work with them," he said.
Reintsma said an expedited initial court hearing could go a long way toward chipping away at that mistrust and keeping parents engaged.
Coordinators for the pilot will collect data from the phone app used by parents and analyze their participation in child visitation and court hearings. They'll track factors like how long it took for children to be returned home for a trial stay, the duration of each case, and how often children were returned home but later removed again — something the judges hope to see decrease with the pilot program.
If the pilot shows progress toward permanent family reunification, proponents of the program will look at options for expanding it with other judges in the district and around the state.
Reintsma said he's told lawmakers about the need to get parents into court sooner, but he thinks any change to state law could take time. In the short term, he hopes judges are persuaded to opt in and establish their own emergency protective services hearing after seeing data from the pilot.
"This needs to happen," Reintsma said. "Legislatively (or) through the court system, we need to get parents in front of judges sooner."
In addition, an unpaid intern from the Walla Walla University's graduate program in social work will coordinate the pilot and write a manual for the program.