Violent crime in Yellowstone County has held steady during the past six months since federal, state and local law enforcement officials announced plans to aggressively pursue meth crimes, armed robberies and illegal firearms trafficking as part of the federal "Project Safe Neighborhoods" initiative.
But the fact that there wasn't an increase compared the same time period in 2016 and 2017 is itself something of a victory, Montana's U.S. Attorney, Kurt Alme, told a gathering of local media during a Tuesday morning press conference at the federal prosecutor's office in Billings.
"We would all like to see it go down further than where it is right now," Alme said, flanked by 15 representatives from local, state and federal law enforcement agencies. "But we are encouraged by the results we've seen between the first quarter and second quarter of this year."
Before the initiative kicked off in April, the rate of murders, robberies and aggravated assaults in the county had spiked more than 29 percent compared with the first three months for 2016 and 2017, Alme said. Between 2010 and 2017, the Billings Police Department tracked an overall increase of nearly 75 percent for violent crime.
Project Safe Neighborhoods, a 2001 initiative resurrected last year by U.S. Attorney General Jeff Sessions, aims to increase collaboration among different law enforcement agencies while targeting the root causes of violent crime. For the program's effort in Yellowstone County, that root cause is meth.
"It's also causing property crime, it's filling our jails, it's overwhelming our foster care system, it's overcrowding our treatment facilities, it's burdening health and health care and it's enslaving our friends and family members in our communities to addiction," Alme said.
Alme and Yellowstone County Attorney Scott Twito rolled out a range of statistics as they thanked local law enforcement and prosecutors for their stepped-up efforts during the past six months: 87 suspects charged in court for armed robberies, firearms crimes and meth crimes; 19 felony suspects charged at the state level; 160 pounds of meth and 52 firearms seized; and 288 warrants served by the U.S. Marshal's Service Montana Violent Offender Task Force.
But the two prosecutors and Billings Police Chief Rich St. John also noted that preventing new people from getting hooked on meth, diverting low-level offenders to drug courts and offering treatment to addicts are also critical parts of the overall strategy to reduce violent crime.
Last week, Alme's office announced that a $358,000 federal grant had been awarded to the Eastern Montana High Intensity Drug Trafficking Area Task Force. It will allow a new coalition of local organizations, Yellowstone Substance Abuse Connect, to hire a coordinator to oversee the initiative, according to a DOJ press release.
The announcement stated that the funding would allow the coalition to develop a "needs assessment" to determine what resources are not being met in the community, develop a plan to prevent addiction and increase treatment and diversion availability and to put the plan into action.
The coalition is being led by United Way of Yellowstone County, while the police department is administering the funds.
"The issue is not so much on the enforcement side of things," St. John said after the press conference, noting that his officers have likewise stepped up their focus on the areas of crime emphasized by Project Safe Neighborhoods. "It's on the back end, where we're trying to break that cycle" of addiction and re-offending.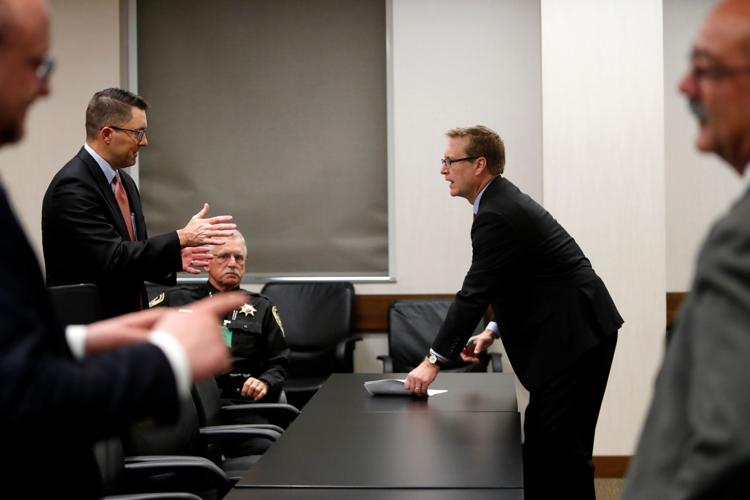 In addition, Alme said new federal funds have allowed him to hire an additional assistant U.S. attorney, along with a paralegal to help stymie the added casework taken on by federal prosecutors since Project Safe Neighborhoods restarted in Yellowstone County.
The program has also been a success, he said, in part because of increased efficiency between law enforcement in the area. Every two weeks, federal, state and local representatives hold a "tactical meeting" to discuss ongoing casework, avoid duplication of investigations and coordinate prosecution.