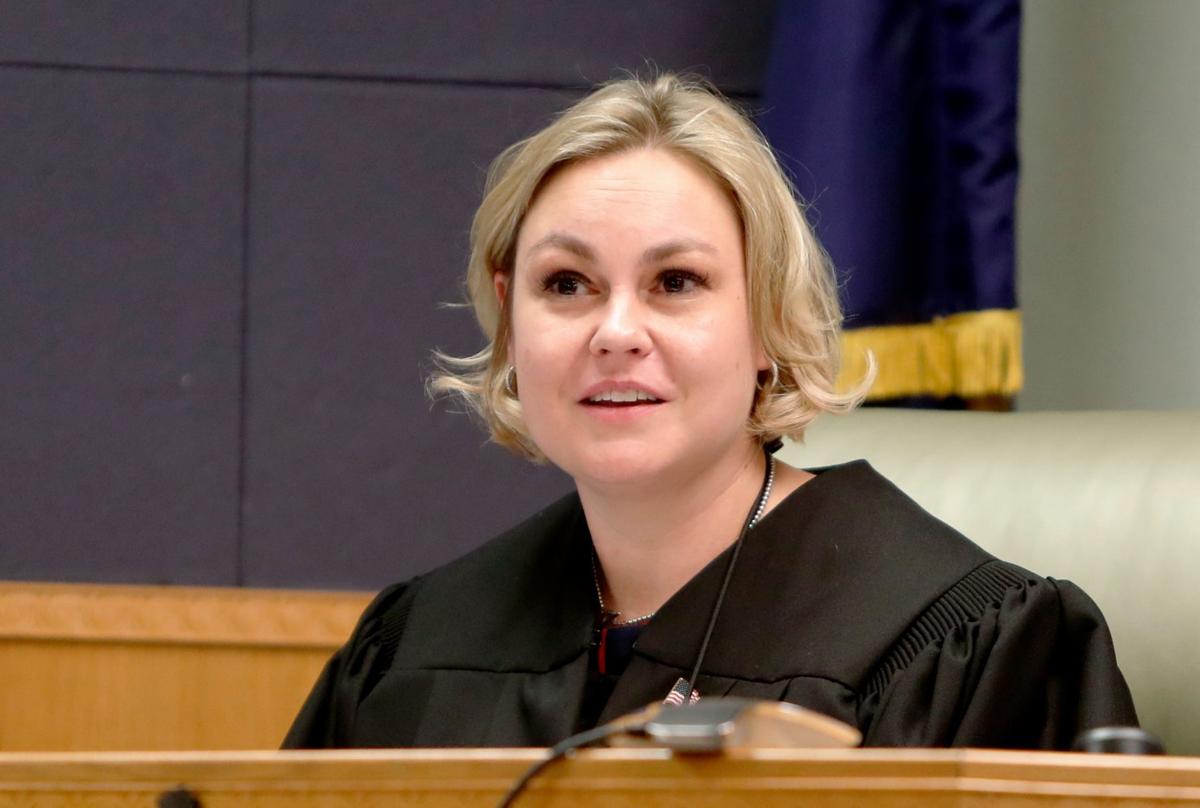 Three Billings residents behind a complaint against a sitting judge are calling for the judge's removal, saying a public censure isn't enough.
Billings attorneys Elizabeth Halverson and Jacquelyn Hughes, and retired federal law clerk Karen Jarussi are also objecting to Yellowstone County District Judge Ashley Harada's admission to six counts of misconduct, saying the explanations she offered for her misconduct are insufficient or misleading.
The complainants argue in recent filings that if the Montana Supreme Court follows the recommendation to censure Harada and does not order a more serious discipline, then it will embolden other judicial candidates to violate the Montana Code of Judicial Conduct.
"There will be 'no holds barred' in future judicial campaigns if Harada's unethical, illegal, and tortious conduct is endorsed and essentially rewarded by imposition of only a censure," Jarussi wrote.
The Judicial Standards Commission receives dozens of complaints a year that it must review. Most are dismissed, and the vast majority remain confidential.
Those that rise to the level of a formal complaint have been investigated by the commission and deemed serious enough for public proceedings. Eight judges in Montana have faced formal complaints since 1990. 
Retired District Judge Russell Fagg, who is serving as Harada's attorney, issued a statement from Harada saying it was important to remember that the complainants supported and donated to Harada's opponent in the race, Juli Pierce.
"After they did not achieve the results they wanted at the ballot box, they took the highly unusual step of filing complaints and asking for her to be removed from office," the statement said. "Despite a thorough investigation by the (Judicial Standards Commission), the complainants are still unsatisfied with the outcome and are now taking the highly unusual step of intervening directly with the Supreme Court."
Harada said she has taken responsibility for her actions and looks forward to continuing to serve Yellowstone County.
She has agreed to submit to a public censure, and the commission has also endorsed a public censure as the appropriate remedy. The five-person commission includes two sitting district court judges.
Objections
In admitting the misconduct, Harada acknowledged she made a misstatement while under oath, made a false or misleading statement about a law school applicant because of a personal grievance, and inflated her legal credentials, among other allegations.
In Hughes' objection, she said Harada's explanation regarding the partisan content on her personal Facebook page was misleading.
Harada had said she changed the settings on her personal Facebook page to ensure her personal political views did not become public. But when questioned about her political affiliations in a post on her campaign's Facebook page, Harada referred the questioner to her personal Facebook page, Hughes said. Hughes also noted the reach of Harada's personal page, which had more than 3,100 Facebook friends during the campaign.
Hughes took issue with Harada's explanation for leaving the Yellowstone County Republican Party's endorsement on her campaign Facebook page. The party posted its endorsement of her in June. Harada had said she'd contacted the Judicial Standards Commission for guidance on the endorsement. The commission did not respond because it is not an advisory body.
But Halverson, one of the complainants, had asked Harada about the endorsement at a candidate forum a month before the election. And while Harada said she was aware of her ethical obligations regarding partisan activity, the endorsement remained online until after the election, according to filings by all three complainants. 
Hughes appeared critical of the Judicial Standards Commission's handling of the case, saying the final version of the complaint against Harada "grossly understates the calculated, premeditated pattern of ethical violations" that Harada committed, which she used to gain her position as district court judge. Hughes said the explanations in Harada's admission misrepresent the facts that were available to the commission through its investigation. 
The commission's complaint against Harada is the result of four complaints that were investigated and substantiated. Those complaints were filed by Jarussi, Halverson, Hughes and Yellowstone County District Judge Gregory Todd. 
Other complaints filed against Harada did not rise to the level of a formal complaint and remained confidential. 
Hughes donated the maximum amount to Harada in the race but later, before the election, published on Facebook her concerns about Harada's campaign.
In Jarussi's objection, she said Harada broke the law. 
Jarussi said that Harada broke state and federal wage laws when she failed to report a former nanny and office worker, Hanna Walter, on her taxes. 
Jarussi took issue with Harada's explanation that she relied on inaccurate guidance from her accountant when she told an investigator under oath that Walter was not her employee in 2017.
"And any attorney, especially one as experienced as Harada claimed to be, should know that you have to make withholdings and reports on an office employee," Jarussi wrote.
Jarussi said Harada committed defamation when she wrote a false or misleading letter to the University of Montana law school in an attempt to preclude Walter's admission, due to a personal grievance. She called the letter "cruel and morally and legally reprehensible," and said it meant Harada "does not have the moral compass necessary to be a judge."
Jarussi said the commission's complaint failed to include other problematic actions by Harada, including her campaign mailers telling voters that her political contributions had been only to conservatives, while her opponent's had been only to liberals. 
In Halverson's objection, she said Harada's removal was "abundantly warranted," and noted the misstatement Harada made under oath regarding Walter's employment status.
"Every day members of the public appear before her as witnesses, criminal defendants, parents whose children are at risk, even prospective jurors," Halverson wrote. "All must swear to tell the truth. All are subject to penalties for perjury. Yet Harada argues for the lightest possible consequence from this Court."
Halverson asked the Montana Supreme Court for a chance to be heard on the matter before discipline is ordered. 
There were 46 complaints filed with the commission in 2017, and 60 in 2018, according to the commission's most recent report. All remained confidential. 
The commission is made up of Lewis and Clark County District Judge Mike Menahan, Roundup-based District Judge Randal Spaulding, Missoula attorney Jill Gerdrum, Helena former Democratic lawmaker Jenny Eck and Great Falls resident John Murphy.
Retired District Judge Ed McLean was named by the commission to investigate and prosecute the complaints against Harada.
Starting in January, some parents in Yellowstone County who have their children removed will get to see a judge within 72 hours.
Sign up for our Crime & Courts newsletter
Get the latest in local public safety news with this weekly email.