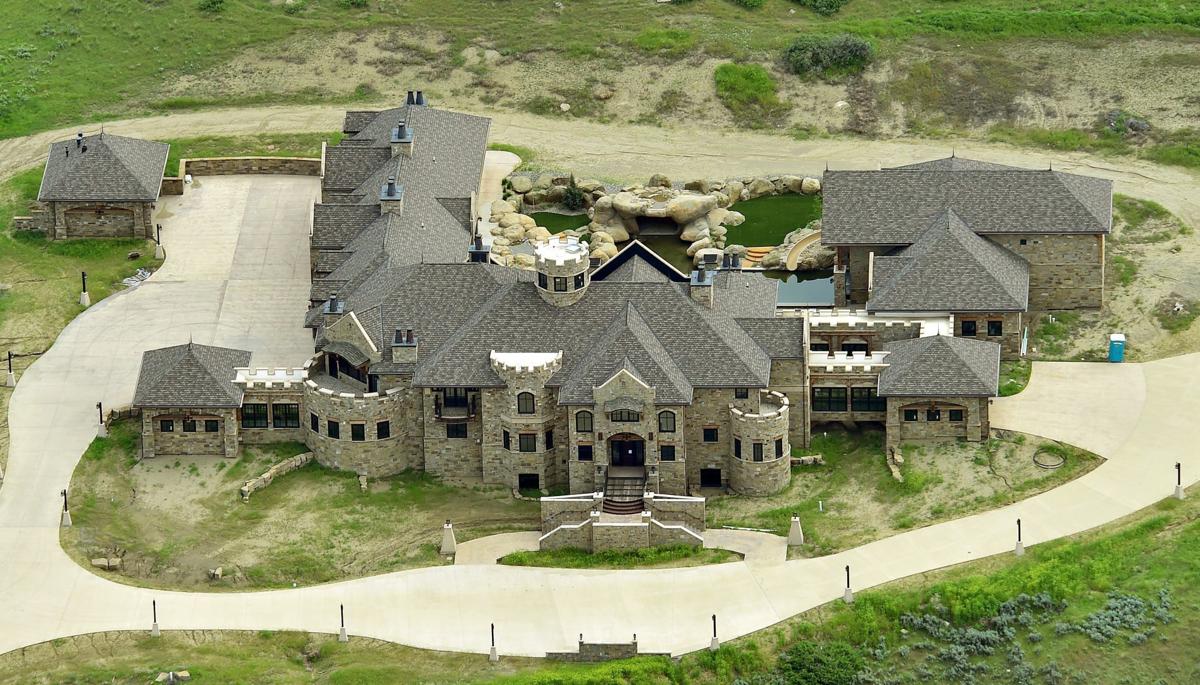 A state court has resolved the dispute about who owns Billings' largest-ever house, and its owners are planning to list it for sale.
The title to a 26,000-square-foot mansion on the city's far West End was transferred to Wyoming company Three Blind Mice in a May 9 ruling in Yellowstone County District Court.
"We are making present plans to list the house with a Realtor and sell it," said Three Blind Mice attorney Randy Nelson.
Larry Price, who is awaiting sentencing on federal fraud charges, signed over the Billings property to Three Blind Mice in a quitclaim deed a year ago, but later asserted he still owned it.
Price's argument was based in part on a claim he had not willingly signed the deed. He said he'd been threatened: Nelson, the company's attorney, told him he would go to the FBI if Price didn't follow through on a deal to repay his clients.
The argument failed with District Court Judge Rod Souza, who found Price signed the deed before Nelson spoke to him.
"One cannot be defrauded, unduly influenced or under duress by something occurring after the fact," Souza wrote in his order.
Nelson had argued as much, saying Wednesday that Price was "attempting to travel through a wormhole back in time."
The judge also found the attorney's threat to talk to law enforcement did not cross the line.
"Mention of criminal and civil remedies to precipitate a last attempt at settlement is not duress," Souza wrote.
Price had made multiple indications in court that the Billings mansion no longer belonged to him.
Aside from the quitclaim deed, he also agreed to forfeit the property in an agreement with federal prosecutors in December.
And in 2018 in Virginia, Price told a federal judge he'd made the mansion available to help pay off Three Blind Mice, noting he owed the company $11 million.
Price's attorneys, Carey Matovich and Ryan Gustafson, declined to comment on the ruling.
Three Blind Mice is a Wyoming limited liability company and non-regulated lender whose sole business venture was a $7.5 million loan to Price. Its members are Stephen Casher, a Billings venture capitalist, and two Wyoming doctors, Robert Schlidt and Raoul Jourbran.
Three Blind Mice went after Price when he failed to repay the multi-million dollar loan.
Two other local entities, P&H Trucking and MY Co., had sought to intervene in the lawsuit against Price over the mansion but were denied.
The judge said the two companies had not satisfied the necessary legal elements. The two companies claim $6.2 million in loans that Price has failed to repay.
A call to Harlan Krogh, the attorney representing P&H and MY Co., was not returned Wednesday. 
Three Blind Mice is last in line to receive payment from any sale of the mansion. After a federal tax lien, county property taxes and debts to local builders are satisfied, Three Blind Mice is entitled to half of the proceeds, according to an agreement with federal prosecutors.
Speaking Wednesday, the company attorney said he wouldn't guess what happens if Realtors aren't able to land a proper buyer.
"I can't speculate about what the end game would be if we aren't satisfied with the offers," Nelson said.
Price has estimated the mansion to be worth as much as $20 million, but the Montana Department of Revenue gives it a market value of $10.5 million.
Price is set to be sentenced in October on federal charges of wire fraud, conspiracy to commit money laundering and lying to federal investigators.
Under the terms of a plea agreement with the Montana U.S. Attorney's Office, Price is obligated to pay more than $20 million in restitution for financial activity that defrauded three companies.
Price has not filed for bankruptcy.
Sign up for our Crime & Courts newsletter
Get the latest in local public safety news with this weekly email.