After an officer shooting at Billings Clinic caused a bullet to ricochet through a window in the pediatric unit, the clinic has taken steps to increase safety, but does not blame officers for their actions.
A coroner's inquest into the shooting and killing of John Barry Marshall, 48, in the clinic's parking lot concluded Thursday that the officers from the Montana Violent Offender Task Force and City County Special Investigations Unit/Eastern Montana High-Intensity Drug Trafficking Area Task Force did not act in a criminal manner.
And Billings Clinic respects the decision of the inquest.
Billings Clinic spokesperson and President of the Billings Clinic Foundation Jim Duncan said, "We rely on our judicial system to assess the actions of law enforcement."
"Do we wish this would have happened somewhere else away from the public? Absolutely," Duncan said. "However, we are thankful no one else was physically injured."
An offer was made by the agencies to pay for the one pane of glass that was damaged as a result of the shooting, Duncan said.
Hospital staff regularly interact with law enforcement as part of their profession and rely on officers to use their training and expertise in crisis situations to maintain public safety, Duncan said. Marshall was significantly under the influence of meth and had a loaded gun, Duncan said, and he was a serious threat to public safety.
In recent months Billings Clinic has made several updates as part of a long-range plan to improve hospital security. These changes include: increased security personnel; upgraded and increased surveillance cameras; and installation of brighter lighting, as well as emergency phones in the parking area and panic buttons across campus.
In addition, while Billings Clinic has been a weapons-free campus for many years, the clinic added signs at all entrances letting patients and visitors know that weapons are not allowed on Billings Clinic property.
St. Vincent Healthcare emergency preparedness coordinator Jason Mahoney said St. Vincent Healthcare also does not allow concealed weapons or otherwise in their hospital, Mahoney said. Previously, staff have had to deal with family members or visitors carrying concealed weapons and did not alert law enforcement, especially if they felt it was not a serious threat.
Marshall was visiting his sick girlfriend, who died in February from cancer, at Billings Clinic on Jan. 30 when a hospital staff member — prompted by law enforcement — asked him to leave the room. Marshall left the hospital, walking outside where members of the two task forces were waiting for him.
Dressed in bullet-proof vests, eight officers were in the hospital parking lot, including Billings Police Officer Steve Swanson, who was positioned outside the door of the hospital holding a police shield to protect himself. When Marshall exited the building Swanson called to him, "John Marshall. Police. On the ground."
Marshall ran. Swanson threw down his protective shield in his pursuit of Marshall who, officers saw, had a gun in his right hand.
Malcolm Horn, director of learning and clinical supervision with the Rimrock Foundation, said patients under the influence of methamphetamine, especially a high dosage like the 2.1 milligrams per liter Marshall's blood toxicology showed, lose the ability to comprehend long-term consequences and planning. Horn said patients act erratically and can sometimes see things that aren't there.
Horn said meth addiction is a mental health issue and officers dealing with people who are on meth are dealing with irrational people. Horn said Joel Simpson, a licensed clinical social worker, has started working with the downtown beat cops as well as the downtown resource officers, to find better ways to approach people who are under the influence.
Horn said the best approach is a calm one, and to try to prevent being seen as a threat to the person. The approach is often successful, Horn said, however if someone is acting aggressive and continues to see you as a threat, sometimes there are no actions that will de-escalate the situation. Horn added she'd be terrified to be a police officer working with such unpredictable criminals.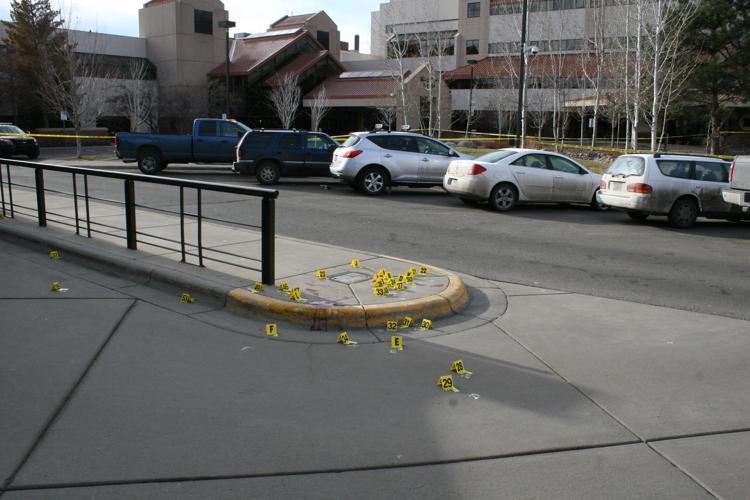 When Marshall ran, officers followed him through the clinic's garden and toward the pediatric unit of the hospital. When he reached a curb, Marshall fell. One officer, close enough to touch Marshall's head, shot him twice in the back. Five other officers shot with him.
About 14 bullets were recovered from Marshall's body. Twenty-one entry wounds were found in his body.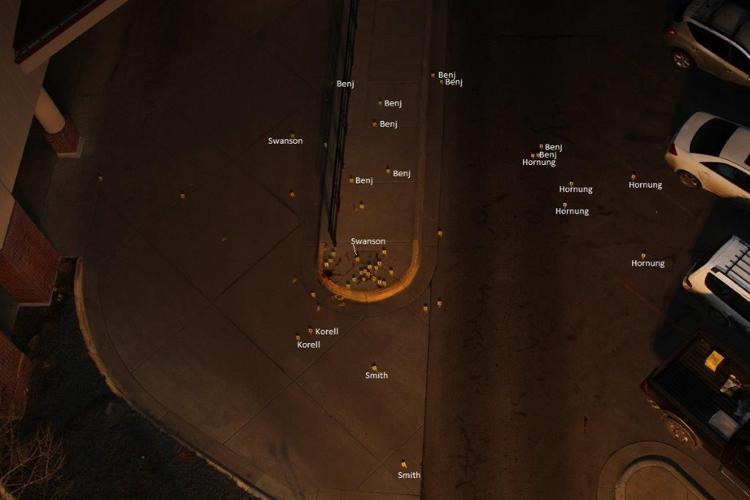 Dennis Nemitz, a Billings Clinic Emergency Department nurse who tried to help Marshall after he was shot, said Marshall "was very difficult to roll, because he had so many broken limbs."
U.S. Marshal Mike Smith, the last officer to testify in the inquest Thursday, said he doesn't remember a large part of the chase that led to him being at the feet of Marshall with the other officers. He said the first thing he remembers after the chase was standing over Marshall, maybe a foot or two from him, and hearing Marshall swear, and begin to cycle the slide on his gun.
"All I know is that he still had the gun in his hand, and he was still trying to manipulate his gun to get it to work and, in my mind, he was still a threat," Smith said.
Smith said the thing that brought him back prior to that memory was the sound of a gun being fired.
Smith fired two shots that day.
According to the Attorney General's memorandum, which dictates the U.S. Marshals Service policy on the use of deadly force, Marshals are allowed to use force on a fleeing felon if "the subject had committed a felony involving the infliction or threatened infliction of serious physical injury to death" and when "the escape of the subject would pose an imminent danger of death or serious physical injury to the officer or to another person."
"The question of 'would there have been a better place?' — officers have to weigh that against trying to find (a fugitive) later," Lt. Casey Hafner of the Billings Police Department said. "Signs indicated (Marshall) was becoming erratic."
Marshall's history
Marshall was well known to officers prior to his arrest as a man who continually violated a no-contact order taken out by his ex-wife against him, according to testimony in court.
According to city municipal court records, Marshall was only arrested once for a first offense violation of a protection order. The arrest was on Dec. 31, 2014, approximately one month prior to his death. He paid his full bond of $2,500 on Jan. 7 and was out of jail with a GPS monitoring unit on.
Marshall later cut off this GPS unit, according to testimony by officers at the inquest.
Marshall had no violent crime charges in his history and was known to run from officers when confronted. He did so on Oct. 9, 2014, when officers came to his house to confront him about a loaded gun left outside an apartment complex about which they believed he had information. Marshall ran out the back door of his house. Marshall told officers he ran because "he was scared."
He ran from officers again in November 2014, when Marshall failed to stop after officers tried to pull him over.
According to an affidavit filed with municipal court of Billings, Marshall had reported his car stolen on Oct. 30, 2014, and officers saw the stolen car on the road on Nov. 5, 2014. The car was also involved in an incident on Nov. 3, 2014, when someone saw the person driving the car flash a handgun from inside the vehicle.
An officer spoke with Marshall regarding the car on Nov. 5, 2014, and said "the defendant Marshall admitted that his vehicle was recovered and he failed to report this to law enforcement. The defendant Marshall apologized for his actions and advised he would take full responsibility."
Marshall was released on his own recognizance in December 2014 for driving with an open container of alcohol in his lap.
Marshall was to be arrested on a $10,000 burglary warrant. No charges were brought for the 10 ounces of meth Billings Police officers said they found on Jan. 15 in a motel room Marshall was staying in.
All officers testified they believed Marshall to be an extreme threat, who could have grown more violent if not confronted in the populated hospital parking lot, where multiple witnesses described the events.
Hafner said law enforcement makes a practice of calling dispatch and informing them an active shooter situation might take place, so that dispatch can alert the hospital. This call was not made by officers on the scene.