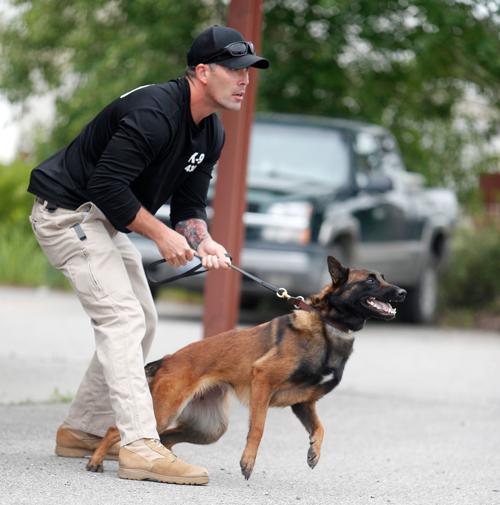 It's difficult to measure how much crime Cuff, Dutch, Kooko and Susan — the Billings Police Department's K-9 complement — have prevented or thwarted.
But it sure is fun to watch them work.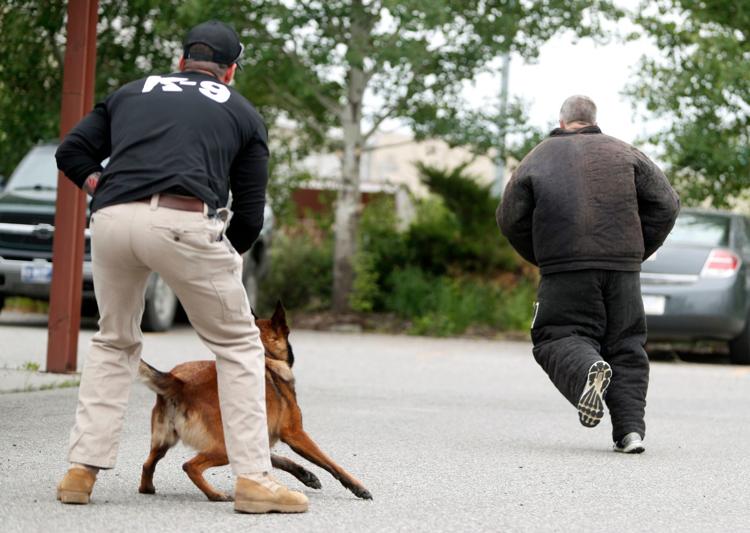 The dogs' police handler counterparts — Officers Rob Vickery, David Firebaugh, Richard Gilmore and Jeremiah Adams, respectively — showed local media some of the canine capabilities Wednesday during an hour-long talk and demonstration in the police briefing room, where the dogs quickly and efficiently detected planted cocaine and marijuana.
Then handlers and the dogs retired outside, where Susan and Cuff bit hard and long on the shoulder of Firebaugh, dressed in a protective bite suit and playing the bad guy.
The K-9s are Belgian Malinois, which cost up to $14,000 apiece including the extensive training they're put through.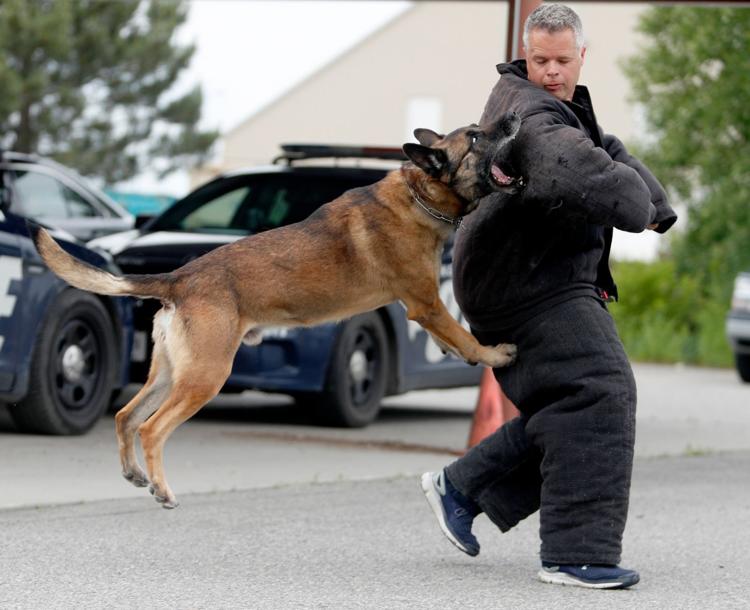 That's only about a high school-level training, Vickery explained. Dogs and handlers continue learning together, both on the job and off, throughout the K-9's law enforcement career, which can last up to 10 years. The dogs live with their handlers, unwinding after a long day by fetching a ball or relaxing after being wound up tight during their nine-hour shift.
When the dog retires, the officer pays the city a dollar to relieve taxpayers of any liability, and then cares for the hardworking animal the rest of its life.
"You do get attached," Firebaugh said. "But it's a tool to help us work more safely and efficiently." In a dangerous scenario, "I'd rather send a dog then send my co-worker," he said.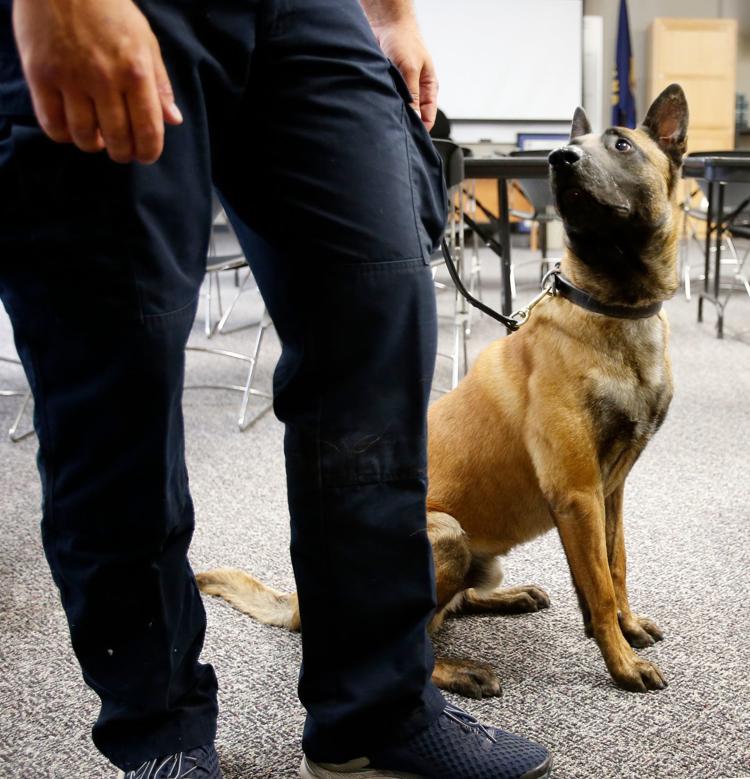 You have free articles remaining.
K-9 units can be taught to detect almost any odor, including drugs, cadavers — even that thumb drive that a child pornographer has hidden behind a panel at home. Everything has a scent, the handlers said, and dogs can be taught to detect practically anything.
"We have statistics to show what level of drugs they've detected. That's all quantifiable," Firebaugh said. "What's hard to quantify is the K-9 on the patrol side. We show up, and the bad guy alters his behavior."
There are some police tasks at which the dogs clearly excel. During the investigation that followed Monday night's attempted robbery of the Suds Hut Casino, it took one of the trained dogs five minutes to ensure the casino was clear of the robber. It would have taken two or three officers at least 20 minutes to perform the same chore. Along the way, the dog found a bandanna that police said belonged to the suspect.
Police Chief Rich St. John said that partnerships with the Phillips 66 refinery and Scheels have helped the department purchase trained dogs.
"When we're ready to retire a dog, the community and businesses are quick to step in and help us out," he said.
In addition, Phillips Pet Food and Supplies keeps all the K-9s in kibble — at no charge to the department.
"And they eat a lot!" Vickery said.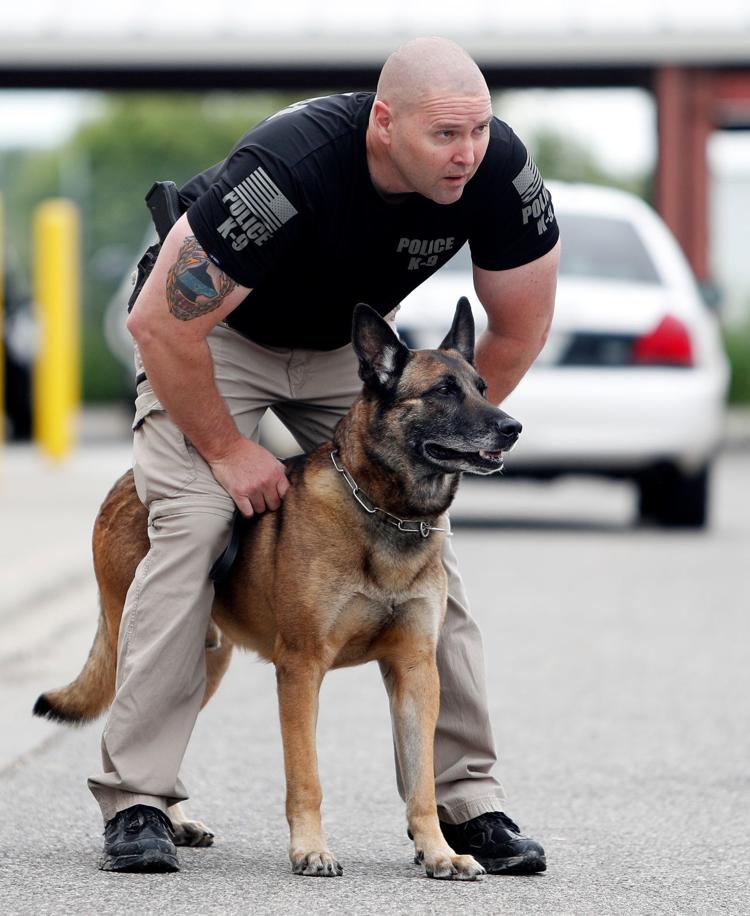 Lt. Brian Korell oversees the department's K-9 operation after working for years as a handler.
"This is a good way to get back to something I enjoyed years ago," he said. "I get to live vicariously through their work."
The K-9 program was discontinued during the early 1980s, then restarted in 1994 with two dogs. With one dog now assigned to the department's Selective Traffic Enforcement Program and another on the way, Korell said he believes that arrest numbers will increase based solely on the number of tickets and warnings STEP officers issue — up to 12,000 annually.
"This is a great time to be a police officer or a community member — and a terrible time to engage in criminal activity," Korell said.