When police arrived to a downtown Billings home one recent Saturday, they found a man in his 40s lying in the backyard, unconscious. 
His lips and fingertips were blue, he wasn't breathing, and the two responding officers could not feel a pulse.
The man had overdosed on heroin, Officer Brad Mansur would later learn.
As Mansur sprayed Narcan, an opioid overdose reversal drug, into the man's nose, Officer Philip Tanis began chest compressions and a paramedic began tracheal intubation to open his airway.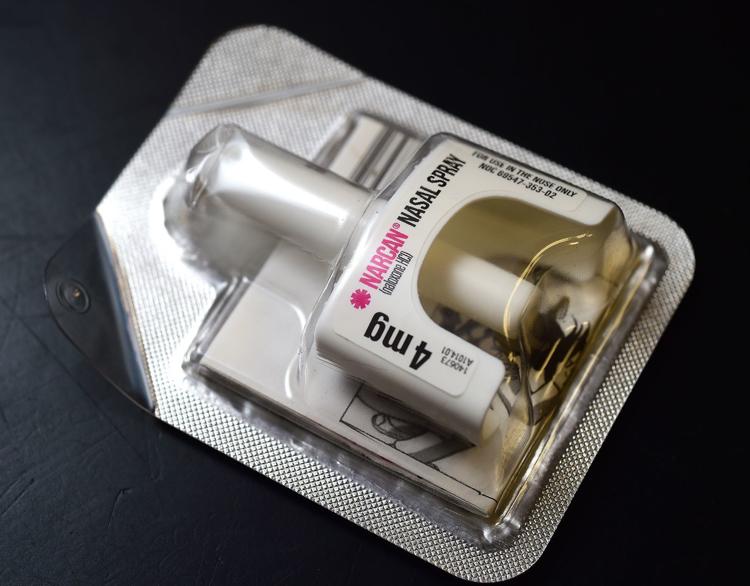 Within a minute the man revived, Mansur said. Police turned over the situation to medics, per department policy.
It's a scene that has played out countless times across the U.S. in recent years amid a deadly nationwide opioid epidemic.
But in Billings, where meth, not opioids, is the No. 1 problem drug, the overdose antidote is relatively new to patrol officers. Nearly all now carry it, while a handful have yet to complete the required training. 
Patrol officers first deployed Narcan in October, said Lt. Brandon Wooley. They've used it four times since, including the April 13 incident in the backyard of the downtown residence.
Narcan law, heroin increase
The legislation also provided immunity on certain drug crimes and on violating a protection order for anyone seeking medical help for themselves or others during an overdose.
"One of the concerns they had was that people wouldn't call 911 to get help, because the cops would just take them to jail," Wooley said. 
The change in law is a recognition that Montana is vulnerable to the same opioid epidemic that has taken hold in other parts of the country. 
For instance, police say heroin is showing up with increasing frequency in Billings.
Previously, the department's drug investigations unit would encounter heroin "in spurts," Wooley said, with periodic clusters of overdoses. But in the past year or so, it's shown up more often. 
"There's more heroin overdoses," said Mansur, who has twice used Narcan on patrol. "We're finding more heroin on arrests and in our day-to-day investigations."
Heroin intoxication was named the cause of death in four autopsies in Montana in 2017 and was present in 15 unattended deaths total that year, according to the Montana State Crime Lab's first-ever report, and its most recent publicly available data.
You have free articles remaining.
Keep reading for FREE!
Enjoy more articles by signing up or logging in. No credit card required.
The lab has also seen a steady increase in heroin samples coming in for testing, from eight in 2010 to 307 in 2017. Meanwhile, it has recorded a slight dip in painkillers being tested during that same time frame. 
Overdose antidote
Narcan, a brand name for naloxone, quickly reverses an overdose by binding to the brain's opioid receptors and blocking the opioid's effects, according to the National Institute on Drug Abuse. It can work on all opioids, including heroin and prescription painkillers like oxycodone and hydrocodone. 
Narcan offers only temporary protection, and someone might require additional doses, depending on how heavily they've overdosed.
That was the case on a call Mansur responded to in October in which a man reported for a fight downtown had managed to hide a plastic baggie containing a mixture of meth and heroin under his tongue. 
The stimulant and depressant seemed to counteract each other, Mansur said, so initially the man's vital signs appeared normal. Mansur had called medical responders to the scene after the man said he feared he'd overdose, but after a check, medical responders cleared him to be booked into jail.
But when the man continued to complain of discomfort, Mansur brought him to the hospital, where he soon suffered an overdose. He was given Narcan several times, but he kept slipping back into an overdose when it wore off.
"He was in almost like a constant overdose, for like 20 minutes," Mansur said.
Mansur estimated medical personnel administered four or five doses of Narcan to stabilize him before police realized he had kept drugs in his mouth that continued to affect him. 
While fire, medical and police often all respond to calls simultaneously, the police department says it's necessary for officers to be equipped with the drug, too, in cases where they arrive before other agencies.
And in the April backyard call, Mansur used his Narcan instead of paramedics' because his is a nasal spray and takes less time to administer. The drug also comes in an injectable form.
No sheriff's deputies carry Narcan, according to Yellowstone County Sheriff Mike Linder, but the office is working to establish a program.
Brian Hansen, operations manager for American Medical Response, said the private emergency response company has been using Narcan for years but has noted a steady uptick in the eight years for which records were immediately available. 
"It's not uncommon for us at all," Hansen said.
Hansen said not all of the instances for which the company uses Narcan are overdoses. Because there's no safety risk to using Narcan — although it can cause withdrawal symptoms — responders might use it immediately on an unconscious patient before they're able to say for sure there's been an overdose, Hansen said.
Mansur, the patrol officer, said people should call 911 if they suspect someone has overdosed and communicate that clearly to dispatch so responders can be more quickly prepared. While meth remains the most-abused hard drug locally, he expects to see the opioid problem grow.
"They're all in the news elsewhere," Mansur said. "We're just starting to get the issues."
A new report touting the effectiveness of drug treatment courts said most Montanans with a drug conviction don't have access to one of the courts.