Some area law enforcement officials are pushing back against the belief that tribal members fleeing police can reach a "safe haven" by traveling to the Crow Reservation.
The Montana Highway Patrol this year has seen an increase in the number of high-speed chases in which the suspects head straight to the Crow Reservation, according to MHP Capt. Keith Edgell, who oversees the agency's division that includes Yellowstone County.
Like all federally-recognized tribes in Montana, the Crow Nation oversees a reservation that is in many respects treated as a sovereign state. The tribe enacts its own laws for tribal members and runs a legal system separate from that of Montana, although it is subject to oversight by the federal Bureau of Indian Affairs.
"It used to be a safe haven," Edgell said of the Crow Reservation, which sits just 12 miles south of Billings city limits. "Once they reached the reservation line, if the suspects were tribal members, there wasn't much we could do about it."
Edgell credits Big Horn County Attorney Jay Harris with clarifying his agency's authority in inter-jurisdictional pursuits.
"When you're dealing with a sovereign (nation), we were really hesitant about acting on that until there was a little clarification," Edgell added.
According to Harris, a 2016 state district court ruling in Big Horn County outlines that officers may pursue suspects onto the reservation and make arrests if they believe a crime has been committed outside of Indian Country.
In that case, the Judge Blair Jones upheld a county deputy's arrest of a tribal member who had refused to pull over in Hardin and led a pursuit onto the reservation before pulling over.
In his order dismissing the defendant's motion to suppress the evidence, Jones cited both a 1997 ruling that gives officers the ability to make an arrest outside their jurisdiction after a "hot pursuit," and the Crow Tribe's absence of an extradition law that provides guidance for off-reservation officers taking tribal members into custody.
A year ago, Harris sent a memo to Edgell and officials with the Crow Nation, BIA, U.S. Attorney's office and U.S. Marshal Service citing Jones' ruling and emphasizing that under Crow law, tribal members can still be arrested on the reservation for crimes committed elsewhere — whether as the result of a traffic pursuit or an arrest warrant issued by the state.
The goal, he said, is to combat "the sense that the reservation is a safe harbor, that if you have a state of Montana active arrest warrant and go onto the reservation, you're OK and cannot be arrested on that warrant."
For MHP, Harris's memo has encouraged troopers to take a more aggressive stance on vehicle pursuits headed to the reservation.
Justified arrest
On a brisk Thursday morning in March, Trooper David Hankins had been looking for a truck that had been reported stolen from a dealership in Billings when he joined an ongoing police pursuit of another stolen vehicle. Ivan Zack Rock, a Crow tribal member, had previously stolen a Jeep the owner had left idling in her driveway.
Per Billings Police Department policy, the officer stopped chasing the Jeep in city limits. But Hankins waited at the intersection of U.S. 87 and Frontage Road and then began following the eastbound vehicle as it headed through Lockwood on its way to the reservation.
A chase that reached speeds close to 100 mph ensued. It ended after another trooper deployed spike strips to puncture the suspect's tires (and was nearly struck by Rock's stolen vehicle in the process). Rock and his passenger got out of the Jeep and ran, but officers caught and arrested them on the reservation.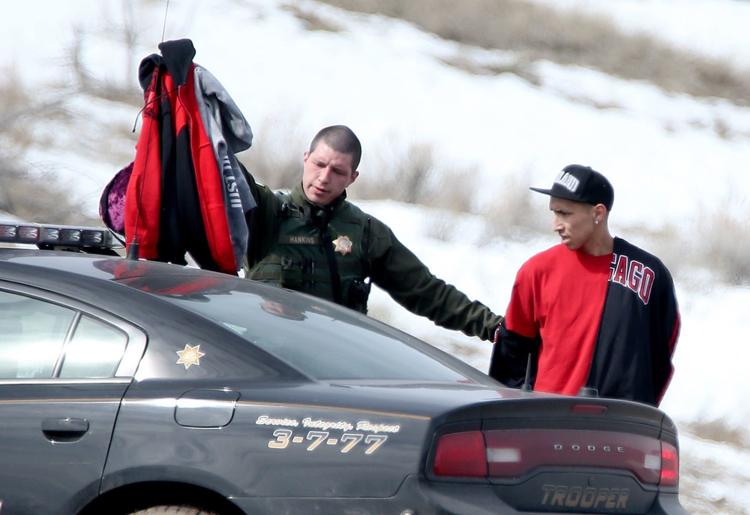 As the pursuit headed toward the reservation, officers notified Bureau of Indian Affairs Crow Tribe Police Chief Jose Figueroa, who arrived shortly after the arrest, Hankins said in an interview Tuesday.
"We asked if he would like to transport them, or if he wanted MHP to do the paperwork back in Yellowstone County," Hankins said. "He gave us permission to take them back to Yellowstone County and pretty much go from there."
Rock was brought to the county jail in Billings and later pleaded guilty to a felony theft charge and two misdemeanors. He was sentenced in early July.
You have free articles remaining.
Keep reading for FREE!
Enjoy more articles by signing up or logging in. No credit card required.
Harris indicated the 2016 ruling goes even further; officers would have been justified arresting Rock and taking him back to the jail regardless of BIA's involvement, he said. Because the Crow Tribe has not enacted any laws outlining a procedure for extraditing tribal members suspected of committing crimes off the reservation, extradition is essentially allowed by default.
He added that the tribe's Law and Order Code "provides that law enforcement officers of recognized governmental entities can make arrests pursuant to arrest warrants on the Crow Reservation," under a separate provision.
Dangerous pursuit
Within Big Horn County, however, Harris said his attempts to align that approach with local law enforcement have been less successful.
Despite the Crow Tribe's more than 2 million acres being mostly situated within Big Horn County, the local sheriff's office tends to take a more hands-off approach when pursuing tribal members suspected of committing a crime off the reservation.
"It's got to be a felony before I let them continue to chase," Big Horn County Sheriff Frank Simpson said. "It's too dangerous … I tell these guys that if it's a misdemeanor, we're not going to chase them."
Unless the suspect has clearly committed a felony-level offense, that rules out the possibility of recovering a vehicle that's been stolen in Hardin or Billings. And even if a suspect has a state warrant for their arrest, Simpson said his policy is not to serve it unless the individual is detained on county land outside the reservation.
"We don't do state warrants on the reservation," Simpson said. "If they've got a warrant or something, we can't serve it on the reservation."
At odds
Simpson's stance has created friction with Harris, the county attorney, who believes case law and the Crow Tribe's Law and Order Code do give the sheriff's office the authority to continue pursuits and make arrests on the reservation.
"These warrants are court orders. They are not discretionary," Harris said. "The system of criminal justice relies on peace officers dutifully enforcing the law and the orders of the court."
He added that failure to serve a warrant could be construed as a delay of justice, violating an individual's right to a speedy trial. He said he has issued a warning to Simpson's office that failure to serve warrants on the reservation could be grounds for prosecuting his officers for contempt of court, but has not received a reply.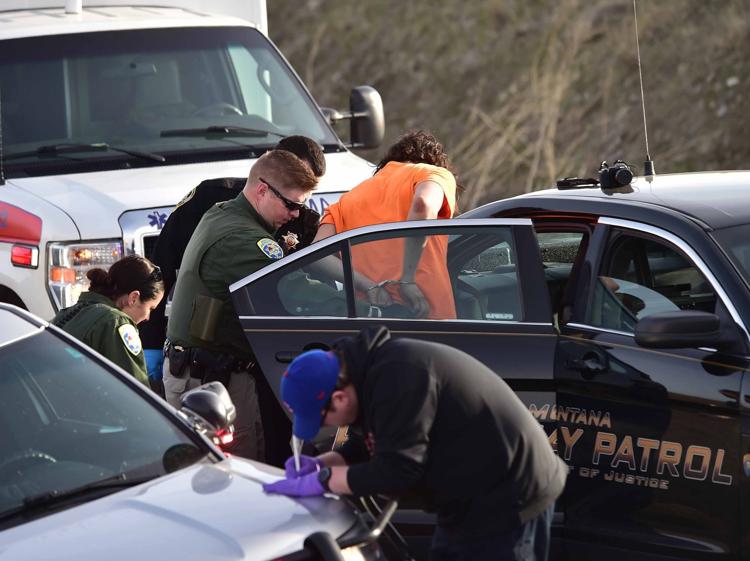 Simpson said his officers will occasionally detain people on the reservation, but must wait for BIA law enforcement to respond and decide if county deputies can make the arrest. He declined to elaborate on the legal basis for his office's policies, and hung up when asked follow-up questions.
Harris said MHP has had some success making arrests on the reservation, but said the problem of car chases still persists in part because of the sheer size of the reservation. Crow is the largest reservation in the state and one of the largest reservations in the United States.
"The last couple weeks, there's been a number of them that have begun in Billings that have ended up in the Pryor area or north of Pryor," Harris said. "From time to time they get apprehended … but a lot of times what we're talking about are people that are from the reservation that know the reservation, know the back roads."
That appeared to be the case just two weeks ago, when a man escaped MHP officers after a chase that began in Lockwood. Trooper Calvin Jimmerson said he tried to pull over a car with a shattered windshield. The pursuit led south down Old Highway 87 to Pryor Road and then 8 miles down a gravel road before the suspect drove out into a field.
At that point, Jimmerson called off the chase due to concerns of causing property damage to the private agricultural field, he said. It's unclear if the vehicle was stolen, he said, but he was able to run the plates, which didn't match the car he was pursuing.
Harris suggested this result isn't unusual, and owes to another problem separate from jurisdictional confusion — the lack of an adequate law enforcement presence to police the Crow Reservation's 3,500 square miles.
"A lot of it comes down to understanding the lay of the land," he said. "When it comes to that dynamic, it doesn't matter if you're on reservation or off reservation."