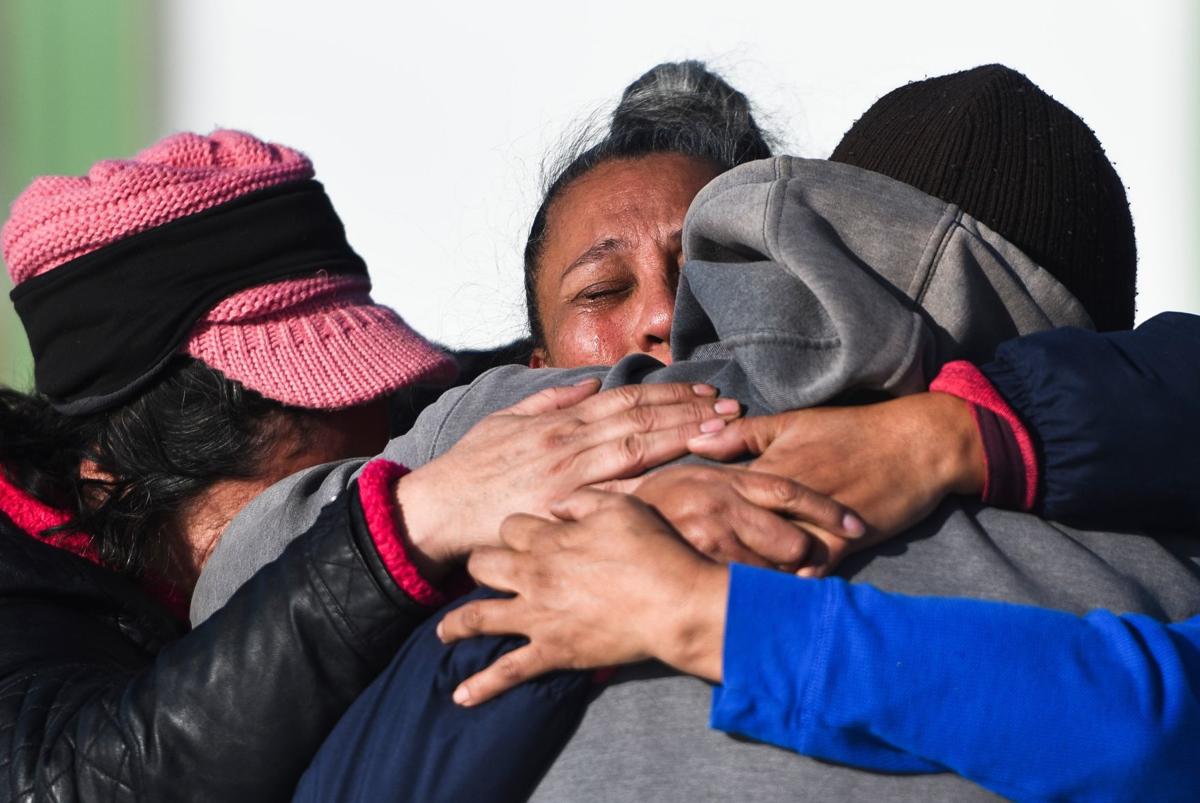 WEST OF LAME DEER — The conversation outside the Muddy Hall community building on the Northern Cheyenne Reservation quieted Saturday morning at the sight of silver cars in the distance.
About 15 people were gathered there to be with Paula Castro and Nathan Stops, the parents of 14-year-old Henny Scott, a freshman at Lame Deer High School who had not been home in weeks when searchers began looking for her nearby Friday.
At about 5 p.m., about an hour after nightfall on Friday, one of the searchers found a body covered with snow in an area behind a house in the Muddy Creek area west of Lame Deer, according to Conrad Fisher, the acting president for the Northern Cheyenne Tribe.
Castro was told of the discovery Friday night and said she believed it was her daughter that was found. She said she left the community building only once since then to make arrangements for her 6-year-old and 5-year-old children to be taken care of.
The line of cars, many of them Bureau of Indian Affairs patrol trucks that came east on Highway 212 and then turned into the parking lot in front of Muddy Hall, were traveling with a Chevrolet Suburban. Inside of it was a casket.
Castro cried out her daughter's name at the sight of the casket. The back of the vehicle was opened to allow for the observance of some traditional Northern Cheyenne practices for the deceased, including song, Fisher said.
Eventually all who had sat with Castro, some throughout the night, surrounded her and Stops, hugging them, as tears flowed and a family mourned.
Henny Scott would have turned 15 next month, her mother said.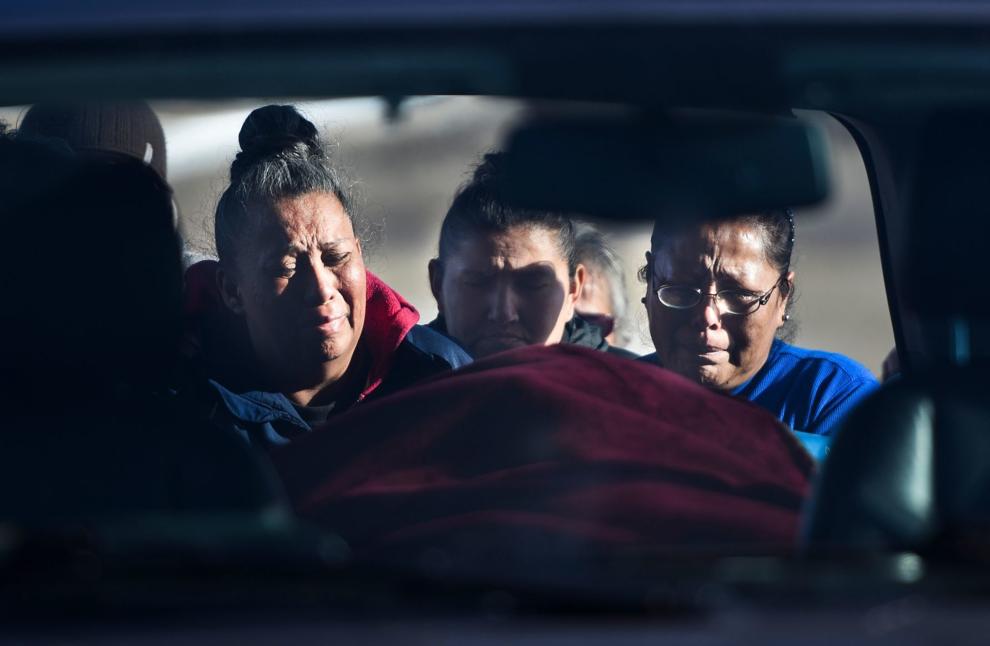 Investigation
The FBI confirmed in a statement released Saturday afternoon that a body had been discovered Friday near Lame Deer.
"The body has not yet been identified and an autopsy will be conducted to determine the cause of death," the statement said. "Due to the ongoing nature of the case, no other information will be released at this time."
The search for Scott was made up mostly of volunteers and Theresa Small, the Disaster and Emergency Services Coordinator for the tribe, helped organize it. Tribal employees were given the opportunity to leave work to participate in the search. After her body was found, the area around it was secured overnight until investigators arrived Saturday.
Castro said she believes foul play was involved in her daughter's death. She and others present Saturday expressed frustration with how BIA officials in Lame Deer treated her when she sought help in finding her daughter. Castro said she was told to check with Scott's friends and do other things when she was convinced that her daughter was missing. Scott was always online regardless of whether she had a cell phone, but that activity dropped off completely during her disappearance, Castro said.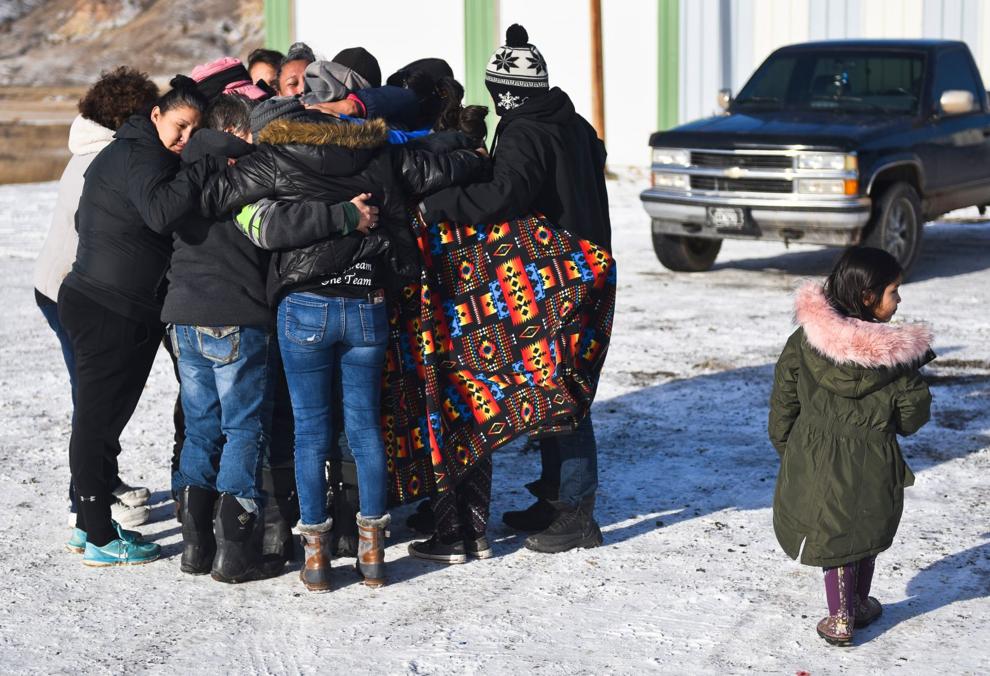 In Crow Agency, Castro filed a missing person report in part out of frustration with the local BIA, she said. She eventually filled out a similar report in Lame Deer, she said.
The last time Castro heard Scott's voice was on Dec. 7 when she called to ask if she could go to a Native American basketball tournament in Billings.
"And I told her 'No, you're grounded, come home.' She said 'OK, Mom. I'll be home in a little bit.' And that's the last time I heard her voice."
Stops said they had been planning to go to the tournament that Saturday anyway and expected Scott to be home. When she didn't show up that day, he said they went to Billings and looked for her with no success.
From there Stops said they would occasionally hear that Scott had been seen in the community, but he said it seemed like "hearsay."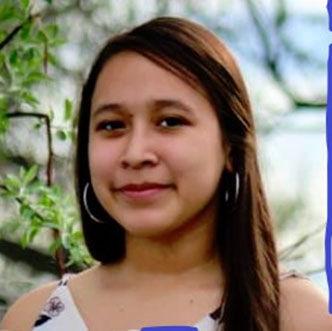 Scott was a girl who made an effort to acknowledge people when she saw them, often times crossing the room for a hug, her mother said. She was always "jamming" to music, Stops said, bringing a brief laugh from the two of them as they stood outside Muddy Hall Saturday morning before the convoy of vehicles arrived.
"She'd always be changing my '80s (radio) station," Castro said, mimicking her daughter saying "Jeez Mom, you're just old," before putting on one of her favorite R&B or hip hop stations. 
She was athletic and played basketball at Lame Deer, her mother said. Scott had ambitions to become a doctor, Stops said. An EMT with Northern Cheyenne Ambulance, Castro said she would sometimes talk to her daughter about treating injuries or let her flip through her medical books.
Her daughter was so outgoing and trusting that Castro said she had sat her down before to warn her to be more careful.
"We always sat down with her and talked to her. 'This could happen to you or this could happen to you,'" she said. "I said 'Henny, it's crazy out there. I don't want to come up to a scene and find you laying there.' It was one of my biggest fears." 
Stops said they are just trying to "take it as it comes right now," in the face of the tragic news.
"It's like you're going down a river and seeing which rock you're going to hit now," he said.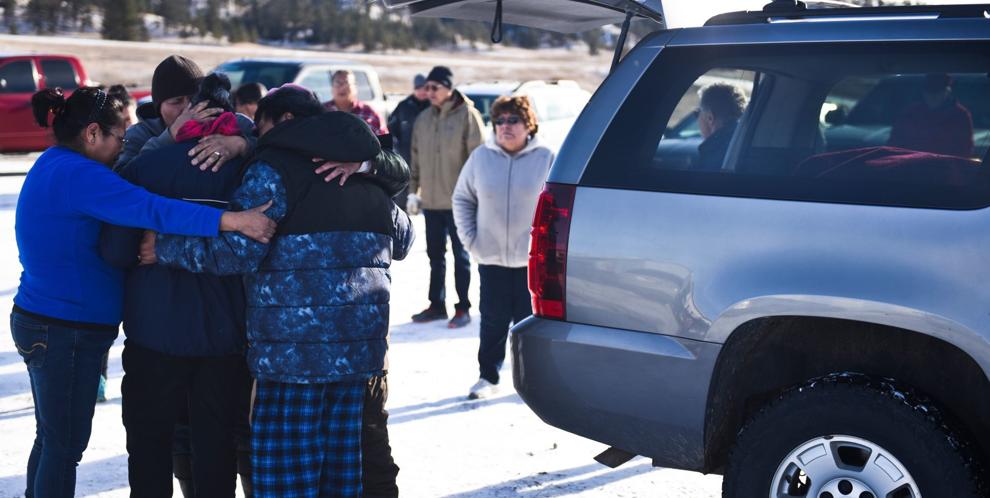 He was among the searchers looking in the area around where Scott was found, but was not the one to discover her, he said. The next morning he said it was still on his mind.
"I was just thinking, you know, I was so close to her," Stops said.
They both agreed on what they want to come of this. 
"I just want justice for her," Castro said.
A problem of 'epic proportions'
Conrad Fisher said he has many questions, and wants to hear answers before determining what the tribe can do to be proactive in trying to stop his community's ongoing struggle with harm befalling its female members. The causes of the struggle come from a number of factors, many of them stemming from socioeconomic issues. It is a problem of "epic proportions in Indian country," Fisher said. 
"This is a 14-year-old girl that was missing for almost two weeks, and what did the agencies do?" Fisher said. "I don't want to be too critical right at this moment. I want to know and understand what went wrong, where did it go wrong?"
The Montana Department of Justice issued a Missing and Endangered Person Advisory for Scott Wednesday at the request of the FBI, saying she was last seen Dec. 13 at 8 a.m. in Busby, that she might have been headed toward Hardin and that she was possibly injured. The BIA entered Scott into the missing person database Dec. 13, The Gazette previously reported.
Fisher said he was anticipating a meeting with BIA officials Monday and hopes that lessons can be learned as further information comes out. Public awareness to this and other tragedies can help support positive changes, Fisher said.
"I can't even begin to feel what the parents are feeling the last two or three weeks," Fisher said. "That's their child, their 14-year-old child. It's a terrible tragedy."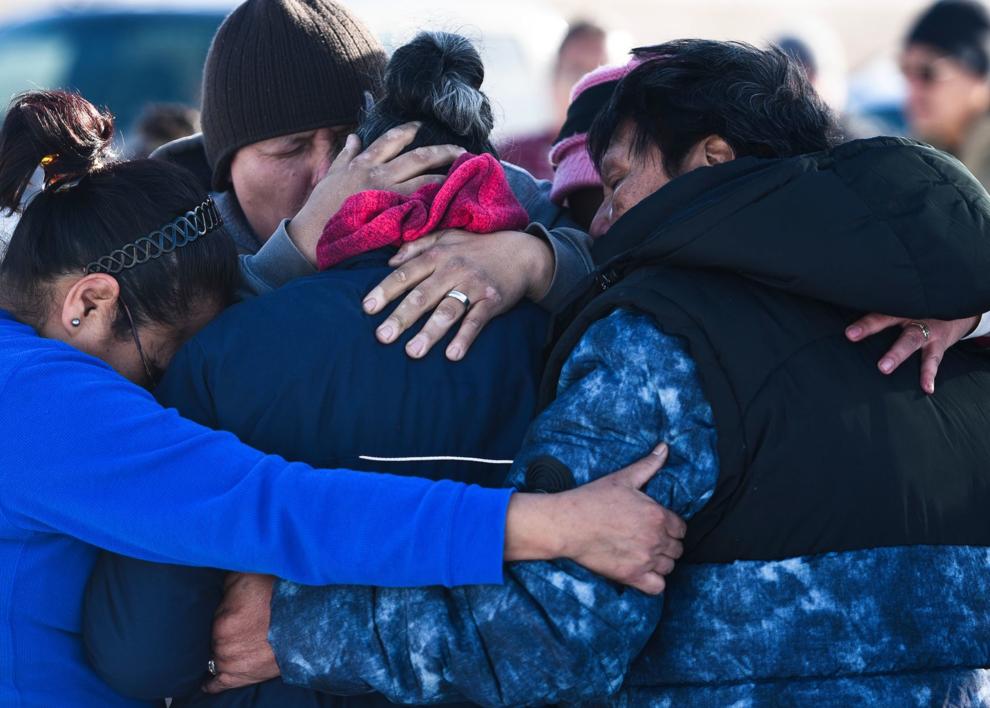 Reliving a tragedy
Among those gathered around the fire pit outside Muddy Hall Saturday were Malinda Harris Limberhand and her mother Clara Harris.
So much of this seems familiar to the mother and daughter. Limberhand teared up at times describing what happened to her own daughter. To the west, behind a hill, was the location of where Scott's body was found. A hill in the opposite direction obscures the spot where Limberhand said her own daughter, Hanna Harris, was murdered in 2013. She also described law enforcement not taking her concern seriously when she wanted help finding her daughter, who was eventually found dead in July 2013 near the reservation's rodeo grounds. 
"Right now I'm just really pissed off at the cops around here," she said. "They don't take anything seriously, especially when somebody goes missing."
Limberhand was part of the group Friday that searched for Scott.
"We found a shoe over there along the highway and it just brought back memories of my daughter and I just broke down over there," she said, pointing in the distance. "I started crying and they all came up and they hugged me and they told me 'Just go ahead and cry and let it all out.' After I composed myself, we went on with the search."
She said she was preparing to leave Muddy Hall Friday night thinking the search would continue the next morning.
"While I was walking out the door I was told I'd better stay," Limberhand said. "So I went back in. And then they took her (Castro) into the room and I could just hear her crying and I knew they found her and it just broke my heart."