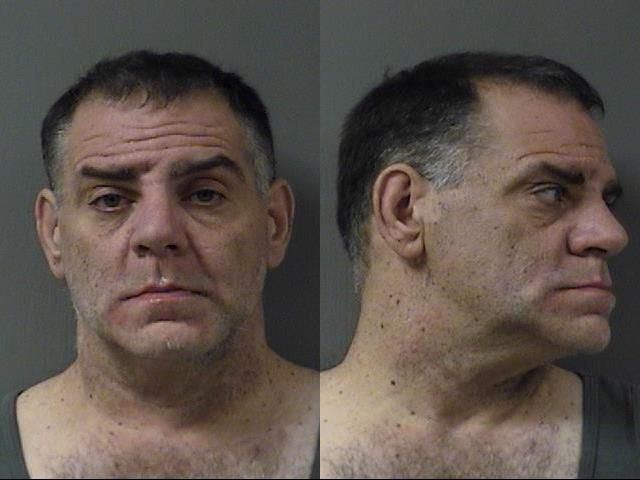 A former school bus driver who drove over curbs and into a yard on his middle school route while high one morning in September was sentenced to 10 years with the Department of Corrections on Wednesday.
Keith Adam Jones, 46, was sentenced to 10 years with five of those years suspended, or served on probation. Under a sentence to the Department of Corrections, the department determines where to place the individual, with possibilities ranging from probation to prison.
Jones drove 28 students to Ben Steele Middle School on Sept. 17, 2020, while high on meth. He pleaded guilty in February.
The state played a video from inside the bus that showed Jones rocking back and forth, wringing his hands and rubbing his face. At one point a student could be heard saying, "Hey, you're supposed to turn there."
Jones had carried with him that morning a vial of urine. According to the state, he told the school resource officer when he arrived that he'd brought it because he knew he had a drug test scheduled that day by his employer and the clean urine sample would allow him to pass it.
Jones gave emotional testimony before the sentence, saying he believed God had put him in a "time out" in order for him to work on himself.
"If there are any parents or students present as well as the public, I am very sorry that I abused your trust," he said, through tears. "I'm thankful God has kept us all safe without injury or accident."
No victims testified on Wednesday. 
Defense attorney Sarah Kottke recommended five years of probation.
"Your honor, addiction is not something that somebody can control," she said. "Addiction is an illness."
Senior Deputy Yellowstone County Attorney Ann-Marie McKittrick recommended the sentence that was imposed. She said it was "pure luck" that no one was seriously injured.
"When people in the community put their children on the bus to take them to school, they're putting the lives of their most precious loved ones into the hands of that bus driver, who owes the absolute highest duty of care," McKittrick said.
Yellowstone County District Judge Mary Jane Knisely said she understood the power of addiction, but that the prosecution's recommended sentence was appropriate, given the seriousness of the case.
Knisely noted both the number of children on board as well as the vial of urine intended to avoid a positive drug test that day. She called the school bus a "lethal weapon" and said Jones also endangered other drivers. 
"I have to wonder which one of the children on the bus you would have wanted to harm. My guess is none," the judge said. 
Jones had no felony criminal history before this case. He was sentenced Wednesday on two counts of criminal endangerment, a felony, and one misdemeanor count of driving under the influence, a first offense.