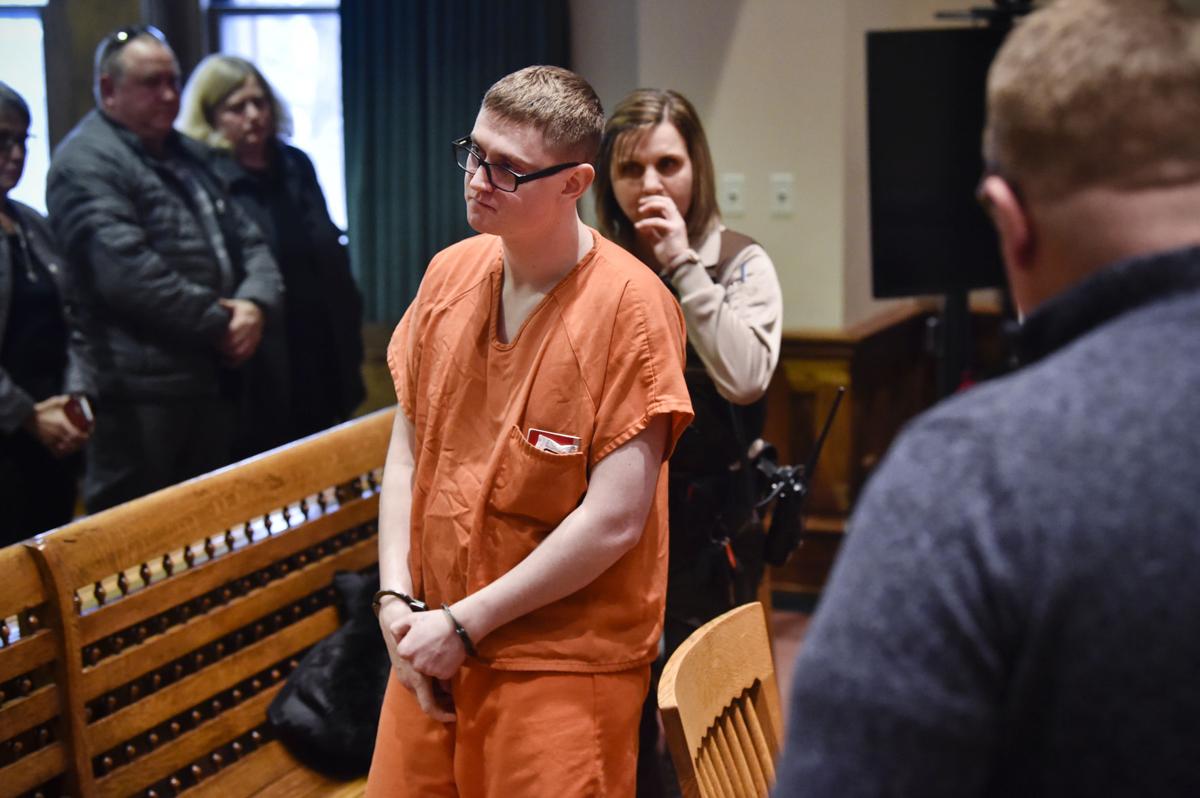 Kyle Hamm is one of three men convicted in the slaying of Charla Rae Taylor, 64, and David Muncie Taylor, 61, who died in their home of multiple blunt-force and sharp force injuries. The couple's son Kaleb Taylor pleaded guilty to two counts of deliberate homicide in July 2018 and was sentenced to life in the Montana State Prison in March 2019. A third defendant, Journey Ryder Wienke, was also convicted last year and awaits sentencing.
Hamm previously told authorities the three suspects drove to the victims' home together on the night they died. He said he stayed in the truck with the door open as Kaleb Taylor and Wienke went inside. Hamm has maintained this story throughout the duration of the legal proceedings, but Lewis and Clark County Attorney Leo Gallagher attempted to paint Hamm in a different light. 
"Maybe he was in the dark and the cold," Gallagher said. "Or maybe he was inside the house." 
Gallagher said Hamm is dangerous and remarked that he never called anybody after the slayings, but instead "he posted a meme on Facebook." Gallagher said he doesn't see any way for Hamm to be released and be any better than he was before. He also mentioned that Hamm got into fights while in Broadwater County Detention Center. 
The prosecution sought a life sentence in this case. Gallagher said Hamm had every resource a person needs to succeed. This included his loving and supportive parents Eric Hamm and Patty Leggin.
Gallagher argued that rather than take advantage of his circumstance, Hamm instead chose a life of drugs and crime. The prosecution brought attention to a July 2017 incident in which Hamm was found in possession of methamphetamine and fled from a sheriff's deputy. This incident led to the charges of criminal endangerment and criminal possession of dangerous drugs. 
Deana Lougee is a probation officer who was assigned to Hamm at the time of the double homicide, and the prosecution called her as a witness during the sentencing. Lougee said when she first encountered Hamm, he was 21 years old, living with his parents and had no job or high school diploma. 
"His demeanor was that he didn't understand the severity of his situation," Lougee said. 
Lougee met with Hamm for the first time on March 19, 2018, the day after the Taylors were brutally slain. Lougee said Hamm had a smirk on his face during their meeting. Through a drug analysis, Lougee was able to confirm that Hamm presented no evidence of drug use at the time of the homicide. 
However, it was Lougee's professional opinion that Hamm needs to undergo some sort of chemical dependency treatment and life skills training.
The defense called two witnesses, family friend Bernie Franks-Ongoy and Hamm's mother, Patty Leggin. 
You have free articles remaining.
Franks-Ongoy characterized Hamm as a hardworking young man who had previously done work for her family. They had a relationship with the Hamm family through horseback riding. Franks-Ongoy said Hamm would still be welcome in her house despite his conviction. 
Leggin read a prepared statement about her son. She said Hamm was always a kind and imaginative child, but one who struggled with school and book learning. 
"Somewhere Kyle took a turn down a wrong path," Leggin said. "He has a lot of work to do to be a productive member of society, but I believe he can do it." 
The defense argued that Kaleb Taylor's involvement in this crime was much more serious than Hamm's and that Hamm can change and be reformed. 
Hamm was charged under a Montana law that says a person who is "legally accountable" for a robbery, assault with a weapon or other forcible felony that causes the death of another person is guilty of deliberate homicide.
Hamm was given the opportunity to speak at this hearing and he said he wished he would have sought more treatment for his drug addiction. 
"I know that I've had trouble with drugs that influenced my bad decisions," Hamm said. "This is the longest amount of time that I've been sober since I started using."
Hamm said he hopes to eventually go through treatment.
District Court Judge Mike Menahan gave Hamm two 80-year sentences in the Montana State Prison, one sentence for each homicide, with the two sentences to run at the same time. Hamm received additional sentences of 10 years for criminal endangerment and five years for criminal possession of dangerous drugs, which will also run concurrently. He received credit for two years of time served.
Menahan said there were many factors he had to take into account when sentencing Hamm. He said the need to punish and rehabilitate are not mutually exclusive. It's his job to take into account criminal history and similar homicide cases like this one, Menahan said, but there aren't many felony homicide cases in Lewis and Clark County.
"I did sentence (Kaleb) Taylor to life," Menahan said. "But I don't think a life sentence is warranted here. Not for someone who played your role." 
However, Hamm's criminal history was a concern for Menahan. Despite putting no restrictions on Hamm's parole eligibility, Menahan suggested Hamm take advantage of the rehabilitation programs in the Montana State Prison. Menahan said he believes it's best to leave the question of parole to the parole board. 
"I don't want to discard the possibility of hope," Menahan said. "These are the things I'm trying to balance today."
Under Montana law, Hamm will be eligible for parole after 20 years served.