A 56-year-old man was sentenced to prison Thursday following a series of beatings, threats and kidnappings involving three women over the span of a year.
Charles Arleigh Green was sentenced to 65 years in prison, with 30 years suspended. Yellowstone County District Judge Mary Jane Knisely followed a binding plea deal negotiated for the three separate cases.
Knisely called Green a "coward" and "an absolute monster," and noted that in the assaults he used tools – including wrenches and a hammer – that he owned for his work installing flooring.
"And you were an Army veteran," Knisely said. "I'm wondering where that fit in with your core Army values to use hoses, hammers" and other tools to assault people, she said.
Knisely noted that Green had been released from prison on an aggravated kidnapping case three years before the "crime spree" he was sentenced for Thursday.
"There's nothing honorable about you. I do not know how you could possibly be rehabilitated after looking at your criminal history…" Knisely said. 
Green was charged in three separate cases for violent incidents with two ex-girlfriends and another woman.
He admitted to hitting one ex-girlfriend with a bat in the head and ribs in May 2017. That woman has since died, prosecutors said Thursday. Senior Deputy Yellowstone County Attorney Ann-Marie McKittrick declined to provide more information, except to say the death did not relate to the assault by Green.
In another case, Green admitted to threatening to cut off a second woman's fingers with a bolt cutter and threatening to harm her family if she told law enforcement.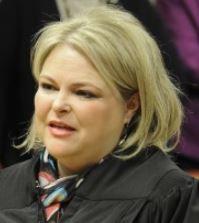 "You are seeing the worst of humanity," McKittrick told the judge. "It's the stuff that is in a horror movie," she said, describing two of the assaults as "torture."  
The second case, in February 2017, involved a botched drug deal. The woman had paid a drug dealer Green's $900 to purchase meth on Green's behalf, but the seller never gave her the drug and Green turned on her, holding her in a garage while beating and threatening her over the lost money, according to charges.
Two other men were charged in that case, accused of participating in the kidnapping and torture of the woman. Co-defendant Dustin Lee Legare was sentenced to 10 years of probation for his role. Co-defendant Charles Christopher Lashley's case remains active.
That woman attended the hearing Thursday and had a statement read on her behalf, noting she now has nightmares, trouble sleeping and fears being alone. But she's also completed substance abuse and mental health treatment and been reunited with her son. 
Knisely told the woman she was "super proud" of her for reporting the assault to police despite fears of retribution, getting help for her meth addiction and attending the hearing Thursday.  
In the third case, for which prosecutors filed 26 felony counts, Green admitted to five instances during the summer of 2016 in which he beat his then-girlfriend. Those included hitting her in the head with a wrench, stapling her ear and shooting a gun in her direction by the side of her head. He broke bones in her back, face, ribs and arm, charges state. At times she lost her hearing and eyesight and became "unrecognizable,"  charges state. At one point she couldn't walk or talk, and she took meals through a straw.
That woman now serves as the director of a domestic violence shelter. She had prosecutors show the judge a photo of her face today, "because she wants the defendant to know that he didn't succeed in making her unrecognizable," McKittrick said. 
Her adult son read her statement in her absence.
"I want you to know that I'm a survivor today," it said.
Defense attorney Robert Snively asked the judge to follow the plea agreement but made no other comments.
When asked by Knisely if he had anything to say, Green said, "I'm sorry it happened."
Of the 34 felonies and one misdemeanor filed among each of the cases, Green pleaded guilty to 21 felonies. The remaining charges were dismissed under the plea agreement.
Prosecutors charged two of the cases in 2017, and one in 2018. Green has been in jail for two years and five months. His bond was set at more than $1 million.
If Knisely did not follow the recommendation in the plea agreement, Green would have been allowed to withdraw his guilty plea and head to trial.
The sentence and plea deal include an eight-year restriction on parole and a batterer's intervention program, plus roughly $7,000 in restitution.
In Montana, prison inmates are eligible for parole after serving 25% of their sentence. While Green would not yet be eligible under that law after eight years, McKittrick said she was concerned corrections practices or laws could change and wanted to ensure that Green was in custody for at least eight years.
Sign up for our Crime & Courts newsletter
Get the latest in local public safety news with this weekly email.