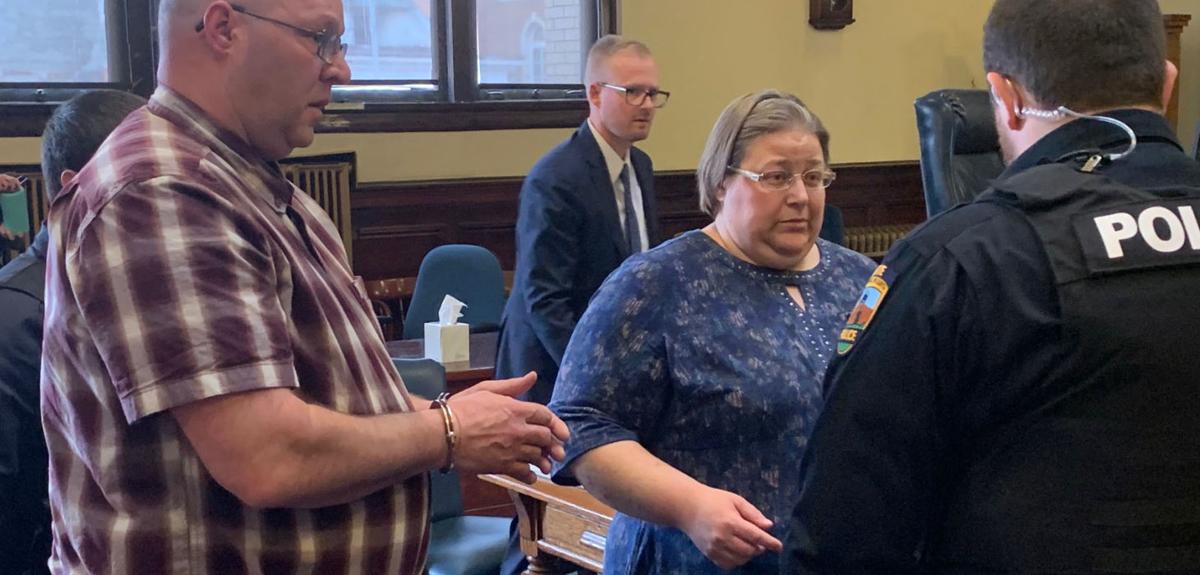 After calling it one of the worst child abuse cases he has seen, District Judge Kurt Krueger sentenced a former Butte couple to 13 years in prison Monday for abusing their adopted 12-year-old son, including handcuffing him to a milk crate in a bathtub while naked.
Prosecutors say that happened night after night for at least a month, but before that, for months, Jonathan James Hay, 48, and Debra Ann Hay, 47, cuffed the boy to a bed post and then cuffed him in the hallway, often feeding him only oats and collard greens.
They taped his mouth shut and put socks on his hands and arms to prevent him from trying to pick the locks, and sometimes struck him with a wooden stick marked with a "hit zone" — all extreme, humiliating abuse and "significant crimes," Krueger told them.
Defense attorneys said the couple suffered from anxiety, had no prior criminal records, no past substance abuse, were low risks to reoffend and prison would serve no purpose other than punishment. They wanted a 12-year deferred sentence for each defendant.
Krueger balked at that and said if anything, he was inclined to impose a longer prison term than 13 years prosecutors had recommended in a plea agreement.
The boy is living elsewhere now, but Krueger said he is likely to suffer for years.
"You as parents, you took his life as a youth, and you took it from him and you have also taken a significant portion of his future life," Krueger told them. "It's unclear how much of his future life you've taken from him.
"I find that your conduct is so, so extreme and so — no consideration at all to your minor child, no consideration to the major affects you were having on his life."
In the end, Krueger went along with a recommendation by chief prosecutor Ann Shea that they be sentenced to 25 years in prison for one count of assault on a minor and two counts of criminal endangerment, with 12 of those years suspended.
Jonathan Hay will be sent to the Montana State Prison in Deer Lodge and Debra Hay will be sent to the Montana Women's Prison in Billings.
Krueger's decision followed a three-hour sentencing hearing that included tearful statements from the Hays and loud, fiery denunciations from Shea.
"This wasn't a mistake," Shea said. "They did this night after night after night to a 12-year-old child. They could have easily been charged with 30 counts of assault on a minor.
"I hope to God that society is never desensitized to what these defendants did to a 12-year-old child!"
The boy was one of six foster children adopted by the Hays who lived with them in Butte when charges were filed in 2018.
Police found the boy at Walmart on a Friday evening in late June 2018. He told them his parents left him there but the mother called police to say he had run away from home. After the boy told social workers about the alleged abuse, the state's Department of Child Protective Services placed him in a group home.
According to prosecutors, the couple would handcuff the boy to a bed in a locked bedroom at times with no way to free himself in case of an emergency. At other times between July 2017 and May 2018, they allegedly taped socks on his hands and feet, put tape over his mouth, handcuffed him to a milk crate, and left him in a hallway or bathtub.
After repeatedly soiling himself while restrained in the hallway, prosecutors say, the Hays started putting him in the bathtub — hands and ankles cuffed to the milk crate — because it was easier to clean. They often left him overnight, Shea said.
The Hays were initially charged with two counts of assaulting a minor and five counts of criminal endangerment. They were jailed for 62 days before posting bond, later pleaded guilty to three felony charges each and have since been living in Idaho.
All the children have been removed from their care and if they each serve 13 years, all of the kids will be adults when they get out.
Debra Hay gave a long, tearful statement prior to sentencing, saying she had done things "against my faith and character," in part because she was always seeking validation of her worth from others and grew bitter when not receiving it.
"I didn't know how much bitterness had taken over my heart and my mind," she said, adding that she was working with a counselor to root out every bitter thought and "replacing it with love and mercy and kindness."
Jonathan Hay said it broke his heart to look back on the way he treated the boy, and no matter what pressures he was under at the time, it "in no way can excuse my actions."
Tim Dick, an attorney in Butte who was appointed as a special guardian to the boy in the case, said there were no valid excuses.
"He was humiliated and he will suffer for a long time," Dick told the judge. "He needs to know that until adulthood, they are in jail."
Sign up for our Crime & Courts newsletter
Get the latest in local public safety news with this weekly email.