Diego Thomas Hernandez, 22, has been charged with deliberate homicide in the Oct. 1 death of Lori Bray, 57.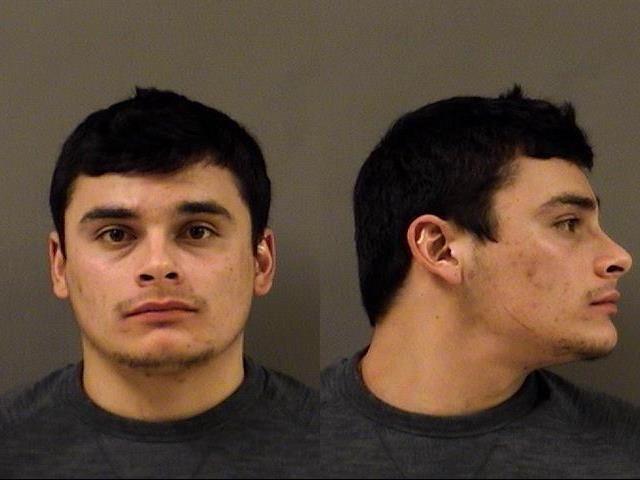 Justice of the Peace Jeanne Walker set bond at $500,000 on Thursday and required a GPS monitor if he were to be released.
Prosecutors said in court Thursday that more charges are possible against Hernandez, as the state continues to receive test results from evidence.
"The level of violence and brutality suffered by Miss Bray is astonishing," said prosecutor Ed Zink.
The medical examiner's office found strangulation as the cause of death and said there was evidence of blunt force injuries to the head, as well, according to charges.
Bray was last seen leaving work at the Cedar Ridge Casino around 12:30 a.m. on Oct. 1. She was the only employee on shift, and Hernandez was the only customer to stay until closing, charges state.
Video footage from The Locomotive, a nearby bar, shows Hernandez earlier in the evening on Sept. 30 without injuries to his face.
But detectives who met with him at his home the next night observed scratches to his face, cheeks, neck and left hand, as well as slight bruising.
Bray had failed to show up for her 4 p.m. shift at the casino Tuesday, Oct. 1, and surveillance cameras captured Hernandez leaving with her in her car earlier that morning, charges state.
Hernandez "immediately became nervous" when he answered the door to find detectives, charges state.
Hernandez gave a statement to detectives saying the injuries came from a fight with a friend, but the friend later told detectives their fight had not caused scratches to Hernandez's face, according to charges.
You have free articles remaining.
Keep reading for FREE!
Enjoy more articles by signing up or logging in. No credit card required.
Bray left the casino around 12:30 a.m. on Oct. 1, and video footage shows her getting into her car, reaching across to open the passenger side door, and Hernandez getting inside, according to charges.
Detectives met with Hernandez at his Laurel home around 10:30 p.m. on Oct. 1, and noticed injuries to his face, neck and left hand, charges state. They also saw slight bruising on his forearms and eye.
Hernandez told detectives he had left the casino with Bray earlier that morning, that she had insisted on giving him a ride in order to get him home safe, and that she had dropped him off at his home shortly after.
He told detectives the scratches on his face were from a fight with a male friend, "over a girl," and denied causing Bray any harm.
On Monday, Oct. 7, Hernandez asked to speak with investigators again, telling them this time that he and Bray had had a sexual encounter at his house before she left, charges state. Data from Bray's cellphone placed her at Hernandez' house around 12:45 a.m.
Bray's body was found with no clothing. Her body was found Wednesday, Oct. 2, by a man riding his ATV in a wooded area near Laurel, according to Yellowstone County Sheriff Mike Linder. Her body was found about 3 miles from where her car was abandoned.
Bray's car was left near the intersection of Buffalo Trail Road and Laurel Airport Road. Detectives found blood stains and Bray's clothing inside, as well as a shoe mark on the door, charges state. The tread pattern appeared consistent with Hernandez's shoes, according to charges.
Hernandez has no felony criminal record. His misdemeanor history includes a sexual assault conviction from 2017, alcohol-related offenses and two pending misdemeanors for disorderly conduct and obstructing a peace officer.
Zink, deputy chief of criminal litigation for the Yellowstone County Attorney's Office, asked for bond to be set at $500,000, while stand-in defense counsel James Siegman asked for bond of no more than $100,000, citing the fact that Hernandez has no felony convictions and no history of failing to appear in court. Siegman said the amount the state sought was "way beyond his ability to pay."
Zink said the higher bond was warranted, noting that Bray "disappeared under mysterious circumstances," leaving the community afraid.
Before setting bond, Walker said, "I do agree with the state that these are very egregious allegations."
Hernandez will hire attorney Jack Sands to represent him. His arraignment is scheduled for Wednesday, Oct. 23.
Hernandez is the son of Bianca Wilson, a suspect in a 2004 Carbon County homicide, who was charged but never convicted. Wilson was convicted of witness tampering for cleaning the inside of the car where a murder victim fatally shot. Wilson is now living in a prerelease facility in Butte, according to Department of Corrections records.