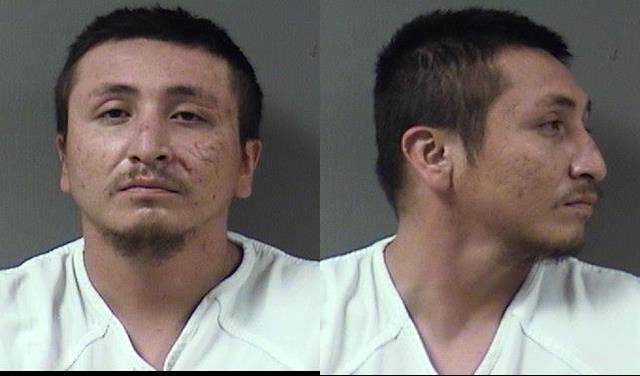 A 27-year-old man admitted to second degree murder on Wednesday in the October shooting death of his ex-girlfriend on a road on the Crow Reservation just south of Billings.
Taylor Leigh Plain Bull pleaded guilty in U.S. District Court to second-degree murder and use of a firearm during a crime of violence in the Oct. 24, 2020, death of Lenita Rene' Goes Ahead, 26.
He'd originally been charged with first degree murder, which carries a mandatory penalty of life in prison.
Plain Bull now faces up to life in prison on the second-degree murder charge, plus an additional mandatory minimum of 10 years for the weapons count. The 10 years must run consecutively to any other sentence. 
Goes Ahead had been on the way from Pryor to Billings for an afternoon birthday party, according to the government's offer of proof. With her were her 6-year-old daughter and boyfriend. Plain Bull is the father of the 6-year-old. 
Plain Bull passed Goes Ahead while he was headed to Pryor in a truck he'd stolen that was still running outside of a Billings convenience store.
The truck held four firearms, including a .45-caliber Springfield semiautomatic pistol.
After Plain Bull passed Goes Ahead, he turned around and drove up behind her, then passed in front and pulled over in the road, parking sideways to block Goes Ahead's vehicle. He pointed a gun at her car, which was roughly two power poles away, prosecutors say.
Goes Ahead reversed, but Plain Bull again chased her in the truck, driving alongside her as she backed up, court filings state. Goes Ahead put the car in drive, but Plain Bull caught up with her, overtook her and pulled ahead, forcing her car into the ditch.
Due to the snow, she could not get out.
Goes Ahead locked the doors as her boyfriend handed her his phone, telling her to call 911, prosecutors say. When Plain Bull walked up to the passenger side armed with a pistol and asked him, "Who the f*** are you?," he told Plain Bull to remain calm.
Plain Bull shot out the windshield and the bullet lodged in the dashboard. He then reached in and cleared out the glass, put the gun to the boyfriend's head and threatened him before shooting Goes Ahead in the face, with the bullet traveling down her chin and into her chest. She was pronounced dead on scene by emergency responders. 
Plain Bull then took his daughter and drove away, dropping her with family not long after.
He called 911 as he fled, screaming at dispatchers that he needed an ambulance and saying at least twice that it was an accident.
Plain Bull's "version of what happened," prosecutors wrote, is that Goes Ahead accidentally drove into the ditch while attempting to pull over because she knew he was going to give her money. When Goes Ahead's boyfriend "started giving him grief," he tried to pistol whip him but the gun fired instead, according to the government's offer of proof.
Sentencing is set for July. Plain Bull remains incarcerated in the Big Horn County Jail in Wyoming.