The 24-year-old Billings man who police say engaged in an hourslong standoff Thursday night in a Rose Park-area home is facing 12 charges stemming from a string of crimes dating back to May.
Rhye Temple appeared in Yellowstone County Justice Court on Friday, and his bond was set at $150,000. He is scheduled for arraignment in District Court on Sept. 26.
Charges against Temple include assault with a weapon, four counts of theft, and criminal possession of dangerous drugs, all of which are felonies. Temple also faces misdemeanor charges, including four charges of theft, one charge of deceptive practices and one charge of misdemeanor possession of drug paraphernalia. 
Court documents say Temple was the subject of investigations by the Billings Police Department, Yellowstone County Sheriff's Office and the Montana Highway Patrol. 
The felony assault charge against Temple comes from a May 11 incident during which someone on Jellison Road tried to question the driver of a car after seeing it speed across a cattle guard on private property. When the person was able to catch up in their own vehicle, they asked the driver what they were doing on private property.
The driver answered "Whatever the f--- I want," after which the property owner "saw the barrel of a pistol coming up from the seat area towards the window as the male rolled the window the rest of the way down," according to court documents. A license plate number provided by the victim to law enforcement matched that of a vehicle believed to have been stolen by Temple, according to court documents. 
Temple is also accused of stealing:
A Toyota 4Runner with personal items inside from the Shrine Auditorium.
A Ford F-250 pickup valued at $15,000 along with a flatbed trailer and air compressor from South Sundance Mountain Trail in Billings.
A $500 piece of equipment from a truck on Antelope Circle.
Bags from inside a truck parked outside the Heights Inn.
A wallet from a convertible on Caravan Street.
$30 worth of items in a package taken off the porch of a Savona Street residence.
Court documents also tie Temple and a female suspect to the theft of two Amazon packages from the porch of a Cherry Hills Road residence.
Temple and a woman identified as Amanda Lynn Wilson were also found June 7 sleeping inside a stolen car at 4:27 p.m. on Keller Road, according to court documents. An MHP trooper searched the car and found drug paraphernalia and a baggie that field tested positive for meth, according to court documents.
No new charges related to the Thursday standoff have been filed, according to a Friday press release from BPD Lt. Brandon Wooley, and other criminal investigations remain ongoing.
Temple had been inside the home at 2215 Avenue B on Thursday at 4:50 p.m., when police arrived to arrest him on outstanding warrants, according to the press release. Temple was the subject of ongoing criminal investigations, and police had learned he was possibly armed, Wooley said.
Police said when they arrived they saw Wilson, identified in the press release as Temple's 23-year-old girlfriend, walk into the home. When officers approached the home and knocked on the door, no one answered, but they heard a male and female inside arguing, the release said.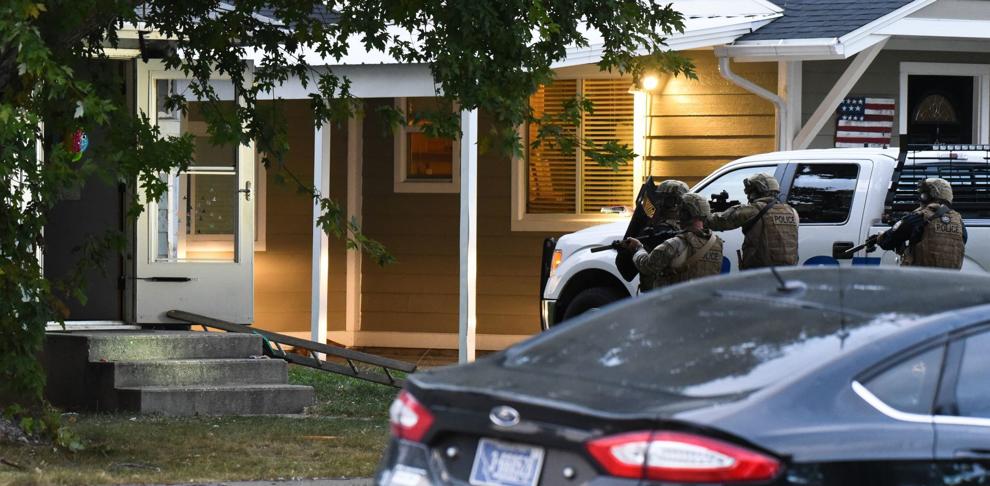 Police then set up a perimeter and activated SWAT and a hostage negotiation team. Over the course of four hours, officers continued trying to communicate with Temple and Wilson, Wooley said, but were unsuccessful.
Shortly after 9 p.m., SWAT officers entered the home and arrested Temple and Wilson without incident, the release states. No firearm was found.
Temple and Wilson were booked into Yellowstone County Detention Facility on outstanding warrants.
Wooley said the department wanted to thank residents of the Rose Park neighborhood for their patience in dealing with the disruption. He also said the police response showcased teamwork between separate divisions of the force. 
"These specialized units train constantly and are equipped for these situations," he wrote. "We are happy that no one was injured in the operation and the community is safer as a result of the arrest."
The Billings Gazette's Michael Kordenbrock and Phoebe Tollefson contributed to this report.