The man who police say broke into a Billings sporting goods store and exchanged gunfire with officers Saturday recently left a prison prerelease program and had a long criminal history.
Police Chief Rich St. John said during a news conference Monday that Half had been in Great Falls recently but had a Crow Agency address.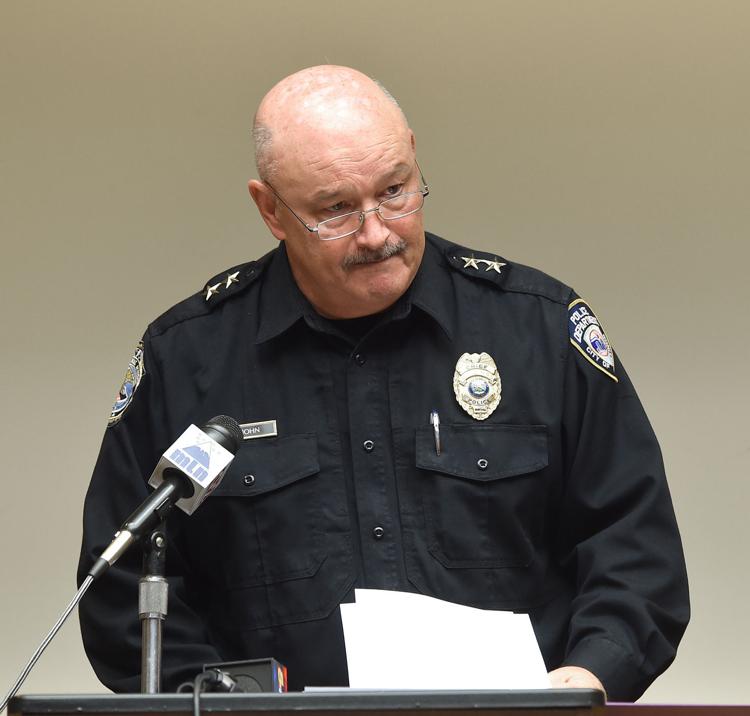 Half was a resident at the Butte Pre-Release Center from March 9 through Oct. 25, Montana Department of Corrections spokeswoman Judy Beck wrote in an email Monday. He was conditionally released to the Billings area on Oct. 26 and had complied with the conditions of his parole since then, Beck said.
St. John did not provide any possible motivation for Half's actions, which apparently included an attempt to steal ammunition at Walmart that was thwarted by store employees shortly before he drove an SUV into the front doors of Big Bear early Saturday morning.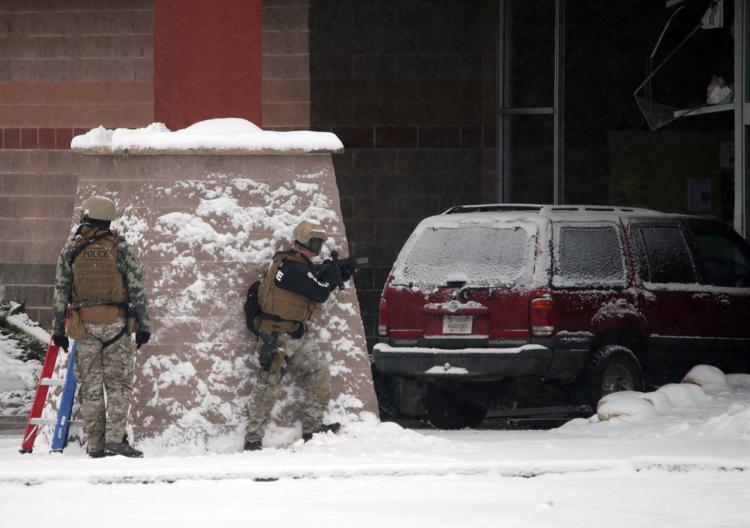 Walmart reported the incident Saturday shortly after 2 a.m., and an employee told an officer the suspect "appeared to be impaired," St. John said, but added that police wouldn't be able to confirm whether Half was intoxicated until after an autopsy.
During the ensuing standoff, officers attempted to communicate with Half multiple times by calling the store's phone, the police chief said. Half declined multiple times to obey police orders or negotiate a peaceful surrender, St. John said, and fired multiple times in the direction of officers.
"If any contact was made with the suspect, it resulted usually in silence on the other end, and eventually a hang-up," St. John said. He added later, "I believe there were some very short and unproductive conversations, but we didn't get much of anything. Like I said, if we were able to get him to pick up the telephone, it was met with silence."
Police used an armored car, called a "Ballistic Engineered Armored Response," or BEAR, to improve officers' line of sight by removing the SUV and other debris from the store front and to block his line of fire, St. John said.
Around mid-morning, Half appeared at the front of the store and "fired a high-powered rifle at the officers that were sitting in the BEAR," he said. "The rounds struck the windshield area where the negotiator was sitting."
After the final volley of gunfire, around noon Saturday, police could see Half wasn't moving and later confirmed he was dead.
"I really don't know what his motivation was, but he certainly caused a lot of mayhem and a lot of heartache for a lot of people," St. John said.
Attempts to contact Half's family or friends were unsuccessful, the chief said. Police are unaware of other people who may have been in contact with Half before the incident.
There has been no official word yet on the cause of Half's death, although St. John said he has "no indication that it was a suicide." An autopsy was scheduled for Monday at 10 a.m.
St. John declined to comment on whether Half had any history of mental health issues, but the suspect's criminal history includes drug charges.
He was charged and later convicted of criminal endangerment and drug possession. State records say that Half was on conditional release after being sentenced with the Montana Department of Corrections in 2016.
St. John commended his officers for their work during Saturday's lengthy standoff, and a BPD press release stated Monday afternoon that 58 officers were involved in the response.
St. John noted the Billings Fire Department, American Medical Resources and the federal Bureau of Alcohol, Tobacco, Firearms and Explosives were present at the scene. The Yellowstone County Sheriff's Office, FBI and U.S. Marshals Service had also offered to provide resources, he said.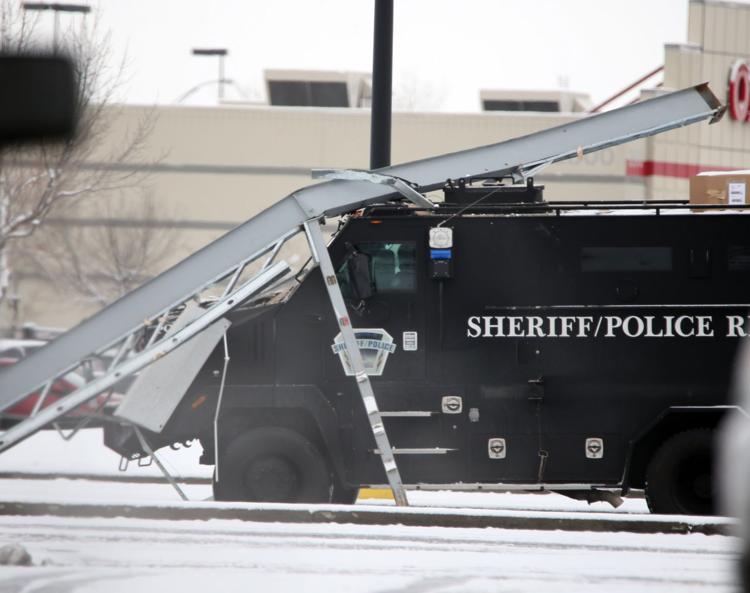 "This incident presented one of the most difficult tactical situations imaginable, where the suspect had all the advantages — barricaded, with unlimited resources including guns, ammunition, clothing, food and shelter," he said. "We had absolutely no visual observation for the majority of this incident. Except when he came to the front (of the store), we had absolutely no idea where he was."
Police were able to access the store's security cameras toward the end of the standoff, he said, and used that footage to help determine that Half was dead.
Eight officers fired their weapons at various times during the incident and have all been placed on administrative leave, St. John said. No officers were injured during the gun battle.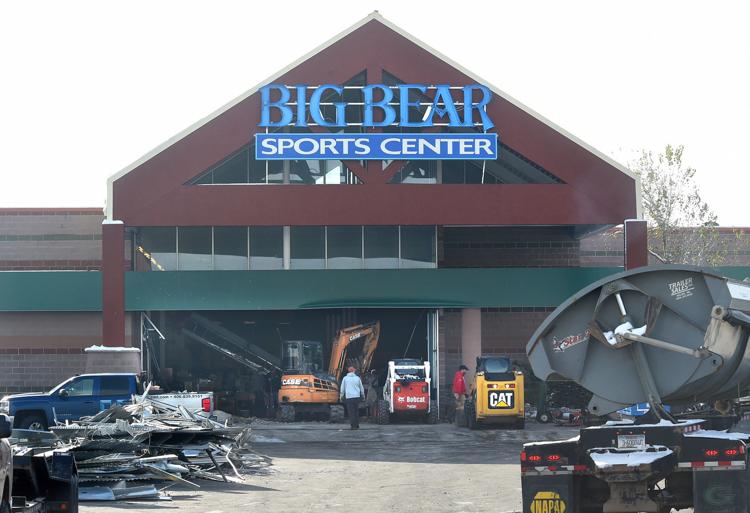 Those officers are all members of the Billings SWAT Team:
Sgt. Harley Cagle, a 14-year veteran.
Sgt. Brandon Wooley, a 10-year veteran
Sgt. Nate West, a 10-year veteran.
Officer Steve Swanson, a 21-year veteran.
Officer Tanner Buechler, a 10-year veteran.
Officer Daren Haider, an eight-year veteran.
Officer Michael Yarina, a seven-year veteran.
Officer Ryan Kramer, a three-year veteran.
Law enforcement also attempted to resolve the situation with non-lethal means, St. John said. Those methods included pepper spray canisters as well as a long-range acoustic device, which he said "puts out a high, screeching, warbling pitch" to create discomfort and entice the suspect to surrender. A police dog and officers equipped with bean-bag rounds were also on hand, he said.
"We brought every resource to bear that we had here to resolve this peacefully," St. John said.
Crime scene investigators spent 31 hours processing the scene before releasing it back to the sporting goods store's owners Sunday night. Detectives processing the crime scene found "extensive damage" inside, St. John said, including smashed display cases, several emptied fire extinguishers and evidence that he had fired multiple times inside the store.
The store was insured, St. John said, but did not have an estimate of the monetary damage inflicted on the business. The BEAR's debris-removing operations "caused unintended damage to water and gas lines," he said, as did incoming gunfire.
"They have already been working on securing the front, putting up a temporary door or window, and I know they're in there right now assessing damage to merchandise, damage to the building," St. John said. "The suspect did damage, and we did damage, so there might be discussions on some of that, but like I said, that's down the road."
Several people own the Big Bear Sports Center business, which also includes a store in Great Falls. Reached by phone Monday by the Gazette, co-owner Chuck McKenzie said the owners are still assessing the damage but otherwise declined to comment.
Despite the substantial damage to the business during the lengthy standoff, St. John said his officers handled the situation in accordance with protocol and that sending in a team to pre-emptively take the shooter out was a "last resort" that could easily have ended with an officer being shot.
"I'm heartbroken, I'm sickened about what happened to Big Bear," St. John said. "But when you weigh that against getting somebody hurt or killed, that's the option that we had to go with. We tried. We tried everything we possibly could to get him to surrender peacefully. This did not need to happen."