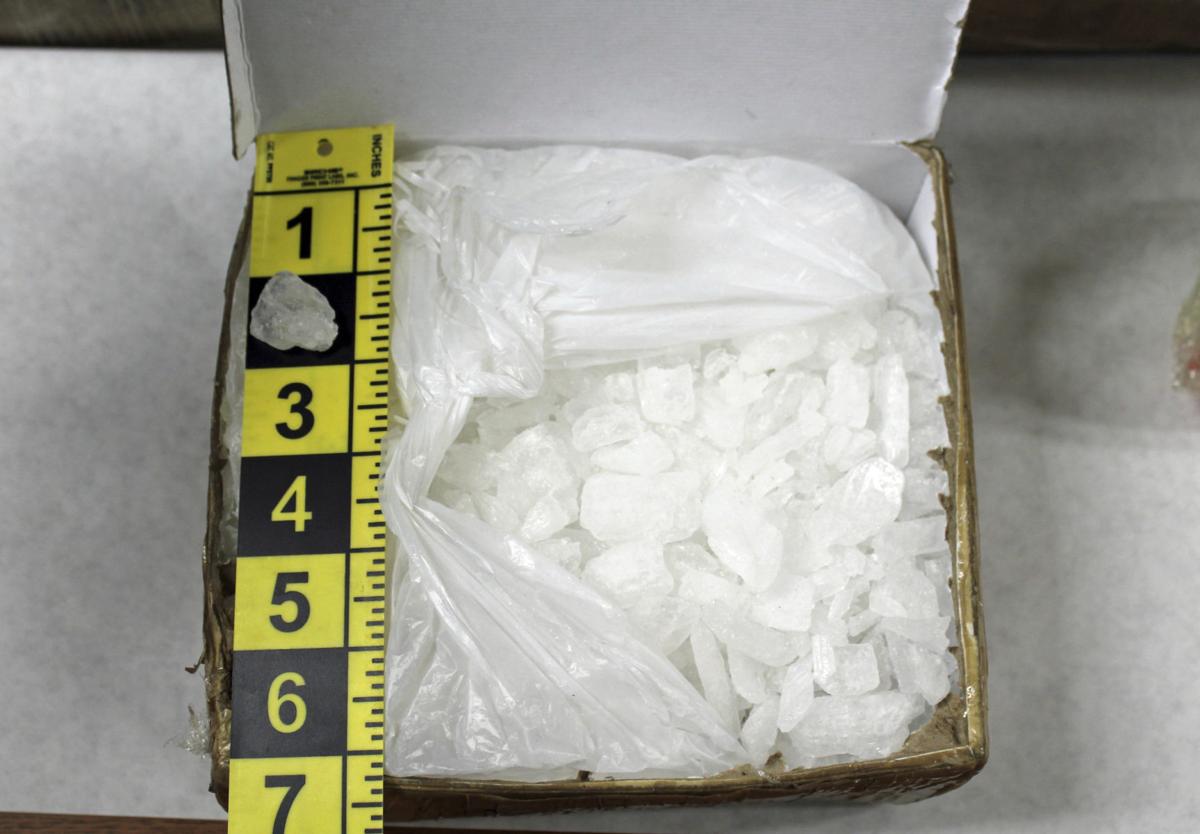 Meth seizures by a local drug task force have more than quadrupled in the past five years. 
In 2014, the Eastern Montana High Intensity Drug Trafficking Area Drug Task Force seized 30 pounds of meth. The task force operates in Yellowstone County. 
By the end of 2019, that number had jumped to 122 pounds.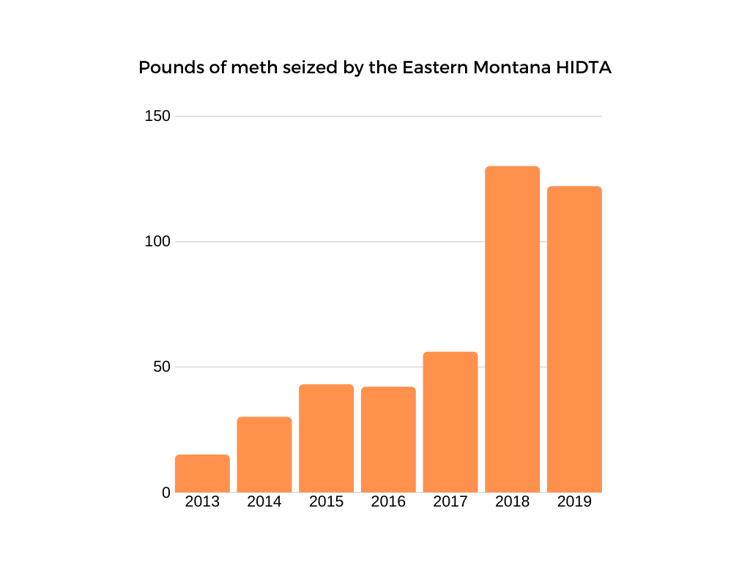 Lt. Brandon Wooley of the Billings Police Department said that when he started working on the task force in 2014, each bust was smaller.
"Your big-time drug dealers had, like, an ounce or two at a time," Wooley said.
"It's not uncommon to find somebody with pound-level quantities now," he said.
Federal prosecutors have zeroed in on meth trafficking in recent years, arguing that a leveling off of violent crime in 2019 shows their efforts are working.  
In 2018, agents turned up 34 pounds of meth in a suitcase in a hotel room in Billings. The quantity amounted to more than 123,000 doses and was valued at more than $1.5 million, according to the U.S. Attorney's Office.  
You have free articles remaining.
In May 2019, agents recovered 30 pounds of meth distributed among three backpacks in the car of a Billings man. The man awaits sentencing in federal court. 
Drug seizures made by the Eastern Montana HIDTA reflect the highest-level drug trafficking busts in the area.
Smaller seizures, such as those made during routine arrests that won't likely lead investigators up the supply chain, are tracked separately by other divisions of law enforcement agencies.
In addition to the police department, HIDTA members include the Yellowstone County Sheriff's Office, the FBI, the Drug Enforcement Administration and other federal agencies. 
Wooley said drug investigators are now more frequently seeing Mexican phone numbers included in the cellphone contacts of drug suspects in Billings.
"That pipeline has been shortened," he said. There are fewer "people involved in getting it from south of the border to Montana. (...) They can just make one phone call to their connections and it's on its way up." 
Wooley said Mexico is the "primary source" for meth found in the U.S.
Police aren't alone in highlighting the growth in meth trafficking and abuse in the region. 
At an interim legislative hearing in November on child abuse and neglect, Yellowstone County District Judge Rod Souza told lawmakers the primary driver behind climbing criminal and child abuse cases "is unquestionably methamphetamine."
Souza said meth not only leads to drug charges, but also that "methamphetamine is related to virtually every felony theft, every felony burglary, every felony forgery, every felony deceptive practices and much of our violent crime as well."
Yellowstone County makes up the 13th Judicial District in Montana, which is the busiest district among Montana's state courts.
Courts and crime reporter Phoebe Tollefson's top 5 stories from 2019
Gazette crime and courts reporter Phoebe Tollefson shares her five most memorable stories of 2019.
Below are five meaningful crime and courts stories from 2019.
Two friends who opened a women's sober living home in April gave us one of our rare but welcome "good" news stories.
Prison no doubt left its mark on Jimmy Ray Bromgard, who was wrongly incarcerated for nearly 15 years. Still, he finds a way to laugh often, at least when this reporter was in town.
After nearly 21 years, a victim's family got its day in court in one of the area's most well-known cold cases, and a packed gallery heard the remarkable story of a woman who fought through and survived an attack by Zachary O'Neill roughly two months before.
The family of a man who died after a series of seizures inside the Cascade County Detention Center was paid $1 million in a wrongful death claim, settled outside of court.
Finally, we heard from some landlords whose tenants check boxes on the FBI's criteria for commercial sex operations. The goal of the reporting was to let landlords respond to concerns by law enforcement and activists that the rent-paying businesses exploit vulnerable workers.