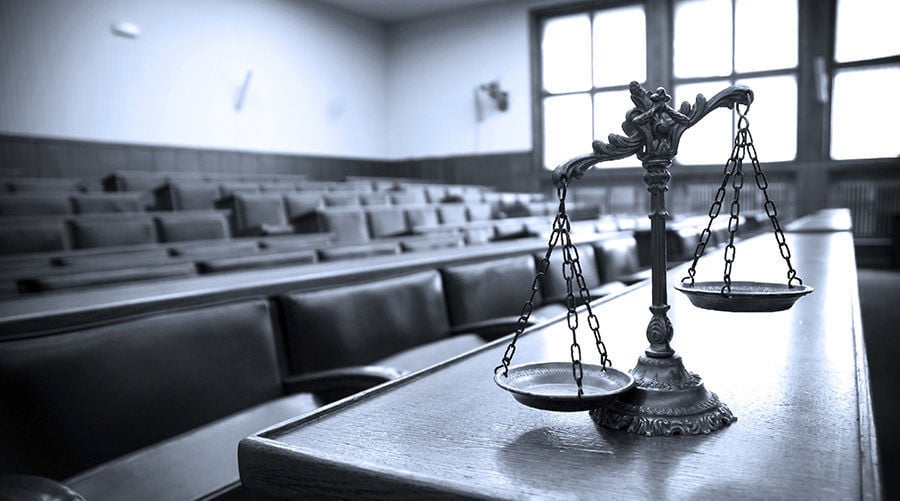 The Montana Supreme Court has asked judges in municipal and county justice courts to release jail inmates if possible and conduct hearings virtually as the judiciary ratchets up its part in slowing the spread of the novel coronavirus.
The courts have largely continued without flinching at the coronavirus pandemic, although every part of the criminal justice system is taking precautions as Montana's COVID-19 case count climbs, particularly in large urban judicial districts. County clerks are taking measures to protect their staff by limiting face time with the public. Law enforcement is scaling back who gets taken to jail and who can be turned loose after a citation. The Missoula public defender's office last week filed about 55 motions to release clients in custody due to COVID-19, according to regional deputy Jennifer Streano. Twenty-two were granted, Streano said, while a few others are yet to see a ruling.
Over the last week, the population at Missoula County Detention Center fell by roughly one-fifth, from 186 on March 17 to 146 around midday on Monday, according to a spokesperson with the sheriff's office. These numbers account only for the county inmates, as the Missoula County Detention Center also houses defendants in state criminal cases, spokesperson Brenda Bassett said.
Friday's memo, issued by Montana Supreme Court Chief Justice Mike McGrath, asks city and county court judges to review jail rosters and "release, without bond, as many prisoners as you are able, especially those being held for non-violent offenses." 
"Due to the confines of these facilities, it will be virtually impossible to contain the spread of the virus," McGrath wrote.
The Friday memo came on the same day a Yellowstone County detention officer tested positive for the coronavirus, the Billings Gazette reported.
McGrath last week meted out guidance to the lower courts and state district courts, first declaring the courts will stay open as a matter of maintaining societal structure rather than allowing communities to slip into "disorder and chaos." His memos have urged attorneys and judges to push trials back and make accommodations for potential jurors, especially those in high-risk populations.
A day before the Friday memo, Missoula County justices of the peace issued their own standing order enacting temporary rules to limit in-person appearances at the courthouse. The justices of the peace ordered criminal defendants not to come to court unless told otherwise; those already incarcerated will appear by video while those out of custody will participate in scheduled hearings by phone or some other remote method.
Defendants are still getting their initial appearances after arrest. Victims of domestic violence who may be forced into close quarters with their assailants because their workplaces have been ordered to close are still able to obtain orders of protection, Missoula County Justice of the Peace Landee Holloway said Monday.
"The court is open," Holloway said. "Call us, find out what your options are. We're still here to help with orders of protection and other matters that are pending before the court."
Holloway said Monday it was important to begin making these adjustments last week so the court system can continue without any hiccups.
"It's a foundation of our society to keep order," Holloway said. "If the courts aren't operating, then I think you have people who will ignore the law. We can delay a certain amount of hearings but we still have to hold people accountable."
Streano, chief of the Missoula public defender's office, said many of the motions to release defendants have been unopposed, but are heard by judges on a case-by-case basis, rather than a single release order across many cases. In some cases, however, Streano said some judges have been reluctant to release inmates, even when the defense and prosecutors agree on the defendant's release.
Streano said about only a quarter of people represented by public defenders are older than 60, one of the indicators of someone at a high risk for severe illness from the coronavirus. Certain pre-existing medical conditions are also a red flag.
"That's probably where we're going to get more people because a lot of our clients are just not in good health," Streano said.
Holloway added that changes to the court structure may continue, and that whatever may come could have some impact as to how cases carry forward after the pandemic.
"As we go forward it will be interesting to see what appeals might look like and what recommendations come down from the (state) Supreme Court or the U.S. Supreme Court moving forward since we are in such unprecedented times," Holloway said.
Concerned about COVID-19?
Sign up now to get the most recent coronavirus headlines and other important local and national news sent to your email inbox daily.