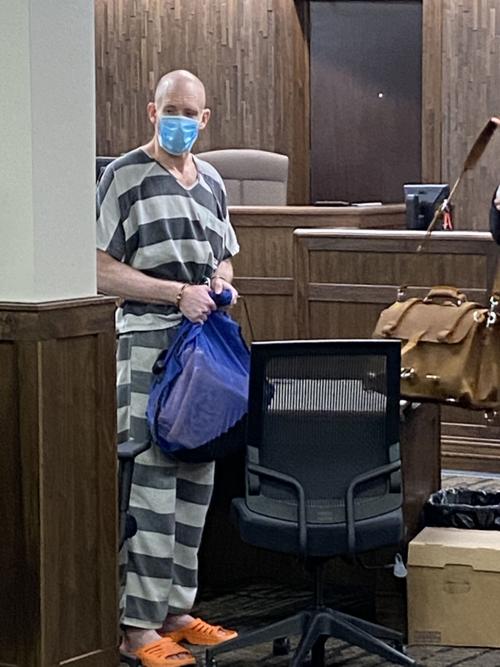 A Washburn man accused of killing four people last spring interrupted a court hearing Wednesday, asking to talk directly to the judge even though his attorneys advised him not to speak.
Chad Isaak, 46, is charged with four counts of murder in connection with the deaths of RJR Maintenance and Management co-owner Robert Fakler, 52; and employees Adam Fuehrer, 42; and William Cobb, 50, and Lois Cobb, 45, who were married.
The hearing was set for arguments on motions made by Isaak's attorneys to suppress certain evidence and request a change of venue. About 30 minutes into the hearing, Isaak told South Central District Judge David Reich that he wished to address the court. He cited his Sixth Amendment rights after Reich told him to talk to his attorneys, Rob Quick and Drew Hushka, who sat on either side of him in the Morton County courtroom.
"I've tried discussing it with the attorneys," Isaak said. "They do not want me to say a word and that's why I'm bringing this up to you myself, sir."
Isaak said he'd "waited patiently for 15 months in an isolation jail cell" to bring the issues up, though the exact nature of those issues was not revealed.
"And with all due respect, I don't think asking for five minutes of your undivided attention so I can do that is an unreasonable request, sir," he said.
Quick and Isaak conferred in whispers for a short time before Isaak asked the judge, "What's the proper procedure that I can go around this so I can talk to you?" He pushed Reich to "override" his attorney and "tell him that I want to talk to you."
"I can't tell him how to represent you," Reich said. "No, I cannot."
Isaak was arrested April 4, 2019, three days after the four were found shot and stabbed at the RJR office in Mandan. A motive has not been established by police. Isaak lived in a Washburn mobile home park managed by RJR but it's unclear if that is tied to the killings.
Isaak wanted to bring up issues that he and his legal team plan to address at a future hearing, Quick said after the hearing.
During the hearing, Quick withdrew some of the motions but asked Reich to consider a change of venue, arguing that extensive and prejudicial media coverage would make it impossible for Isaak to get a fair trial. Moving the trial to another county at the time of jury selection would cause significant delays, which would be compounded by the COVID-19 pandemic, Quick said. Some counties in the state can also offer three times more potential jurors.
The state has the right to present charges in the county where they occur, and though publicity has been considerable, none of it has been "condemnatory or exculpatory," said Assistant Morton County State's Attorney Gabrielle Goter.
Reich said a change of venue typically takes place at jury selection. He did not rule on the motion but asked the attorneys to form a jury questionnaire, which he will consider before the trial.
"Once we see the results of that, if we want to take another look at this motion at that time we can do that," Reich said.
Reich also said he would rule later on arguments about warrants used in the search of Isaak's vehicle, residence, business, person, and electronic devices. Information provided to the court when obtaining the warrants was inconsistent, Quick said, adding that law enforcement took "a considerable leap" when the initial search warrant of Isaak's pickup was granted because no connection was made between Isaak and the person seen leaving RJR.
Nothing in this case was searched or seized without consent, a warrant or a valid court order, Goter said. In some instances, officers took the precaution of getting second warrants.
"Those issues have been twice reviewed by a magistrate for probable cause," she said.
Goter said after the hearing that she believes in the warrants and believes the judge will make an appropriate decision.
"I feel comfortable with what law enforcement did," Goter said.