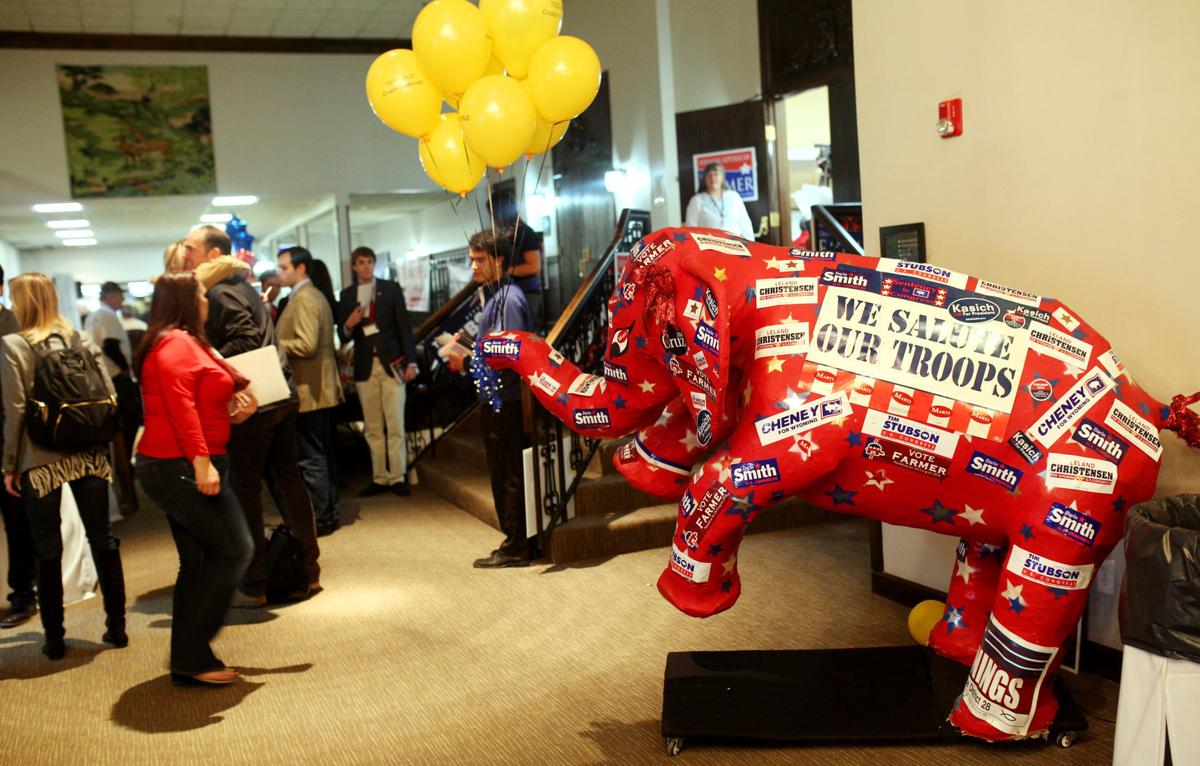 Gillette police have cited Michael Pearce with assault and battery after the Albany County Republican Party chair allegedly instigated a fight with Carbon County Republican Party Chairman Joey Correnti that resulted in Pearce being hospitalized.
Pearce told the Star-Tribune this weekend that he and Correnti had been involved in a fight during the Wyoming Republican Convention in Gillette that left Pearce with a broken ankle, dislocated shoulder and injured neck. Correnti has not responded to requests for comment.
A Gillette Police Department news release corroborates Pearce's claim that he and Correnti were involved in an argument that escalated to a point of violence. However, the release from Lt. Brent Wasson says Pearce began the fight by punching Correnti in the head; Pearce previously told the Star-Tribune he was unsure who began the physical altercation. He said he did not remember all of the details of the fight because he was left unconscious. Wasson's statement cites witnesses who said "Pearce was responsible for the escalation and Correnti was defending himself by taking Pearce to the ground."
The lieutenant said he was not aware of there being any video of the incident.
According to the news release, Correnti held Pearce down until someone else stepped in. Correnti said Pearce was intoxicated and Pearce admitted to drinking, the lieutenant said. While Pearce admitted to consuming two "tall" gin and tonics throughout the day, he has denied that he was intoxicated during the incident.
Gillette police say Pearce damaged Correnti's eyeglasses and hearing aid. The incident became physical after the two chairmen moved outside the venue, police said.
The Star-Tribune reached out to Correnti and Gillette attorney Steven Titus on Monday afternoon for comment. According to The Associated Press, Titus is representing Correnti.
Following the publication Sunday of a Star-Tribune story about the fight, a number of officials in the Wyoming Republican Party — including Sheridan Rep. Mark Jennings, who says he witnessed the altercation himself —contradicted Pearce's accounting of the events on social media.
Jennings said in a written statement that Pearce was heavily intoxicated and belligerent before punching Correnti without provocation, saying that Pearce was "screaming profanities" at Correnti before hitting his left jaw.
"It was obvious that Mr. Pearce was intoxicated and very agitated," Jennings wrote. "As I neared their location I could hear Mr. Correnti say something like 'Mike, let's calm down and not interrupt the convention.'"
Jennings said Correnti — a veteran and a Republican candidate in a contested primary race in Wyoming House District 47 — was acting in self-defense when he restrained Pearce.
"Mr. Correnti did not strike Mr. Pearce at all, but immediately restrained his arm and took him to the ground as Mr. Pearce was still trying to attack him and continuing to curse at him," Jennings wrote. "By this time a number of witnesses were coming to aid in the situation. At no time did Mr. Correnti punch or kick or act aggressively against Mr. Pearce other than to restrain him defensively taking him to the ground."
The Wyoming Republican Party, which hosted the event, had not released a statement on the incident as of 1 p.m. Monday. In a text message several hours after the incident on Saturday night, Wyoming Republican Party Chairman Frank Eathorne said he had not heard anything about the incident. The Star-Tribune has reached out to Eathorne for further comment.
Pearce said in interviews both Sunday and Monday that he felt threatened by Correnti after an argument between the pair escalated, citing several instances of perceived aggression by Correnti toward people at the convention — behavior that multiple attendees also told the Star-Tribune they witnessed. The Gillette Police Department said it did not receive any other reports from the convention.
In an interview Monday, after the Gillette police announcement, Pearce disputed claims that Correnti tried to calm him down before the fight. He said he did not recall yelling profanities at Correnti or whether the two had been yelling at each other before the fight. Pearce said he felt the need to defend himself, as he believed Correnti could have "come at him at any second" and left Pearce feeling "cornered."
"I remember coming out and being angry," Pearce said Monday. "We were both angry. But that type of behavior ... that's not me, unless I've been terribly provoked. As I've mentioned several times, I felt cornered, I felt like he was attacking me, and I got tired and felt like I had to do something for myself."
Pearce is scheduled to appear in Gillete Municipal Court on Aug. 11.